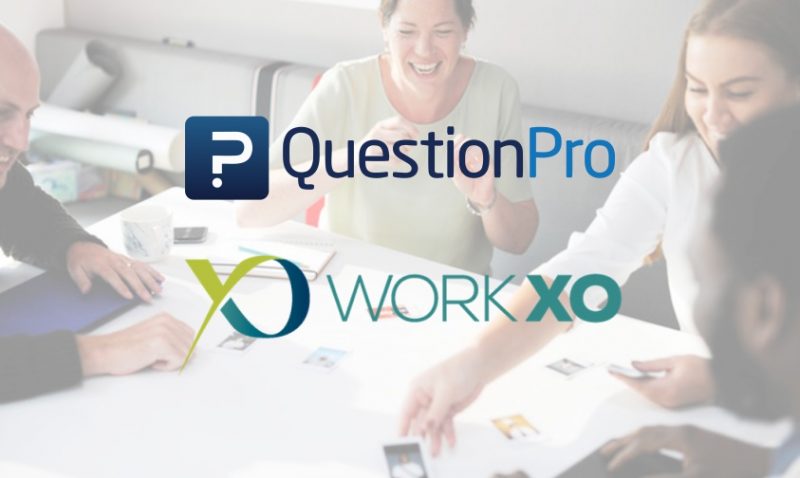 Today, I wanted to share some incredibly special news with you that is a milestone for us at QuestionPro.
I am happy to announce that  WorkXO has become a wholly owned subsidiary of QuestionPro.
WorkXO, founded in 2015, created a revolutionary model for measuring workplace culture, a powerful proprietary technology for analyzing it, and a proven methodology for ensuring organizations get and stay intentional about managing it. Clients like T-Mobile, Cisco, NBC Universal, Security First Bank, and Southern Dental Alliance use WorkXO's first-of-its-kind culture management platform – Workplace Genome® – to turn workplace culture into a competitive advantage.  
What does this mean for our customers? And how does culture management fit with online surveys and analytics? Let me answer all your questions in this post.
Why WorkXO? Why Now?
Since WorkXO's beginning in 2015, they have used QuestionPro survey technology to power their culture measurement and analytics platform. The WorkXO team has been impressive in developing and perfecting a people-science around culture that is revolutionary. This, coupled with our scale of information capture from employees makes us the only global culture-analytics platform in the market today. We found we had a lot common and that our vision the same – Being fully committed to developing data-rich workforce solutions that drive action and results.
Our collective mission has become: "Enabling organizations to manage workforce experience (WX, aka EX) and the culture that drives it just as we do any other really important operating system in our business."
What does this mean for QuestionPro customers?
We know our customers use QuestionPro in many inventive and creative ways, so this a great opportunity for customers who have not explored Workforce or WorkXO to think about workplace analytics, employee surveys, and how culture can be a functional operating system that can be tracked, quantified, and measured over time.
Customers with the QuestionPro Workforce license will continue to have access to Workforce's suite of workforce analytics solutions – including 360 employee feedback surveys, Pulse mobile surveys, and more – can look forward to opportunities to effectively incorporate WorkXO's culture management solutions to address workforce experience (WX, aka EX). Charlie Judy, the founder of WorkXO,  will serve as president of QuestionPro's Workforce business. "This collaboration will give us the ability to create enhanced functionality, invest in a more dynamic product and go even deeper in developing our powerful algorithms," says Charlie. "We strongly believe this partnership will bring tremendous value to all of our customers."
What's next for Workforce Technology?
My predictions about the next generation of people analytics are simple – We feel strongly that culture should and will be at the heart of the next wave of workforce technology. In taking that next step, I'm excited and honored to work with Charlie and his team to scale WorkXO to the broader market while having him lead the way in a new chapter in our QuestionPro Workforce platform.
Cheers to a new chapter for QuestionPro Workforce and the future of workforce technology!
Try QuestionPro Workforce to track, monitor, and gauge your employee processes.