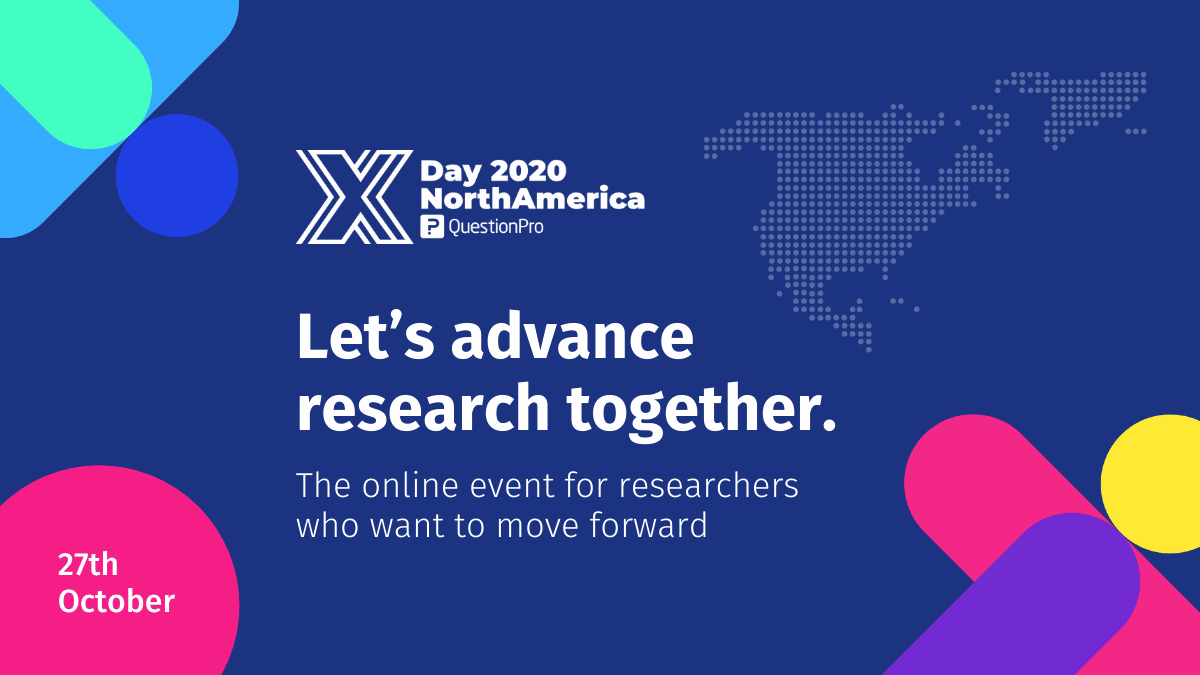 QuestionPro hosted our annual user conference – XDay, for our customers in North America on Tuesday, October 27, 2020. It was an entirely digital event on Zoom, with our customers and teams spread all over the US, Canada, and India. Here's a quick recap in case you missed it!
Kicking off the day, Vivek Bhaskaran, founder of QuestionPro, welcomed all attendees to the event and stated, "We strongly believe that research is the base for great decision making." He shared his thoughts on customer satisfaction and the importance of the root cause behind it. He believes NPS is great for measuring customer satisfaction, but it does not give any insights into the root cause. And so we have created NPS+. It not just helps you discover the underlying reasons behind the score but also enables the respondents to vote on each other's ideas.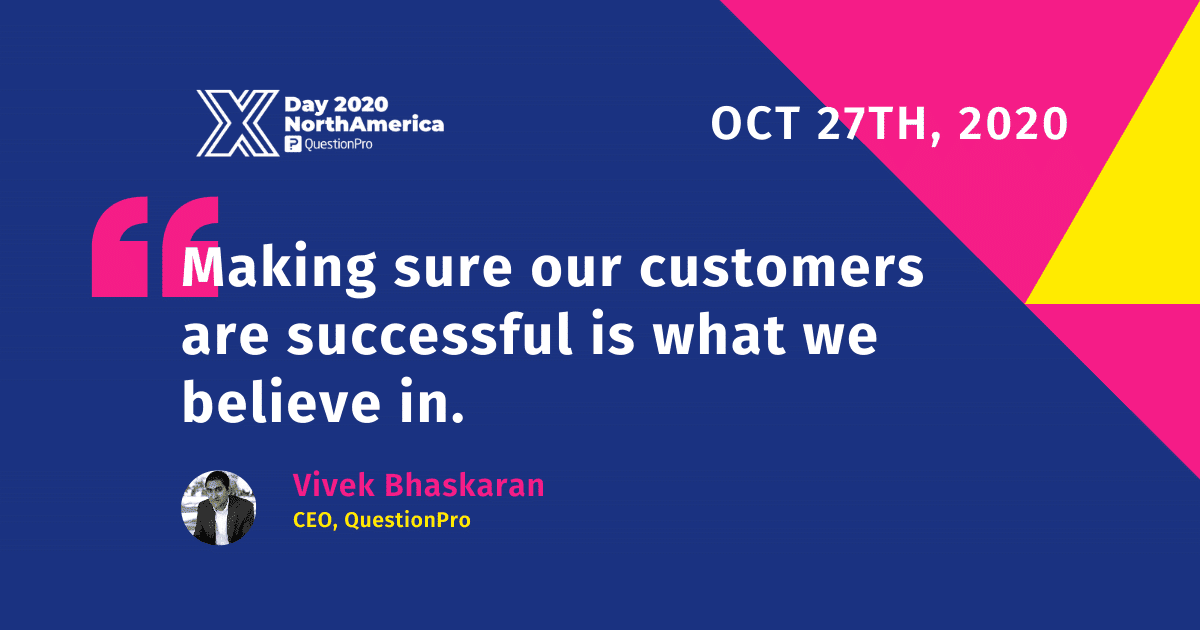 Watch Vivek's Kickoff Presentation
The keynote address was given by Angela Culver, Group VP, Marketing and Measurement, Oracle. She took us through her journey from being a professional skater to becoming a marketer focused on improving customer experience. She shared her lessons learned from the skating ring and how she applied them to improve brand equity at firms like Brio technologies and Neustar. She strongly believes organizations can be customer-centric with persistence and curiosity.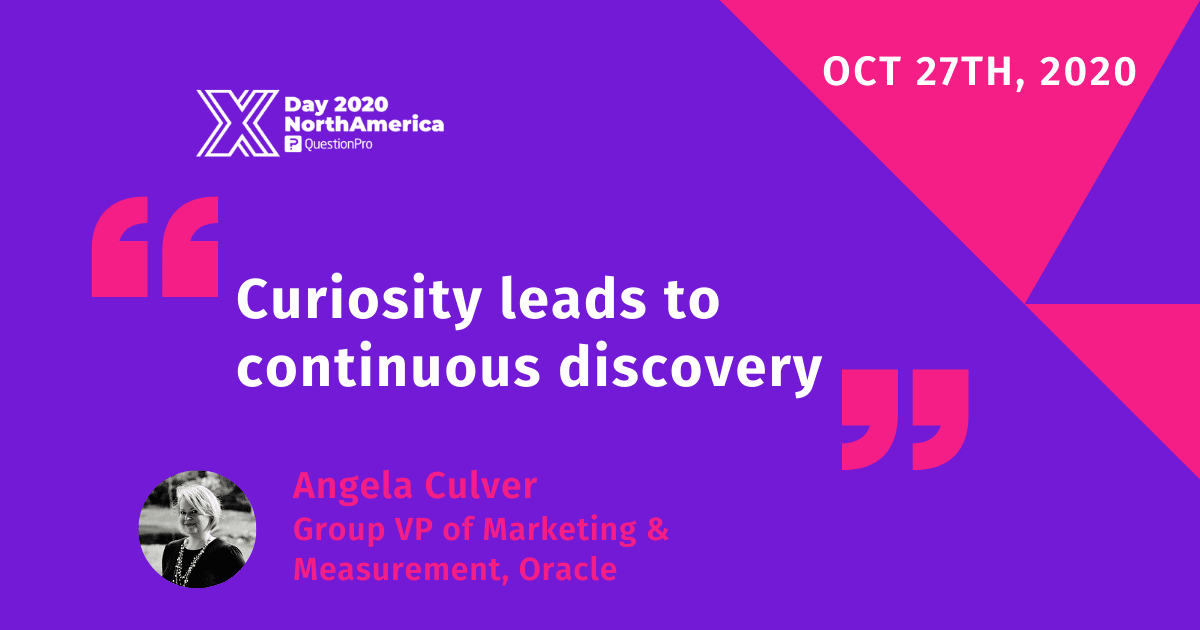 Watch Angela's complete Keynote Address
The afternoon kicked off with a fireside chat with QuestionPro customer Marissa Sison, Lead Experience Manager – Consumer Insights at Verizon. Marissa has 15+ years of experience in marketing research, survey design, consumer, brand, and advertising research, tracking experience, executive-level research consultation, and global research. She gave insights into how she uses research in her everyday decisions and the future of research.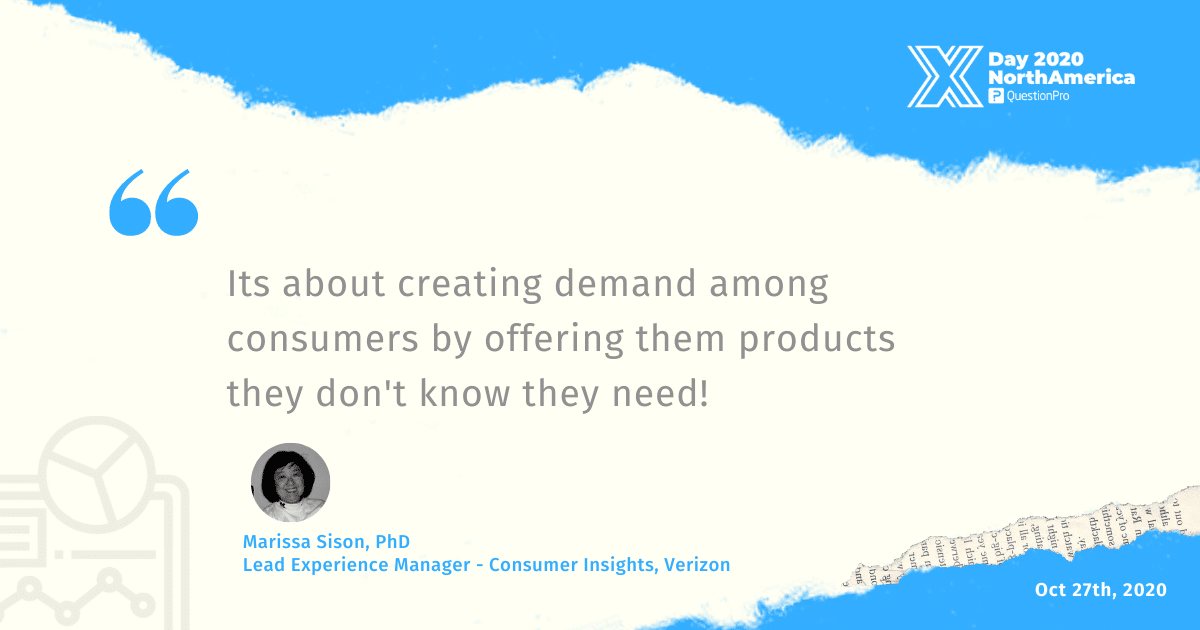 You can watch this insightful chat here. 
One of our most interactive sessions was with Erik Koto, COO and Anup Surendran, VP, Product and Engineering during our Surveys Product Showcase. Erik and Anup highlighted some of the major releases as below and how they affect research. 
Multilingual email templates: Users can now create email templates in different languages and select a one based on the language set against a contact. 

Custom validation message (beta): This feature allows you to replace the system validation messages with your own and manage them in a library to use them in all your surveys.

User roles and management: Provide access to different features based on their roles and assign them permissions.
Anup also threw some light on how anyone with a QuestionPro account can become a fresh pair of eyes for review and feedback directly into your survey. 
The features that spiked the interest most were the text highlighter question and the ability to view multiple snapshots of your data. With text highlighter in beta, you can gather feedback on lengthy paragraphs and the number of likes/dislikes for any selected text.
Watch the complete Surveys Product Showcase
Next, Ken Peterson, President, Customer Experience, had a Fireside Chat with Mark Michelson, CEO, CX Talks. Mark spoke about his new project, CX Forums, and how it will get more time for online discussion so that they get to meet each other. He shared his views on the importance of networking online and how you can improve CX by hitting the touchpoint at the right time.
Watch this interesting Fireside Chat with Mark Michelson
Ken and Vivek presented the CX Product Showcase and gave insights into our latest developments like:
LiveCast: Enable any respondent to give audio/visual feedback.

Churn mitigation: It is the best ROI model that can be used to highlight the investment in CX.

NPS+: Get in-depth insights into the root cause behind the NPS, instead of just having a number as the response. Let your respondents view and vote for others' ideas, and enable them to add comments.
Ken emphasized the need to focus on passives with, "We never analyze the forgotten middle child. NPS+ lets you see if there are common issues between detractors and passives. Which helps us identify who is at risk of churning."
Watch the complete CX Product Showcase
Dan Fleetwood, President, Research & Insights Platform, and Tim Cornelius, Director of Audience & Sample Operations, presented the new features in the Research Product Showcase. They gave insights into how they can advance research with:
 Cross Tabulation Revamp

 Anchored MaxDiff

 Communities: PayPal Rewards

 Digital Focus Groups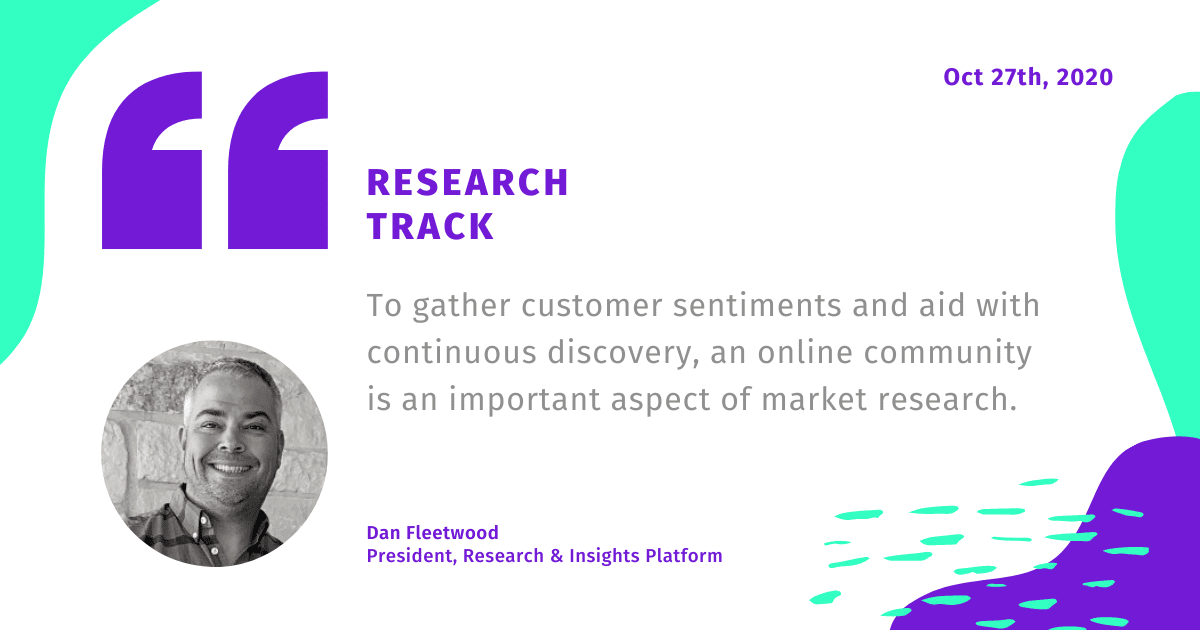 It was followed by a live demo on Instant Answers and how it can help with quick turnaround research studies. Dan and Tim shared the outlook for 2021 and beyond with pricing analytics features like:
Van Westendorp

Gabor Granger 

MaxDiff Analysis

Conjoint Analysis
Watch the complete Research Platform Product Showcase
And how could we end without a party! Yes, we had an online wrap party with the comedian Eugene T. Barns. He tickled the funny bones of everyone and made sure we ended the day on a light note.
Check out our XDay videos on YouTube. Stay tuned for more!