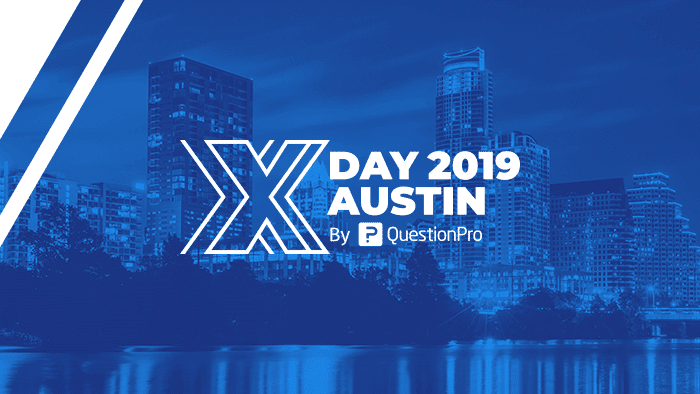 On Thursday, November 14th, 2019, we hosted X-Day Austin at the J.W. Marriott in downtown Austin. Despite the unusually cold weather in Texas, X-Day Austin shined bright with transformational stories, wisdom from industry experts, and networking opportunities that left attendees awe-inspired and wanting more.
Kicking off the day, Vivek Bhaskaran, founder of QuestionPro, welcomed all attendees to the event and stated, "Market leaders must use their intuition to optimize, personalize, and invent new experiences by tapping into digital opportunities and the hyper-adoption crowd." He shared his vision for our customers and teased the crowd with exciting product and services features including:
Facial recognition + voice feedback

Improving the survey experience with auto-advance

NPS+: Super-charge the NPS by giving customers a voice to find root causes and innovation opportunities. NPS+  allows respondents to post and vote on each other's ideas.
Next, the keynote speaker, Romi Mahajan, CMO at Quantarium, cleverly used his name as an acronym – Return On Marketing Investment (ROMI) – to call for people to go back to trusting their intuition and creativity when making important marketing decisions. "Bring back the marketer- digital is just a channel!" Romi reminds us that if you find yourself over-trusting measurement and tracking tools to define the success of a project instead of focusing on your audience, then you are doing it wrong.
The art of identifying the most valuable ideas to prioritize and work on was broken down into a four-step process highlighted by Google's founder and residence, Parah Vaish. Using the OGSM model, he shared best practices that have proven to bring life-changing ideas to life:
Keep ideas and objectives simple. Take 100+ ideas → 140 character description.

Measure converting effort into metrics/numbers (small, medium, large) to create a business score for each idea.

Compare to individual business scores to the overall business score.

Get the team ROI score & standard deviation, not just the highest paying person's opinion (HIPPO), to prioritize ideas and projects that will impact the world.
How do we turn conversations into increased revenue and growth? Praful Chavda, founder and CEO of Bryght.ai, presented how to identify a gold mine of growth opportunities within business-to-customer exchanges using AI/ NLP technology. No laborious manual efforts required!  Now we can use AI and NLP to analyze customer conversations and review 10X more data beyond the survey. Using other customer conversations will increase revenue and conversion rates, identify upsell and cross-sell opportunities, and reduce customer churn rates. The ability to take unstructured data and convert it into meaningful metrics will empower organizations to intuitively anticipate a customer's needs without having to ask them directly. The future is here, folks!
Together, Gautam Mahtani of Care Experience and Jennifer Day of Red Rock Diagnostics shared how experiences in the healthcare space are rapidly changing, the similarities and differences between patient and customer experience (PX and CX), and exciting ways they plan to contribute through disciplined execution. They segmented organizations based on how organizations are handling the patient experience:
The first group has low volume and low-frequency patient interaction which limits reporting and analytics.

The second group has some processes around listening to patient data (comment boxes) and is good at service recovery but analytics limits them from getting them to the root cause.

The third group is capturing real-time and automated feedback deployment. With persistence and discipline, they get the desired outcomes by changing behaviors within the organization.
Based on these groupings, PX can be improved by implementing disciplined CX practices to create affordable healthcare options, more transparency with the patient journey, and develop stronger relationships between healthcare providers and patients. 
In our second dual speaker session, LinkedIn's Tim Bollish and  Kwantum LLC's Marco Vriens taught us how to identify "the switchable consumer," understand the at-risk customers, and how to push the boundaries of traditional research in order to hit short and long-term organizational goals. This can be done by performing a brand density analysis to identify these types of customers to assess true opportunities. From the presentation, we learned that it's better to identify people who aren't strongly loyal to a specific brand and open to switching to your brand. This helps with direct advertising to the switchable consumer instead of loyal customers. LinkedIn's case study revealed that their biggest competitor is actually themselves. How they market to LinkedIn customers should be carefully considered in order to ensure their brand messaging and objectives are 100% clear across their many product and service offerings. To learn more about brand density and how to find your own switchable consumes, here's an article from QuestionPro's VP of research services, Jason Talwar.
The transformational value of the net promoter score (NPS) and CX was challenged and reimagined by Owen CX Group's Richard Owen. The current state of CX programs shows that only 5% of NPS programs generate results in line with expectations of actual business outcomes resulting in about a 50% mortality rate in that program. This is why most companies are one change in management away from killing their customer program altogether. However, if done right, transformational capabilities are the CX program's direct contribution to driving execution in the business. There are three recurring issues that make CX fail: 
There's a weird mentality that CX is a separate strategy within the company and not related to others. Does it live in marketing or in sales and operations? 

Data is inadequate. Not enough data or it's being captured at the wrong moment during a customer journey. 

The organization suffers from culture and operational problems. Massive internal blockers usually stifle the CX program.
To address these issues, Richard shared out the CX Value Chain:
Transformation – from the inside out, everyone must be bought into the program and actively change behaviors by persistently applying CX protocols on a continual basis

Address the financial layer – CX is not cheap, however, if we can reframe how it can generate 10x value, then it really gets people invested in the long-term results!

Apply a measurement layer – create meaningful metrics that people can understand.

Execution layer – A proactive solution for all CX transactions 
To end the day, Jamie Notter of Human Workplaces presented how to identify key work culture patterns that impact innovation. "Innovation is change that unlocks new value. We all have access to this, but it just needs to be unlocked in your culture to stop undermining it." Jamie defines culture as a collection of words, actions, thoughts, and stuff that clarify and reinforce what is truly valued inside an organization. We have to be honest about it – what is the culture really like here? To measure this, you can review employee opinions on creativity, inspiration, permission to hack, continuous improvement, future focus, risk-taking, experimentation, and testing new ideas. To implement and change the culture, the solution is to write and run a playbook that fixes and shift these culture patterns. Just like sports, some plays work well at different times and it's a matter of managing what works best in the present time. The culture model surrounds the concepts of workplace processes, team and structure design, technology, talent/hr, rituals/artifacts, and stewardship. 
Special thanks
To our keynote speaker, Romi Mahajan: Thank you so much for bringing your incredible energy and kicking off the day with a smart and inspiring message for us all. 
To our panel of speakers: Parag Vaish, Praful Chavda, Gautam Mahtani, Jennifer Day, Tim Bollish, Marco Vriens, Richard Owen, and Jamie Notter – Thank you for accepting our invitation, traveling to Austin, and passionately sharing how transforming experiences can be attained. Your wisdom and stories will live on as the catalyst for transformation for our customers. On behalf of everyone at QuestionPro, we thank you for being an important part of our inaugural event in Austin.
Stay tuned for the details of X-Day 2020 and please contact us to discuss solutions that will result in successful lasting transformation.