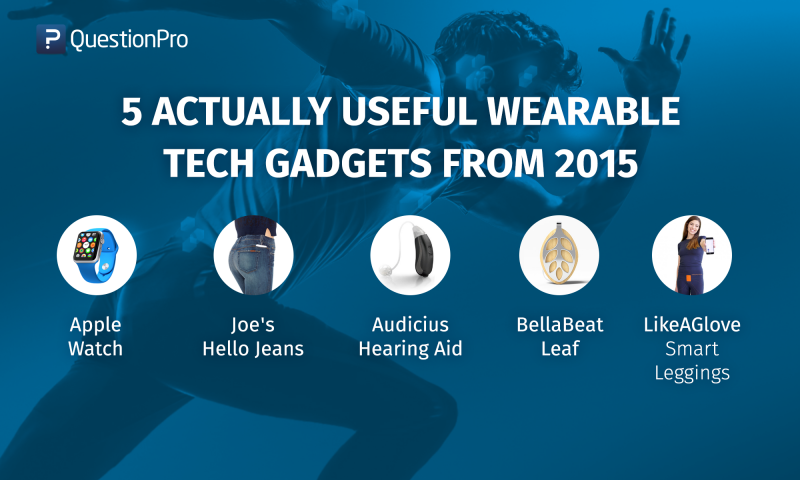 Not a day goes by when we are not introduced to a new, life-changing, industry disrupting wearable tech product, without which we should not be able to imagine our lives. I think you would agree, that often these – how did we ever survive before them gadgets are pretty lame. Seems like they just don't live up to their too-good-to-be-true description, or simply are not something you were desperately missing in your life.
That being said, 2015, however, did introduce a few high-tech surprises – things that you might actually consider wearing. We have gathered five most innovative and considered useful wearables launched in 2015. Do you have any of these?
1. Apple Watch
Inevitably, any wearable tech conversation from 2015 starts with the Apple watch, which was finally introduced to us last April. Where you one of the crazy folks lining up for it? I certainly was not. I can live without a mini iPhone on my Wrist, and I am already busy enough charging all the other devices every night. I don't even have enough outlets to plug them all in. So – Thank you, but no thank you. Without a doubt, it is a fancy product, that has many advocates, who cannot resist the sleek, almost-too-beautiful to touch design, with even fancier brand bands that win over even then pickiest fashionistas.
2. Joe's Hello Jeans
Oh, no! Our lives would end if our phone ever ran out of battery. Guess what, Joe's Hello Jeans got you (not only your butt) covered. Hello Jeans, which debuted in August 2015 have a sleek, discreet slot for a slim phone-charging battery. The demand for these has been very high, and Joe's Jeans has even had to add a few more designs.
3. Audicus Hearing Aid
Finally. 2015 has introduced a hearing aid that is fashionable. Available in four patterns, equipped with Bluetooth capabilities, allowing its users to listen to music, talk on the phone, Audicus is predicting even higher demand from both male and female customers.
4. BellaBeat Leaf
This one is for you, ladies. Anonymous Survey: How many of you have been at the doctors and have been scrapping, guesstimating an answer to that annoying: "When was your last period?" question. Bellabeat Leaf not only tracks your period but also your stress levels, sleep patterns and physical activity. And yes, they've thrown the ovulation tracker in there just like a bonus. Available since May 2015, this is the gadget for all you busy bees, who need a little help to keep your health on track.
5. LikeAGlove Smart Leggings
Trying thing can be annoying and buying online can often leave you disappointed. Since October 2015, startup LikeAGlove is capitalizing on online shoppers, who want to get their sizes right, by introducing "smart leggings" which contain built in conducive fibers that take thousands of measurements of your legs, shape, and contours. An additional App then lets you browse through a catalogue of popular denim brands to help you find your dream jeans. With a mission to help you find jeans that best fit your shape, LikeAGlove are taking pre-orders now, to get the smart leggings you in summer 2016.
Did you get to know, which were the most popular fads in 2015?