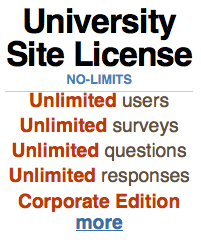 QuestionPro is now launching a university-wide and a department-wide site licensing model for QuestionPro Survey/Research Software.

The University Site License allows every faculty member and student access to QuestionPro.
How It Works
The Site Licenses is issued to a university assigned email domain (Eg. @ohio.edu)
When students/faculty signup with the university assigned email address, they automatically get the upgrade for free
Site License can be purchased at the department level (dept.university.edu) or university wide access (university.edu)
Google Apps Education Edition
If your university has a Google Apps Edu – Ask about the Google Apps Discount!
Next Steps?
Please contact Aditya Bhat – aditya.bhat [at] questionpro [dot] com for more information
More information on the QuestionPro OpenAccess Site License: