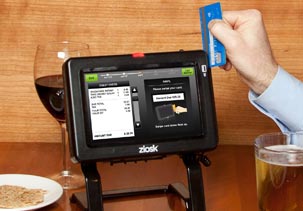 If you've dined out at your local Chili's or Applebees lately, you might have noticed something a little off: no waiters. There is a growing number of restaurants that are trying something new by using small, interactive computer screens at the table in place of a wait staff.
It works like this: there is a tablet stationed somewhere on your table with an interface that is easy enough for a grade-schooler to use. You select what you want to eat and add items to a cart. Depending on the restaurant's preferences, the console could show you nutritional information, ingredients lists, and photographs. You can make special requests, like "dressing on the side" or "extra bacon." When you're done, the order zings over to the kitchen. Want a margarita in the meantime? Just add it on the console, and wait for the waiter to bring it. Bored with your companions? Play games on the machine. When you're through with your meal, you pay on the console, splitting the bill item by item if you wish and paying however you want. And you can have your receipt emailed to you. Some devices have advertising; many plan to add it. Device makers hope to charge liquor companies for ads and retailers for coupons.
According to many in the industry, iPads and tablets are the future of restaurants. Not only are we seeing them in family chain restaurants, but we've also seen them in the restaurants by Delta Air Lines gates at New York's John F. Kennedy and LaGuardia airport, which installed iPads at tables that let guests custom-order meals. Bone's Restaurant in Atlanta uses iPads for its wine list. Co-owner Richard Lewis says wine sales jumped 20% since the iPads were added six months ago.
Buffalo Wild Wings has partnered with HubWorks Interactive on a pilot program, which offers several different mobile ordering platforms for the iPad along with a case that offers security and protection, a kickstand, a credit card reader, and extended power capabilities including AC power or up to 16 hours of battery life. The company sells basic iPad packages for $750 apiece.
While it may sound crazy to replace lined notepads that cost $1.50 with $500-$750 iPads, restaurant owners claim the new system saves money—and allows the restaurant to make something of a fashion statement while streamlining its ordering system.
While the above restaurants are some of the first to make the move to a technology-focused restaurant, they certainly won't be the last. What do you think of the new era of dining out? Worried you'll lose that "personal touch" from waiters? Excited about the ease of use? Share your thoughts below.