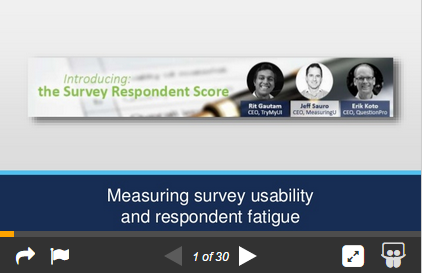 On 3/17, we held a live webinar on our new integration with TryMyUI, and debuted a new scoring model representing the amount of stress put on a respondent during the survey taking process (you can read a recap of the webinar here).
For those of you who missed the webinar (and haven't had a chance to watch the recording available here), here are the slides from the presentation. Many things can affect the amount of stress placed on a survey respondent, and we walk you through our analysis of these areas and how they affect the data you receive.

Co-presenting we have Erik Koto, QuestionPro's CEO; Jeff Sauro, MeasuringU CEO; and Rit Gauthum, CEO of TryMyUI. You can visit the SlideShare page here for a transcript of the slides.