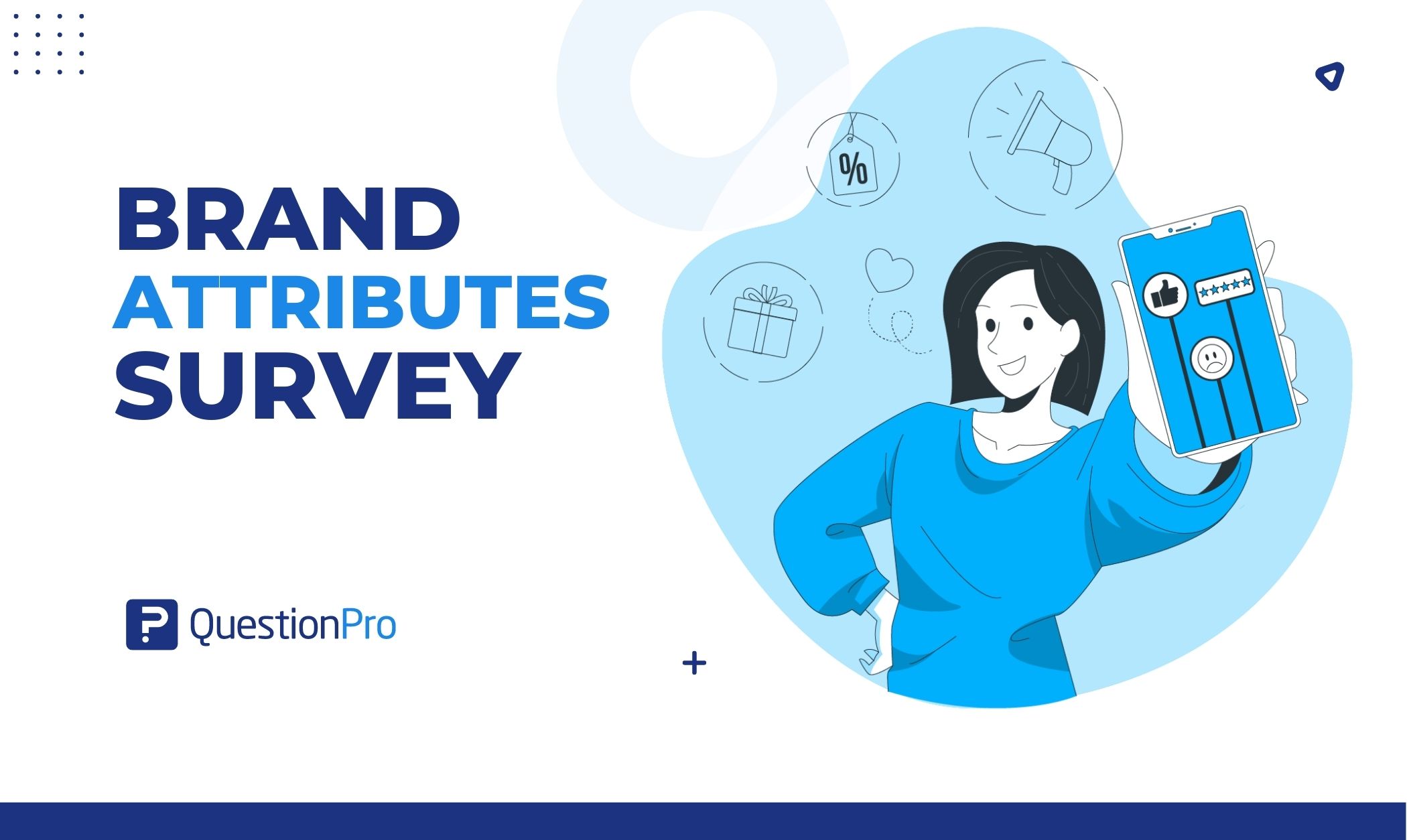 All responses to a brand attributes survey are valuable, which is one of the survey's many advantages. If you have the desired strength and positive brand attributes, you have some solid data to support your marketing.
However, even negative responses can be highly beneficial. How would you know if there were flaws in your customer service offering if you didn't conduct these surveys? Internal measures and gut feelings are useless as indicators. Customer views and metrics are the only ones that could be useful.
In this blog, we will discuss what a brand attributes survey is, why it's important to conduct, and also give you some sample questions for your better understanding.
What is a brand attributes survey?
A brand attributes survey is a research technique used to learn more about customer perception, affiliations, and traits related to a specific brand. The survey normally consists of a series of questions asking respondents to score the brand on various criteria such as trustworthiness, dependability, innovation, and quality.
The survey results can provide useful insights into how the brand is regarded by its target market and can be used to guide marketing and branding efforts.
LEARN ABOUT: Branding Questionnaire
You may also check out this guide to learn how to build your own Customer Journey Map.
Why are brand attribute surveys important?
Brand attributes describe your company's important values and serve to attract and connect people to your brand. Brand attributes surveys are essential for a variety of reasons. They are given below:
A brand attribute survey is useful for identifying new product development opportunities or determining which product or service qualities are essential to customers.
It may also be conducted to track changes in customers' impressions of the brand. This can assist businesses in tracking the progress of their branding and marketing initiatives and making decisions about where to invest their resources in the future.
The findings of a brand attribute survey can be used to inform a variety of business decisions, including the creation of marketing campaigns, the design of new goods, and the selection of distribution channels.
How to conduct a brand attributes survey?
A brand attributes survey provides data for sales initiatives. It pinpoints the strengths the market sees in you and your brand. Here are some steps you may take to conduct brand attributes surveys:
Make a list of questions that will assist you in achieving your goals. Include both quantitative (such as rating scales) and qualitative (such as open-ended) questions.
Test the survey with a group of people who are similar to your target market to check that the questions are clear and simple to understand. Make any required changes based on the feedback you get.
Determine whether you will conduct your brand attributes survey online, by phone, or in person.
Send the survey to your intended audience using the method of your choice. Include a clear introduction that outlines the goal of the survey and how the results will be used.
Once the survey responses have been received, analyze the data to detect patterns and trends. Use the data to guide your branding and marketing strategies.
Share the insights with the appropriate parties, including the marketing group, the product development group, and the top management. Make sure to include the main insights as well as any suggestions for improvement.
It is critical to verify that your survey is conducted accurately and that your sample is representative of the audience you are attempting to reach.
Sample questions of brand attributes survey
Include both quantitative, like rating scales, and qualitative, like open-ended questions, when creating a list of questions that can help you achieve your goals.
Sample of quantitative questions in brand attributes survey
According to your product or service, you can fix a rating scale of 5 or 10 and create questions for your survey to know your customer's perspectives.
Learn more about why understanding your Customer Journey transforms your CX program.
Let's say you have a brand named Z. You want to know what your customers are thinking about you and your brand.
So, you decide to conduct a survey to know their perspective, but what questions will you ask? Here, we will give you an idea about how you can set questions following the patterns given below:
How likely are you to recommend brand Z to a friend or family member?
Does brand Z provide high-quality goods or services?
How much are you satisfied with brand Z?
Sample of qualitative questions in brand attributes survey
You can ask open-ended questions in this type of survey. This type of question demands the respondent to elaborate on their views. It allows you to see things from a customer's point of view because you collect feedback in their own words rather than scripted responses.
Answering open-ended questions with a simple yes or no are impossible.
Let's have a look at some sample qualitative questions to conduct a brand attributes survey:
What are the top three things you like best about Brand Z?
Customer support
Product Quality
Price
Customer hospitality
Some more sample questions of brand attributes surveys are:
What are the top three things you dislike best about Brand Z?
What are your thoughts on the marketing and advertising of brand Z?
How QuestionPro helps in brand attributes surveys?
QuestionPro is survey software that enables users to design, distribute, and analyze surveys, including brand attribute surveys. It provides a variety of question formats, such as multiple choice, open-ended, and Likert scale, that can be used to collect information about various brand attributes.
Furthermore, QuestionPro provides tools for analyzing survey data, such as cross-tabulation and statistical analysis, which can help customers better understand their results and make informed decisions based on the data.
Conclusion
The brand attributes survey helps companies research and comprehend how customers relate to and associate with their brands and products. The insights of these surveys develop effective public relations and marketing strategies for your brand.
You have learned about the brand attributes survey from the above discussion. Now it's time to conduct one for your own brand. If you are thinking of adopting any survey platform, you can surely go for QuestionPro.
QuestionPro is survey software that allows users to build and distribute surveys to collect data from respondents. It has several capabilities, including creating custom surveys, questionnaires, and forms.
Additionally, it enables users to distribute surveys using various media, such as social media, email, and web links, and gather real-time insight. It is also cloud-based software, which means it can be accessed from any device with an internet connection.
So, Try out QuestionPro now to grab the best value for your brand attributes.