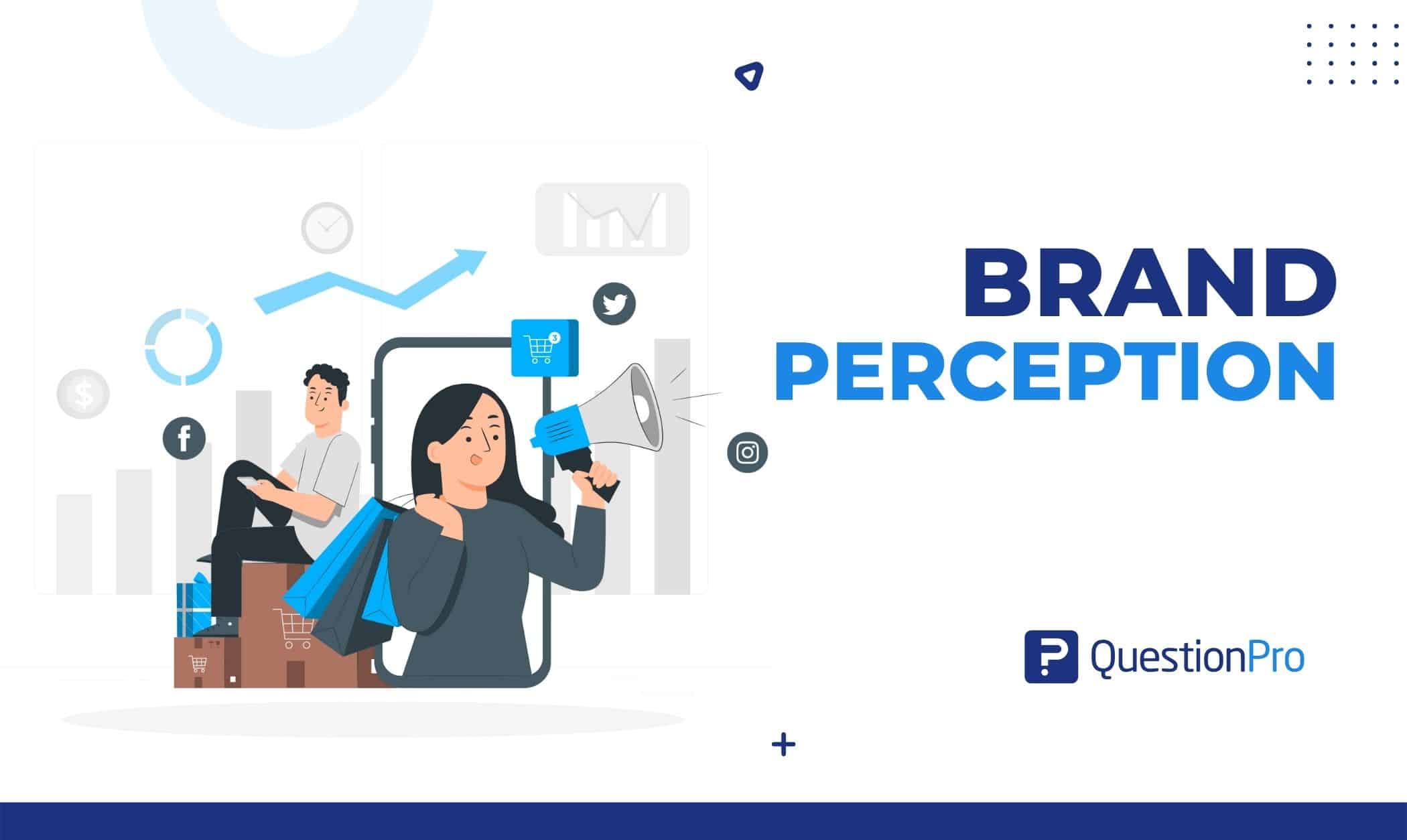 Many firms strive to make great brand perception look better than it is. We realize it isn't easy, but we'll try our best to improve brand perception. Let's become more specific.
Many companies think they know how customers feel about them and how to attract customers. If you're in business yourself, it's because you believe you have a great product or service to market; therefore, it seems natural that you expect your consumers would feel the same.
Your brand perception is how your customers view your product or service, not what you believe it is. We're not saying what you think about your brand isn't true, but we are saying that every time a customer interacts with your brand, whether they buy a product, read or write a review, talk to your customer service team, or spread the word of mouth feedback a perception is made.
Let's talk about brand perceptions and how to measure it to make sure your brand is as sweet as you believe it is.
What is Brand Perception?
Brand perception, often called brand image, is the collective beliefs, opinions, customer's feelings, and impressions consumers hold about a particular brand. It is shaped by various factors, including a brand's reputation, brand equity, brand promise, messaging, product quality, brand personality, customer experience, and values. Brand perception can be positive or negative and is crucial in influencing consumer decisions, loyalty, and overall brand success. Brand represents how consumers see and feel about a brand based on interactions and exposure.
How people see your brand affects the number of loyal customers you get, the prices you can charge, and the partnerships you can make with other brands.
Learn About: Brand health
Importance of Brand Perception
Having a good brand perception is a fast track to success. People who trust your brand will be more likely to buy your products. Other businesses will want to work with you even more. It will be easier to get new products on the market.
Improving brand perception is of paramount importance for a successful business and organizations for several compelling reasons:
Influences on Purchasing Decisions:

One of the most critical roles of brand perception is its impact on consumers' purchasing decisions. A positive perception of a brand by consumers increases the likelihood of them selecting its products or services over those offered by competitors. Conversely, a negative brand perception can deter potential customers from engaging with a brand.
Differentiation:

In a highly competitive crowded marketplace, brand perception sets a company apart. A strong and positive brand perception can be a unique selling proposition (USP) that helps a company stand out and command higher prices for its products or services.
Trust and Credibility:

A positive brand equity fosters trust and credibility. Consumers tend to place their trust and exhibit loyalty toward brands that they view as dependable, truthful, and unwavering in their commitment to delivering high-quality products or services. Trust is a foundation for long-term customer relationships.
Customer Loyalty:

Brands with a positive brand promise tend to have higher customer loyalty. A positive brand equity among consumers often results in increased customer retention and word-of-mouth marketing, as satisfied customers are more inclined to become repeat buyers and enthusiastic advocates who recommend the brand to others.
Price Premium:

Brands with a strong and positive perception often can charge premium prices for their products or services. Consumers are inclined to pay a premium for brands they view as providing superior quality, dependability, and value.
Expansion Opportunities:

A brand with a positive perception has a better chance of successfully expanding into new markets and product categories. Consumers are more willing to try new offerings from a brand they already trust and customers perceive positively.
Brand perception is a powerful driver of a company's success. It influences customer behavior, loyalty, pricing power, and overall competitiveness. Businesses should actively manage and invest in shaping and maintaining a positive brand equity to reap its benefits.
How to Measure Brand Perception
Now we will discuss some points on how you can measure your brand perception. They are given below:
Keep Track of Your Online mentions
Tracking online mentions can help determine if and how many people are searching for your brand online. You can track this statistic using both search engine results and social media platforms.
Focus on how many times someone has typed your brand name into a search bar, how many tags are attached to your brand content, and how many people link directly to your original content.
Monitoring Social Media
Keeping an eye on your social media means regularly evaluating your overall presence on each platform. This can help you find out which apps your target audience uses the most and which ones help your brand grow.
You can focus on a few key things, like content views, time spent on the page, and how well paid content is doing. This is an important way to measure brand perception.
Using a software tool or app to monitor your social data might help you improve your brand impression. Data may be easily compared using tools that provide a single hub dashboard that monitors your content and activity across channels.
These tools often let you monitor metrics, generate content, and distribute it across several channels inside the same software package.
Check Out Reviews Online
Online reviews are like word-of-mouth suggestions but on a bigger scale. People often read reviews before buying a product or signing up for a service to get an idea of what it's like to use the item from a different person's point of view.
By reading customer reviews, you can find out what people think of your products and see where you're doing well and where you could do better.
Use Social Listening
Social listening can be a part of monitoring social media channels and keeping track of mentions online, but it has a specific goal. This plan tells you to look at the quality of your social media interactions with your audience. This can help you find out how people feel about your business.
Know Your Target Audience
You may believe you know and understand your target audience, but you may analyze their numbers to assure demographic consistency. Think about making buyer personas, like biographies of your ideal or target focus groups of customers for a specific product or service.
Review the information you have about your users and leads and see how it compares to your personas. From there, you can decide to make your brand's image fit your actual target market or change your strategy to attract more of your persona targets.
Brand Audit
You can have a consultant do a brand audit or do it yourself. A brand audit is a review that determines where your brand stands in its market. It looks at your internal and external branding and how your customers feel about your business.
The results show how your business stacks up against others in the same field. The higher you rank, the more likely people will think well of your brand, especially in more significant markets.
Sales Funnel Data Tracking
Get your target audience in small groups and ask them honestly what they think of your brand. A focus group might be held in person or virtually using video calls. For businesses with intricate supply systems, this approach would work well.
Brand focus groups may show you where your system has knowledge gaps and how to influence brand perception of product development positively.
Brand Perception Surveys Creation
You may discover more about your target audience by conducting brand perception surveys. They include open-ended questions that let people express their actual ideas while yet giving you the information you need to monitor brand impression.
Running a brand survey cycle every three months could provide you with the most recent data about your audience. Additionally, you may link polls to specific advertising initiatives. A few brand perception examples of customer surveys are:
Product Survey:

They are used to get information for marketing campaigns and product development teams about how happy a customer is with a specific product.

Net Promoter Score (NPS): It is sent at specific points in a business's relationship with a customer to find brand advocates and measure customer loyalty.
Customer Satisfaction Survey:

It is triggered by a specific interaction and measures consumers' opinions through targeted questions.
Review What Makes Your Brand Special
You can use the information from your different forums to help you decide if your brand is unique from your competitors.
You can put information from online reviews and open-ended questions into certain analytics software that looks for customers' words and groups them by topic. This helps you in determining what your consumers identify with your brand.
Brand Perception Examples
A strong and positive brand perception can be a company's most valuable asset in today's competitive marketplace. It influences consumer choices, fosters loyalty, and even commands premium pricing. Let's explore some prominent examples of brand perception to understand better how these perceptions are crafted and how they impact consumer behavior.
1. Tesla:
Many regard Tesla as an innovative and forward-thinking brand in the automotive industry. Tesla has built its brand perception on cutting-edge electric vehicle technology, sustainability, and a commitment to a cleaner future. Consumers view Tesla as a pioneer in electric cars and autonomous driving, and they often associate it with environmental responsibility and modernity.
2. Nike:
Nike is known for its strong brand perception in the athletic and sportswear market. The brand is associated with performance, excellence, and empowerment. Nike's "Just Do It" slogan and iconic swoosh logo have contributed to a perception of motivation and determination. Consumers often choose Nike products for their perceived quality, style, and association with athleticism.
These examples demonstrate how brand perception can be shaped by product quality, marketing efforts, corporate values, and the emotions and associations consumers have with a brand. Each brand's unique perception plays a significant role in attracting and retaining customers.
Brand Perception With QuestionPro
QuestionPro is a well-known online survey and research platform that helps businesses and organizations collect and analyze brand perception data to gain insights into various operations, including brand perception. Here's how you can use QuestionPro for measuring brand perception:
Create a Survey:
Start by creating a survey on QuestionPro. You can design your survey questions to gather information about how customers perceive your company's brand. Ensure your questions are proper, concise, and relevant to your brand's perception.
Target Audience:
Define your target audience. You can survey your existing customers, potential customers, or a specific demographic group you want to target. QuestionPro allows you to conduct brand perception surveys through various channels, including email, social media, and embedded forms on your website.
Brand Perception Questions:
Design questions that capture different aspects of brand perception. Some example questions might include:
On a scale of 1 to 10, how likely are you to suggest our brand to a colleague or friend?

What words or phrases come to mind when you think of our brand?

How satisfied are you with the quality of our products/services?

How do you perceive our brand's reliability and trustworthiness?
Scale and Response Options:
Choose appropriate scales and response options for your questions. QuestionPro provides a range of response formats, including Likert scales, multiple-choice, and open-text responses.
Branding and Customization:
Customize the brand perception survey to reflect your brand's colors, logo, and overall look and feel. Consistent branding can help reinforce your brand identity during the survey.
Distribution:
Use QuestionPro's distribution tools to send the survey to your target audience. You can track responses and send reminders to improve the response rate.
Analysis:
Once you've collected responses, use QuestionPro's built-in analysis tools to gain insights. You can create charts, graphs, and reports to visualize the data. Look for patterns and trends in respondents' answers to understand how your brand is perceived.
Actionable Insights:
After analyzing the data, pinpoint areas where you can enhance your brand perception. It could involve refining your products or services, enhancing customer service, or adjusting your marketing messaging.
QuestionPro offers various subscription plans and features, so choose the one that best suits your needs and budget for brand perception research. Additionally, contemplate seeking advice from branding and market research experts to ensure the practical design of your survey and maximize the value of the insights you gather..
Conclusion
Knowing what others think of your brand is essential to growing a successful company's reputation. You learned about understanding brand perception study and how to measure brand perception in the above discussion. It provides the data you need to define your brand identity, plan effective marketing campaigns, and adjust as brand perception moves.
Now that you understand how to assess brand perception, you can use it to make intelligent brand choices and drive your business. Check out QuestionPro research tools to get to the root of your brand's health and analyze indicators that will move you forward.
Request a demo if you want to develop your customer relationship and favorably affect brand perception.