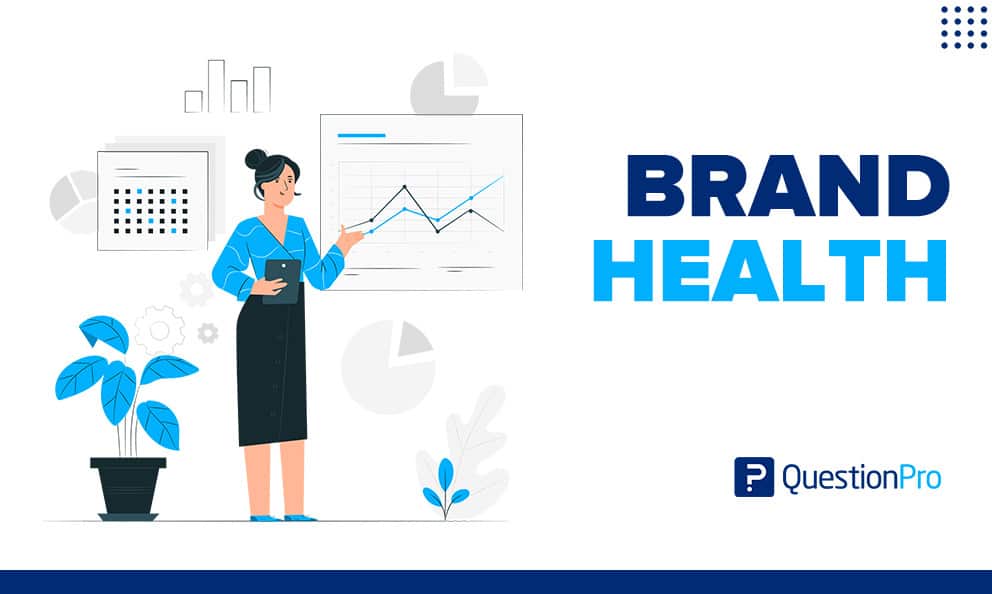 Do you want to know brand health and identify strengths and weaknesses? In this article, you will find the brand health metrics to measure and learn how to use them correctly to create a brand strategy that meets your goals.
A strong brand is essential to the company's success; it drives sales, attracts talent, and encourages free advertising. So, where is your brand? Do people know it? How do they perceive it? How is your brand doing concerning its main competitors?
In this case, monitoring the health of the brand is very useful.
What is brand health?
Brand health is a collection of customer satisfaction metrics that shows how well your brand is doing in the big picture. Not to your company (as in sales numbers) but to your brand. A healthy brand offers consistent, memorable, and differentiated customer experiences.
There is no single correct meaning of brand health. However, all of its meanings are based on the customer experience and emotions associated with your products or services.
Less satisfying brands are perceived differently. Customers have little emotional connection with them and do not distinguish them from similar products.
Why measure brand health?
Brand health shows you where your brand's strengths and weaknesses are.
Should you focus on publicizing your brand? Or in improving the reputation management strategy? Does improving your brand reputation mean stopping controversial marketing campaigns or improving your customer service?
Brand health metrics numbers will give you answers to these questions.
Measuring brand health helps you gain valuable marketing insights. For example, increased brand awareness is a good sign. However, brand awareness can be both positive and negative. When Facebook users inquire about your new product or service, you will get a large number of mentions of the brand, and with them, you will gain an audience.
That is why it is necessary to keep all the metrics in mind.
Monitoring brand health gives you answers to clarifying questions like "What is behind these brand mentions on LinkedIn?" or "Is my reach greater than that of competing brands?"
In addition, brand health monitoring is an effective way to understand your position in the market, reveal your competitors and listen to your employees and customers.
Of course, you can ignore the brand health study and continue to collect raw data such as the number of likes or followers. Unfortunately, these are just details, not really the whole picture.
Also, your brand health is important for recruiting because experts prefer to work with strong brands.
Metrics to measure brand health
Some metrics allow you to analyze and measure the health of your brand, including:
1. Brand awareness
A social media monitoring tool shows how the number of brand mentions has grown over time. It shows the volume of online conversation, its dynamics, and where and when the talks occur.
Answer questions like:
Where is your brand talked about?
What countries, states, and cities?
What social networks?
What news sites?
You can get all this information in real-time. In the same way, find out when the conversation occurs. Is online noise related to product launches, marketing campaigns, or peak season? Or does it depend on something else entirely?
2. Brand reputation
Knowing the level of conversation around your brand, its growth over time, and what this growth depends on is a good start. However, it is also important to know what is being said about your brand.
Break down positive, negative, and neutral mentions to give you a clear picture of your brand's reputational risk on social media.
To know the global figure and the details, you can look at the positive, negative, and neutral mentions one by one in the mentions feed.
You can also keep an eye on themes that show the words that appear most frequently around your brand.
3. Employee engagement
When thinking about measuring brand reputation, companies often overlook employee engagement. But let's not forget that employees want to work in a company with which they share values.
People who like their jobs tend to share ideas, events, and updates from their companies on social media. The more engaged your employees are, the more brand advocates you will have. Hence the importance of monitoring this brand health metric.
4. Brand positioning
Brand positioning defines what your customers associate with your company. Does your brand inspire them or make them stand out? Perhaps the reality is different, and people do not understand the message behind your company's mission.
That is why it is necessary to check this metric within the brand health monitoring study.
5. Voice quota
You cannot know where the brand is without comparing your results with those of the competition. At that moment, the metric of "share of voice" or voice quota enters the scene.
By monitoring your own brand and your competitors' brands, you discover the share of voice that corresponds to your brand in social networks. This is a vital metric for evaluating brand health.
How to assess brand health?
Now that you know what brand health is and what metrics to monitor, let's look at three common ways to measure brand health:
Social listening shows brand awareness, reputation, and share of voice, which are the most demonstrative brand health metrics. All these metrics are measured in social media (social networks, news sites, blogs, forums).
Note: This means that social listening won't work for you if your target audience doesn't spend time on social media.
Social listening involves the use of a social media monitoring tool that finds mentions of keywords across networks, news, forums, and the web.
Look for a tool that analyzes mentions to show you the big picture, including sentiment analysis.
2. Focus groups and surveys: collect in-depth qualitative data
Social listening collects information that people themselves put online. This means that this information is not biased by the questions asked.
However, sometimes we need answers to specific questions. That is when we need focus groups and surveys.
The qualitative data provided by the participants will allow a better understanding of how people see the brand.
These methods will help you define your employees' commitment and the positioning of the brand.
3. Analysis of customer feedback
Once you've gotten enough information on your target audience, it's time to focus on existing customers. In many cases, reputation and brand awareness are made by customers. They make it or break it, tell all their friends or shut up, and leave good or bad reviews.
So another way to assess brand health is to collect customer feedback & create a perceptual map. You can get information about what they like and don't like about the brand, how their perception has changed over time, why they chose your brand and not the competition, etc.
4. Organize your data
After you've gathered all kinds of data, it's time to pause and make sense of it. You can use the Net Promoter Score and automatically obtain the percentage of negative and positive mentions.
Conclusions about Brand Health
Knowing what brand health is, its importance, and how to monitor it is a great way to ensure your company's image is healthy. Perhaps you are currently tracking some of the metrics we share with you here. If so, you have to follow up and make the necessary changes to improve.
Remember that at QuestionPro, we have online tools that will help you collect information from your customers or employees to improve the performance of your business. Create your free account or request a demo to learn more about the features that will help you collect valuable insights for your brand.