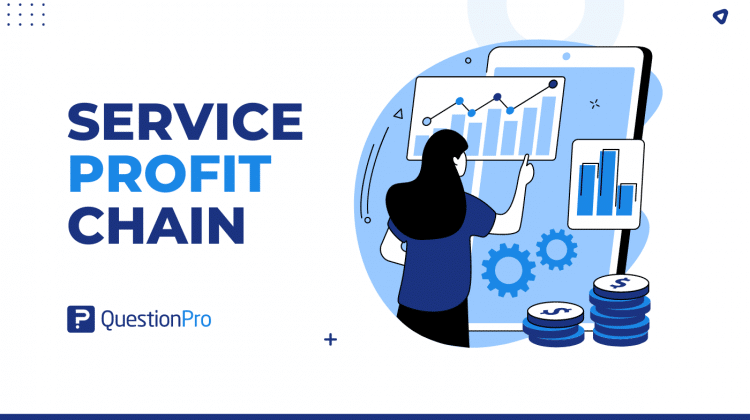 Researchers at Harvard University came up with the service-profit chain. It talks about how the happiness of workers affects the happiness of customers. If the people who work for a company are happy, their customers may also be happy.
Workers who are happy at work may make better products or services. Buyers who get good products and services may be more likely to buy from you again.
This plan can help companies make more money and make their employees and customers happier. This gives the company more money, giving the workers better working conditions. The circle keeps going because the happiness of the workers then goes up.
In this blog, we explain the service-profit chain, list its key parts, look at how it affects employee engagement and customer relationships, and give you ways to improve the service-profit chain at your workplace.
What is a service profit chain?
The service profit chain is a diagram that shows how an organization's internal service quality interacts with other internal service components to influence revenue growth and profitability.
Business models and ideas can help companies find out more about their customers and make more money. The service profit chain helps managers determine the elements important for enhancing both profitability and revenue growth.
For example, the service-profit chain is a theory that explains how happy workers and customers are related to profit and growth in sales. If you're on a customer service, sales, or leadership team, it might help to know about this business idea.
Here is how one aspect of the model operates:
Employee satisfaction directly affects company policies and support services that enable them to provide excellent products and services.
Employees who are happy and productive produce value.
Customer service quality and value have an impact on satisfaction.
Customer happiness has a direct bearing on loyalty.
Customer loyalty encourages profit and growth.
Elements of the service-profit chain
The service-profit chain links employee satisfaction, customer loyalty, and financial success in service-oriented businesses. It shows that focusing on employee engagement and customer satisfaction might boost a company's financial performance.
Internal service quality
This has to do with how well the company supports and helps its employees. It includes things like training, tools, funding, and the environment where the work is done. When workers get good service inside the company, they are more likely to be happy and motivated to give customers great service.
Employee satisfaction
In the service-profit chain, employee happiness is a key link. When workers are happy, they are more likely to be engaged, committed, and motivated to do a good job. They tend to be more productive and are more likely to stick with the company.
Employee productivity and performance
When workers are happy, they are more likely to be more productive, improving the quality of their service. Customers are more likely to be happy and stay with a company whose workers do a good job and give them a good experience.
External service value
External service value is how customers see the quality and worth of a company's services. It includes things like how fast you respond, how reliable you are, how you treat your customers, and how the customer feels overall. Customers are more likely to be happy and loyal to an organization if they think the service is worth a lot.
Customer satisfaction
Customer satisfaction is a way to measure how well a company meets or goes above and beyond what customers expect. They help the organization's long-term growth and its ability to make money. Customers who are happy with an organization are more likely to keep doing business with it, buy from it again, and tell others about it.
Customer loyalty
Customer loyalty is how committed and willing a customer is to keep doing business with a company over time. They make a big difference in the organization's growth and profit-making ability. Loyal customers are more likely to buy from you again, tell their friends, and be less responsive to price changes.
Financial performance
The end result of the service-profit chain is how well the business does financially. Better financial success lets the company put money into employee training, better customer service, and other areas to keep the chain going. When an organization does a good job of managing the above factors, it leads to more loyal customers, which in turn leads to more sales, income, and profit.
Tips for improving service profit chain
Improving the Service Profit Chain needs a strategic plan that focuses on improving the satisfaction of employees, the satisfaction of customers, and the financial performance of the business. Here are some tips to help you improve your organization's Service Profit Chain:
Develop solid leadership skills that will inspire and drive all of your employees. Give people a clear idea of where you want to go, tell them what you expect from them, and lead by example. Invest in leadership development programs to help your managers and directors get better at their jobs.
Make sure your employees have all the tools, training, and help they need to provide great service. Streamline processes, put money into technology, and encourage people to work together as a team. Always look at and improve the quality of internal services to get rid of roadblocks and make things run more smoothly.
Set up a good work setting that encourages employees to be engaged and happy. Give workers competitive pay and benefits, give them chances to grow and learn, and recognize and reward their achievements. Encourage open conversation, ask for feedback, and take care of any problems or worries right away.
Market research, surveys, and other ways to get feedback can help you determine what your customers want and expect from you. Use what you've learned to make your service more personal and improve the customer's experience. Train your employees to be understanding, responsive, and proactive when it comes to meeting customer wants.
Create a culture in your business that puts customer happiness first. Tell your workers how important it is to provide great service, encourage them to take responsibility for customer problems, and give them the power to make decisions that will help customers. Values that focus on the customer should be part of measuring success and giving rewards.
Building customer loyalty
Set up plans to build strong relationships with people and get them to stay with you. Create customer loyalty programs, make personalized offers and suggestions, and make events that people will remember. Actively ask for comments and deal with customer concerns to show that you care about their happiness.
Measure financial performance
Always keep an eye on financial success indicators like revenue, profit, the cost of getting a new customer, and the lifetime value of a customer. Look at trends and find places to improve or spend. Use the data to make good choices and get the most out of your resources.
Adopt a mindset of innovation and constant improvement. Encourage workers to talk about ways to improve customer satisfaction, service quality, and operational efficiency. Assess your methods, systems, and customer feedback on a regular basis to find ways to improve.
Communication and engagement
Encourage everyone in the company to talk to each other in a clear and open way. Keep your employees up to date on business goals, customer feedback, and success metrics. Encourage two-way communication channels to ask employees for their thoughts and comments. Involve workers in making decisions that affect the quality of service and the customer experience.
Invest in training and development programs to help your workers improve their skills and knowledge. Offer ongoing training on the best ways to serve customers, business trends, and new technologies. Give your employees the tools and information they need to do their jobs well.
LEARN ABOUT: Effective Customer Success Plan
Conclusion
Service Profit Chain is an effective concept that shows how employee happiness, customer loyalty, and, in the end, business profitability are all connected.
By knowing and using this framework, organizations can create a positive cycle in which engaged and motivated employees provide excellent customer service, which leads to more satisfied and loyal customers and, in the end, more money.
QuestionPro, the top provider of online survey software and research solutions, is a key part of the Service Profit Chain because it helps organizations measure and analyze key metrics.
With their full set of tools, businesses can get useful feedback from their employees and customers, find places where they can improve, and make well-informed choices to improve their service delivery and increase their long-term profits.