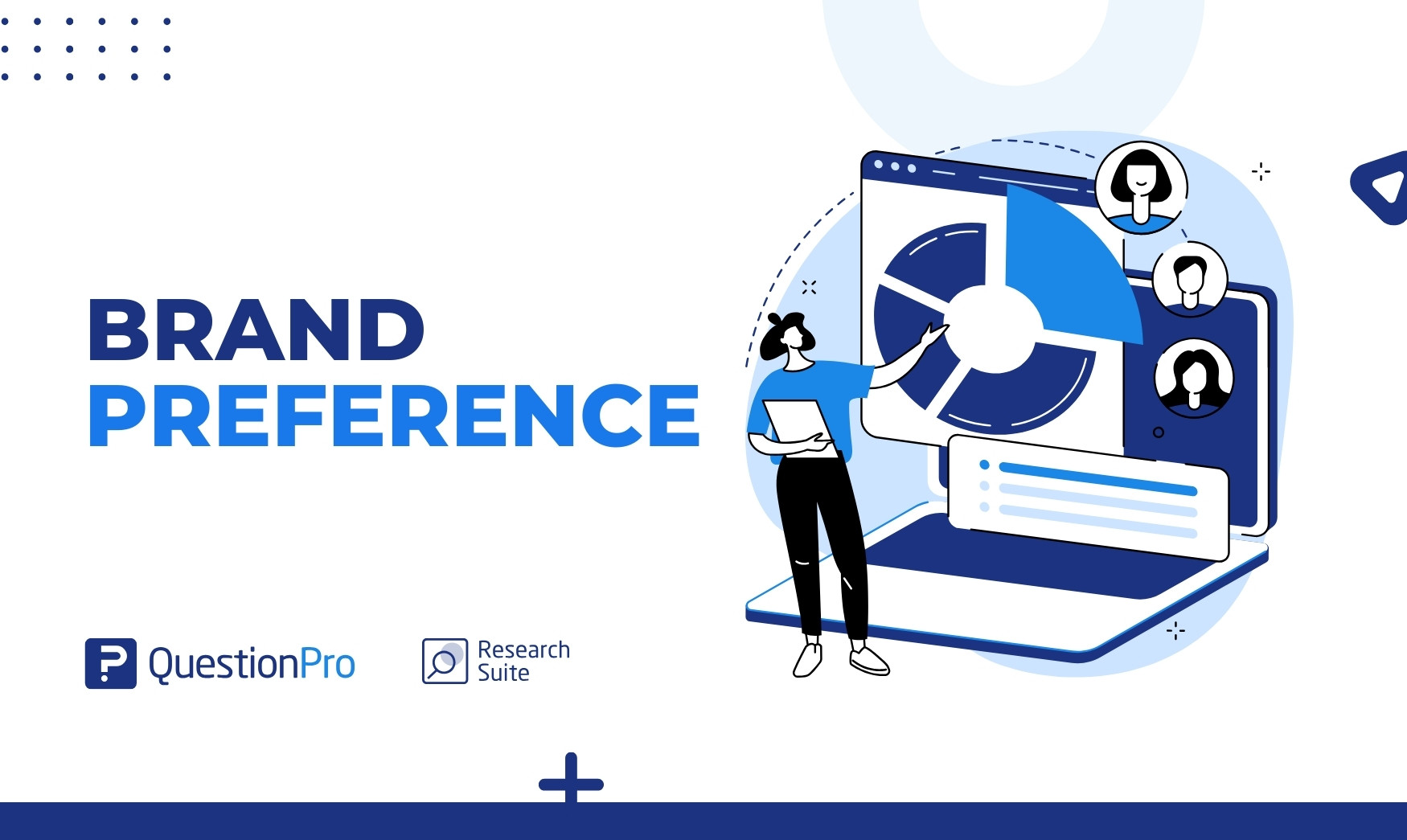 Brand preference is not just a buzzword in today's business world; it's a powerful force that can significantly impact your company's success. In a marketplace overflowing with choices, cultivating them can be the key to standing out, attracting loyal consumers, and gaining a competitive edge.
This guide will take you on a journey to understand the essence of brand preference, its immense importance, and the strategies to create and nurture it for your organizations. Join us as we explore how to make your brand the preferred choice of your target audience.
What is a brand preference?
Brand preference is a marketing phrase that describes a situation in which consumers consistently prefer one brand over another within the same product or service category.
It refers to a strong preference or affection for a single brand that extends beyond one-time purchases. Instead, it shows a consumer's consistent preference to purchase products or services associated with that brand, even when other options are available.
This preference can be influenced by a number of factors, such as the brand's reputation, product quality, pricing, customer experiences, and emotional connections.
Establishing brand preference is critical for organizations seeking long-term success and lasting consumer relationships in today's competitive markets.
Importance of brand preference
It is incredibly important for organizations. Here's why:
Customer Loyalty: When people prefer your brand, they're more likely to stick with it. They become loyal customers who come back for more. This means you don't have to work as hard to find new customers all the time because of your true brand loyalty.
Positive Word-of-mouth: Happy customers who prefer your brand tell their friends and family about it. This word-of-mouth advertising is super effective because people trust recommendations they know.
Higher Profits: Loyal consumers tend to spend more. They're willing to pay a bit extra for your product or service because they prefer your brand. This can boost your profits.
Competitive Advantage: When you have a strong brand choice, you stand out from the competition. You become the go-to choice for many customers, even if there are other brands available.
Stability: In a competitive market, having customers who prefer your brand provides stability. You're less affected by changes in the market because your loyal consumers stick with you.
Brand Equity: Brand preference builds brand equity. This means your brand becomes more valuable over time. It's an asset that can benefit your business in various ways.
How do you create brand preference for your brand?
Generating brand preference among your consumers is a process that requires careful planning and consistent effort. Here are seven essential steps to help you build and develop a particular preference:
Work on your brand identity
Branding is the foundation of preference. Define your brand's identity, including its values, image, and how you want it to be perceived by your audience. This identity will set you apart from competitors.
Craft a compelling brand story
Develop a captivating brand story through storytelling. Share your brand's journey, origins, and values with your audience. Storytelling can evoke emotions and create a connection with consumers.
Convey and align with brand values
Emphasize your brand's values in all marketing efforts. Consumers seek brands that share their values. Building trust and a sense of shared values can increase brand preference.
Engage with your community
Interact with your audience, especially on social media. Create engaging content and encourage interaction. Building a strong brand community can enhance brand preference.
Deliver outstanding customer experiences
Ensure exceptional customer experiences at all touchpoints, from your website to after-sales service. Happy customers are more likely to become loyal advocates for your brand.
Pay attention to consumer feedback, reviews, and comments. Understand their needs and expectations. Use this feedback to improve your brand's offerings and service.
Measure and analyze performance
Regularly measure the impact of your brand preference-building efforts. Analyze key performance metrics to evaluate the success of your strategies. Adjust your approach based on the data and insights.
By following these steps and continually assessing your brand's performance, you can effectively generate and nurture brand preference among your consumers. Remember that building it is an ongoing process that requires dedication and a deep understanding of your audience.
How do you measure brand preference?
Measuring brand preference is essential to understand how well your brand is performing in the market and how loyal your customers are. Here are some common methods to measure it: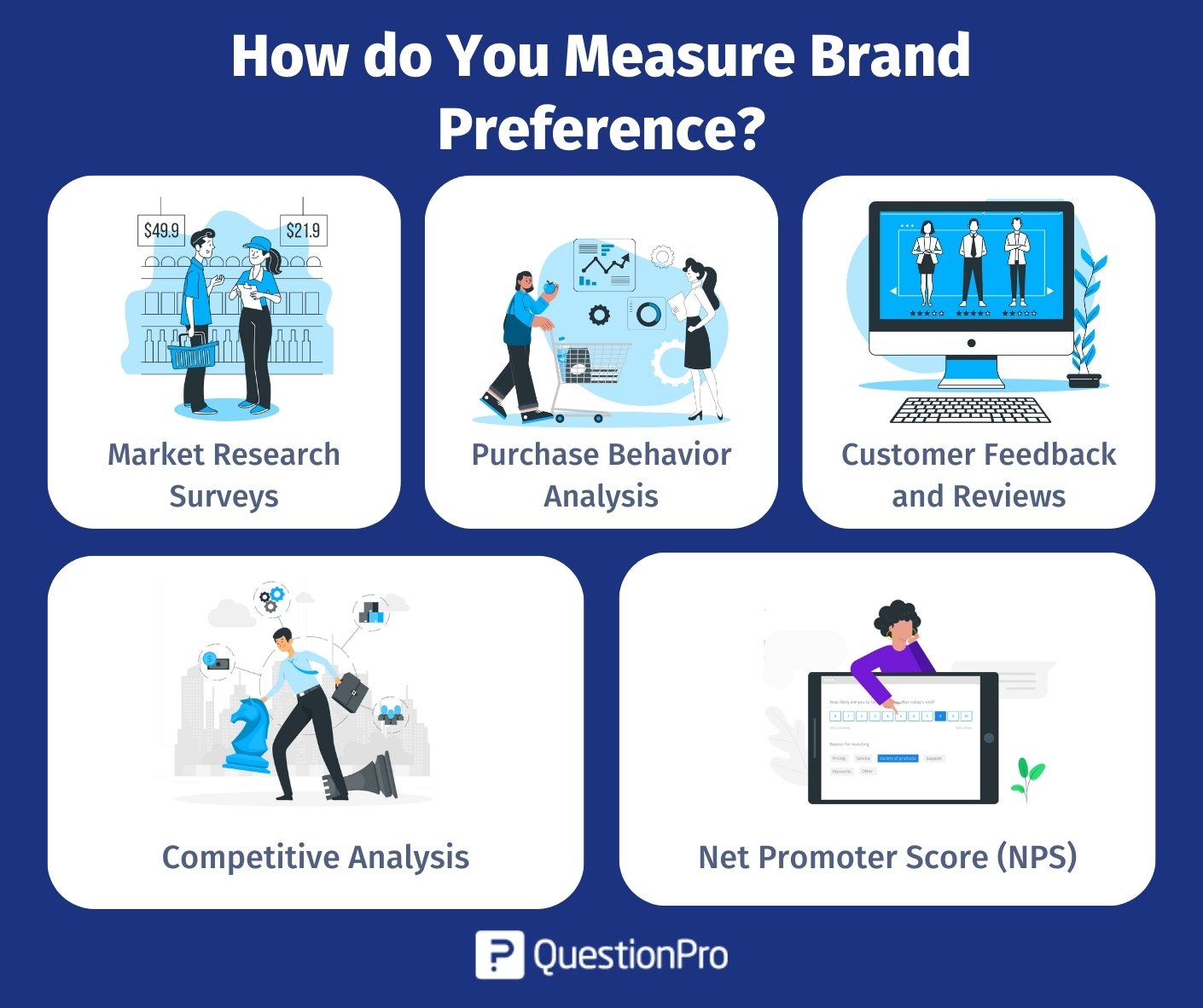 Surveys are essential for brand preference measurement. Ask consumers about their industry or specialty preferences via questionnaires. For example, ask respondents which brand they would buy for a product or service. Ensure survey samples are representative of your target market for accurate data.
Purchase behavior analysis
Purchase behavior can indicate brand preference. Find repeat purchases in your sales data. Your loyal customers favor your brand over the competition. Implement customer segmentation to understand client categories and preferences.
Customer feedback and reviews
Monitoring consumer feedback across channels can reveal it. Examine internet reviews, social media, and excellent customer service. Consider how customers feel and speak about your brand. Positive comments and repeated compliments show a strong brand preference.
Analyze your brand's market position with a complete competitor analysis. Compare your market share, customers, and growth to competitors. More customers and market share indicate a stronger brand preference. Compare your brand to competitors using a review platform and marketplace customer ratings.
NPS is a popular brand preference and customer loyalty metric. By asking, "On a scale of 0 to 10, how likely are you to recommend our brand to a friend or colleague?" you can classify respondents as Promoters (9-10), Passives (7-8), and Detractors (0-6). Brand preference and loyalty increase with better NPS and more Promoters.
How does QuestionPro help in building brand preference?
QuestionPro surveys play an important part in brand preference development by incorporating many aspects of brand management and customer engagement. Here's how QuestionPro surveys help with this process:
Surveys for Customer Feedback: QuestionPro offers a wide range of survey types, including
These surveys allow businesses to directly collect feedback from customers, gaining valuable insights into their preferences, expectations, and experiences with the brand.
NPS (Net Promoter Score) Surveys: NPS surveys provided by QuestionPro help measure customer loyalty and advocacy. By asking the "How likely are you to recommend our brand to a friend or colleague?" question, brands can gauge customer sentiment and identify potential brand advocates. Promoters can significantly impact brand preference through positive word-of-mouth.
Brand Identity Assessment: QuestionPro surveys can be designed to assess brand identity components such as brand awareness, brand associations, and brand personality. By understanding how customers perceive their brand, organizations can refine and strengthen their identity to align better with customer preferences.
Market Research Surveys: Beyond brand-specific surveys, QuestionPro supports comprehensive market research efforts. Brands can use market research surveys to gather competitive intelligence, assess market trends, and gain insights into consumer behavior. This information is essential for adapting brand strategies to meet changing market dynamics and customer needs.
Targeted Segmentation: QuestionPro allows businesses to segment survey respondents based on demographics, behavior, or other criteria. This segmentation helps brands tailor their messaging, products, and services to different customer segments. A personalized approach enhances the likelihood of customers developing a preference for the brand.
QuestionPro provides a versatile platform for brands to engage with customers, assess their brand identity, measure customer loyalty, conduct market research, and refine their strategies. By leveraging the insights gained from these surveys, businesses can build stronger brand preferences and foster lasting relationships with their target audience.
Conclusion
In a competitive business landscape, cultivating brand preference is not just a luxury; it's a necessity. It sets your business apart, fuels customer loyalty, and drives revenue growth. Understanding its importance and how to create it is crucial for long-term success.
Through establishing brand identity, crafting engaging brand stories, adhering to shared values, and nurturing customer relationships, businesses can foster brand preference that resonates with their target audience.
In today's data-driven environment, QuestionPro lends a helping hand. QuestionPro has powerful survey and research tools to help businesses understand customer preferences, satisfaction, and brand perception.
These insights allow businesses to tailor their branding strategies to their target audience's needs and values, creating brand preference. QuestionPro gives businesses actionable insights to build, nurture, and strengthen brand preference, leading to market success. Contact QuestionPro today to learn more or to book a demo.