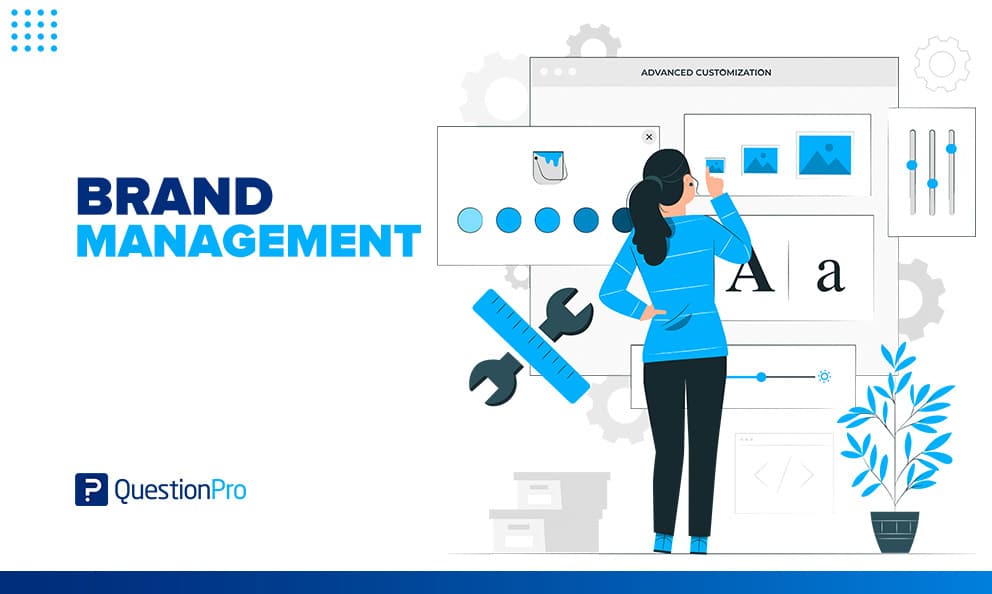 Brand management concerns the relationship between a company and its target customers; it must be sustainable to succeed. The maintenance and growth of that relationship encapsulate its importance. Companies can't ignore their customers' needs and preferences if they aim to achieve business.
Most likely, companies must get to know their customers emotionally. Studying their behavior, reactions, likes and dislikes within their brand experience process can showcase how your potential clients consume. This data allows you to determine the best practices to lead them into buying what your company offer them.

At the same time, client satisfaction results from a well-executed brand management strategy, which generates and improves customer loyalty. A customer who becomes a fan of the brand, or brand ambassador, is the best marketing asset a company can have.
LEARN ABOUT: Client Management
The evaluation of the brand perception within the customer flow is never stopping. There's a necessity for constant data collection, which will allow us to predict consumer behavior. Let's talk about what brand management is.
What is Brand Management
Brand management is a good strategy, data research and analysis around all the brand elements. Customer awareness of customer behavior within your brand will provide you with insights to predict future reactions to your company's actions, prevent issues and make intelligent decisions.
Getting to know the most loyal customers by gathering data about their experience should be a main priority. From the first time they heard of the brand to their first contact with its products or services to developing an emotional attachment to the brand. All these processes are studied within the brand management process.
All these gathered insights help us anticipate future behaviors and prevent risk factors while providing customers with adequate experiences. They provide us with an amplified knowledge of our customer's behavior.
Brand Management Examples
Putting brand management into practice will provide you with new opportunities. Some of them will be key to the development of your company. For example:
Relate to relevant media.

Have up-to-date information on trends in the sector.

Anticipate customer reactions and behaviors to avoid a reputation crisis.

Get new promotional opportunities.

Improve the positioning of your brand in search results.
Steps for Brand Management
Brand management determines how to influence brand perception in the eyes of the target customer. It is a never-ending process in which evaluation and strategy are essential to developing an optimal brand reputation, which will increase the overall value of a company through the gain of trust and brand loyalty from happy customers with nothing but positive experiences.
Below you'll find a simple guide to brand management.
LEARN ABOUT: Buying behavior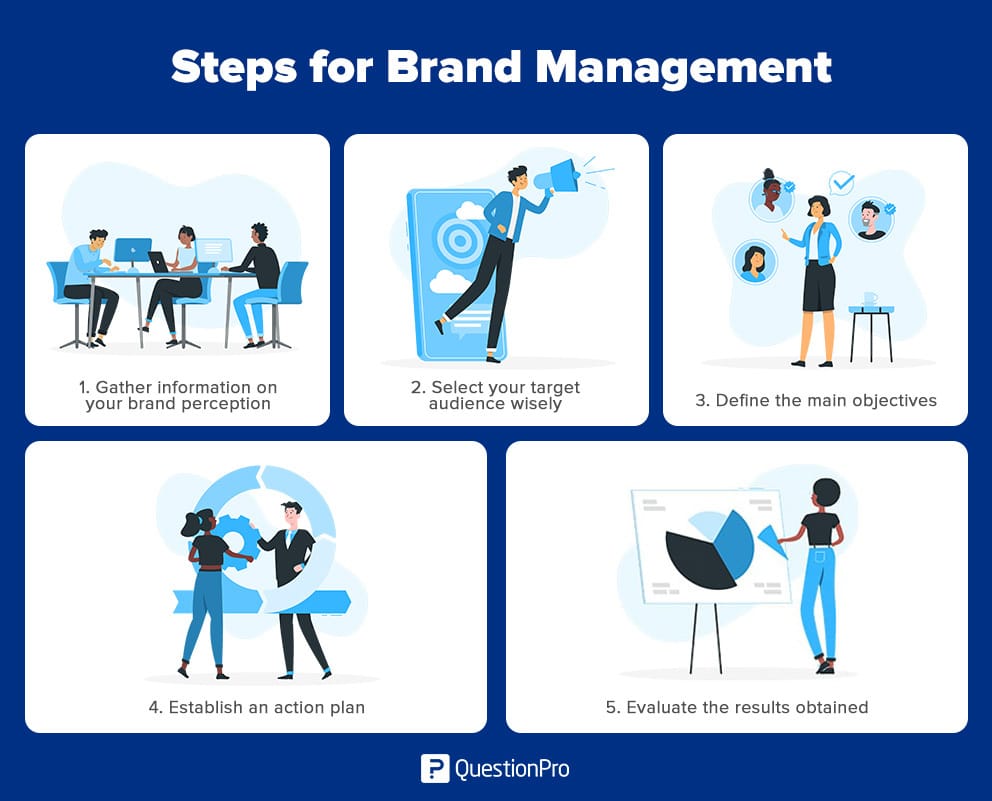 1. Gather information on your brand perception
Everything you can learn from your customers and their relationship with your brand is vital for developing your whole company in some of its more essential areas: marketing, workplace culture and sales are some of them. Tools such as surveys and data collection from your clients will provide you with insights and valuable information to adapt and develop your business practices safely and adequately.
How customers and potential customers perceive your brand will constantly change as trends evolve and experience expectations evolve. Collecting information through surveys and data analysis must be a priority because it will get us ahead of possible outcomes and be prepared to approach any situation accordingly.
2. Select your target audience wisely.
The ideal client is the one that is perfectly suited to the type of business you are running and the way you work. They have to be like your best friend, and you have to know everything about them.
This type of profile is what you want to attract to your business: people willing to invest money in your services because they know it will solve their problems or meet their needs. It is important to remember that we're dealing with real people with real feelings and emotions while deciding to buy a product, discontinue a contract or expand service.
3. Define the main objectives.
Determining a clear objective is essential to knowing where you want to go. Setting goals is part of the strategic planning of any effort.
We must set the company's priorities to determine the main goals. Some examples of excellent brand management goals to define are: creating an ideal environment to display the products or services we provide to facilitate growth, offering added value to customer experience, improving relationships to gain trust, and improving brand reputation management.
4. Establish an action plan
Brand management and reputation are some of the main challenges for a company. It's necessary to avoid possible risks and predict reactions for goal achieving.
We must build our brand on a solid foundation, in other words, made from a developed action plan that guides us through the steps to follow and achieve our goals and, above all, communicate what we want our target audience to know.
5. Evaluate the results obtained
Before we start investing in your brand, we need to be sure that it will be successful with our target customers. One of the criteria for evaluating your brand strategy is the relevance of your action plan to your target customers.
Another criterion to evaluate is to define what makes us different from our competitors and, not least, make sure that target customers perceive that the company can deliver on what the brand promises.
We must ensure that our brand management aligns with the business strategy.