Ok, if we've said it once, we've said it a thousand times: the era of paper feedback is dead. Done. Finito. Constantly evolving technology is changing the world we live in AND the world we eat in. However, it seems to us that some people are still.not.getting.the.hint, so we need your help to make a point to these people: BURN THE COMMENT CARDS.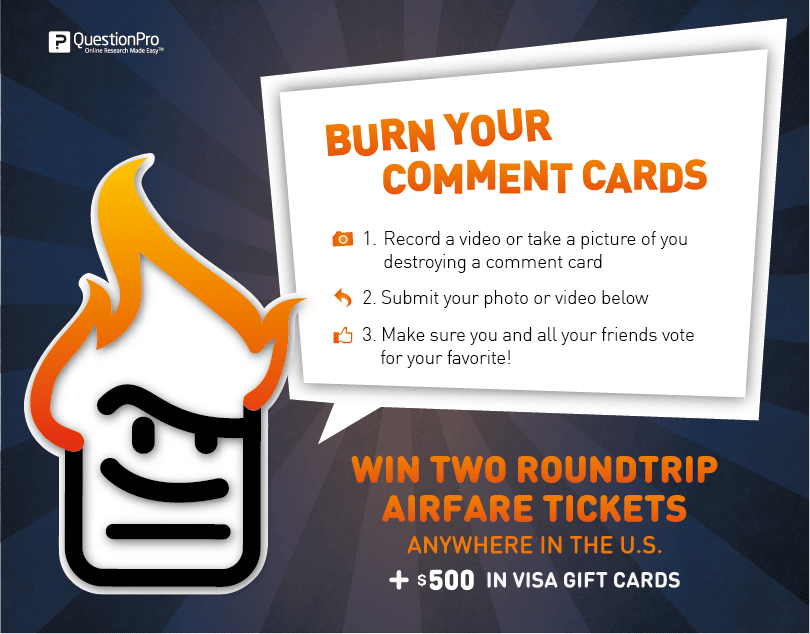 Starting today, and going until Friday, November 15th, we'll be hosting a little (BIG) contest on our Facebook page, which is where you can submit a photo or video of you destroying a comment card. Make it funny. Make it dangerous (but don't sue us if you get hurt). Make it clever. Make it whatever you want to make it, so long as the message is clear: we are ridding the world of comment cards for good!
Of course, once you've submitted your video comes the best part: PRIZES! We're giving away two roundtrip airfare tickets anywhere in the U.S., plus $500 in Visa gift cards for the runners up. That's right…when everyone else is shoveling snow out of their driveway in mid-January, you could be sitting on the beach in Hawaii drinking a mai tai. All you need to do is submit your photo or video and get your friends and family to vote for you once every day!
So what are you waiting for? Head over to the contest page now and enter to win!