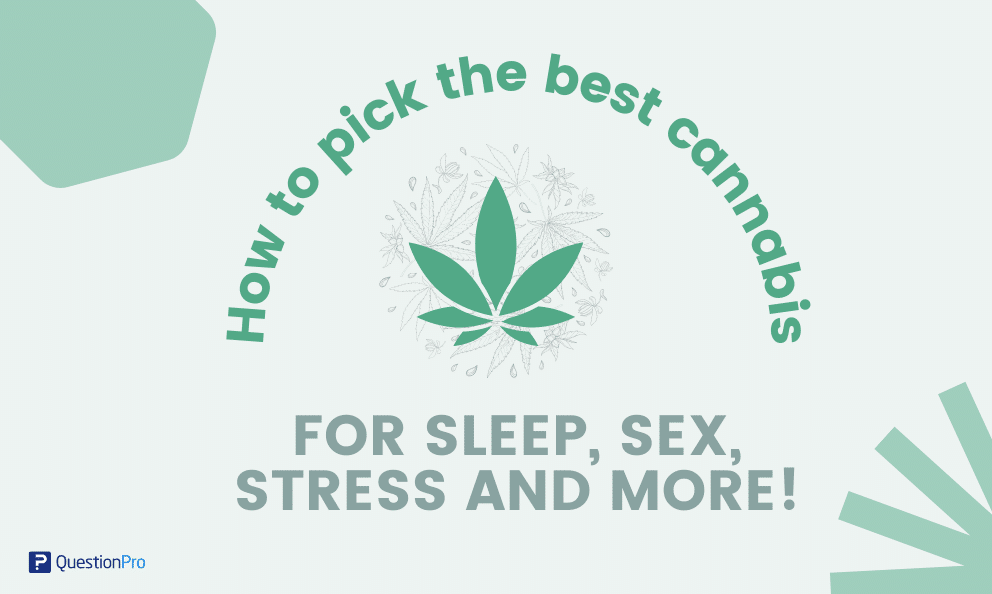 With the legalization of cannabis at various levels moving through individual states, many consumers are starting to explore what cannabis products are right for them. We conducted a cannabis survey on the leading panel of over 1000 professional Budtenders on what brands and strains are best for the most popular occasions. Here's what they had to say in our cannabis survey.
While asking your neighbor's son may be one way of finding what's trending, a more reliable and straightforward approach is going to your local cannabis dispensary and talking to a professional Budtender.
Budtenders are responsible for guiding customers about the effects, benefits, and overall experience of cannabis products and the industry. Dispensary employees serve as essential guides to using cannabis products and tailor their customer and patient service to all experience levels.
Since it is known that many people are often nervous about their dispensary experience, we went straight to the Budtenders.

Uses of a Cannabis Survey
Data collection for any subject is essential in all research; in this way, this is a fundamental step to be successful in our outcomes. Correctly carrying out data collection and choosing the proper method are tasks that every researcher should know. For a cannabis survey, things are no different.
A cannabis survey will provide us with information and concepts that symbolize a fragment of the real world. The data provide a closer look at the culture around cannabis, what its users like or dislike and how cannabis companies can offer better products or experiences.

Cannabis Survey: Finding the Best Cannabis
It's become easier to recognize the cannabis trends within the industry through data collection from cannabis surveys; we can now focus on the more popular and specific uses of marijuana: from a better sleeping experience to a creativity boost, this journey will continue to evolve. For now, we're on the right path to a better customer experience.
As a result of our extensive cannabis survey, we gathered enough information to find the best uses of cannabis in different contexts and for various purposes, according to budtenders and cannabis experts.
If you're looking for information on what cannabis users want from their strains, or if you're a user and want to make an informed decision, you're in the right place.
Cannabis Survey Results
The results from the cannabis survey we applied to over 1000 professional budtenders provide us with new data and insights for the cannabis consumer to make an informed decision when choosing the right strain. Check out the questions and learn from the results.
1. Best brand/strain for sleep
In the first question, we went after one of the most popular uses of cannabis: better sleeping. The leading strain was Blackberry Kush or BBK, with 18.42% votes.

According to the website Leafly, BBK is a hybrid strain, indica-dominant, created by mixing Afghani with Blackberry. Blackberry Kush is noted for producing relaxing effects and helping with pain management thanks to its strong body high.
In second place came Master Kush with 14.37% and Purple Punch in third place with 13.07%.
2. Best brand/strain for sex
With 256 votes, the Rainbow strain won first place, positioning itself as the clear favorite from the cannabis survey. Rainbow is a hybrid marijuana strain made by crossing Dancehall with Blueberry. The result is a compact, fast-flowering strain with little side-branching. This strain is believed to be 50% indica and 50% Sativa.
In second and third place came Trainwreck and Watermelon Zkittlez, respectively.
3. Best brand/strain for stress control
It's been a challenging couple of years, and stress is no stranger to anyone living in this century. With the data from our cannabis survey, we can learn what strain to look for whenever we feel a little too stressed.
Budtenders recommend the Strawberry Banana strain the most, leading to 237 votes. Also known as "Strawnana," it is an indica strain genetically crossed from Crockett's Banana Kush and the "Strawberry" phenotype of Bubble Gum, which results in a sweet, fruity flavor.
Want to dive deep into all the different strains and recommendations from our over 1000 professional Budtenders? Explore the survey results here!