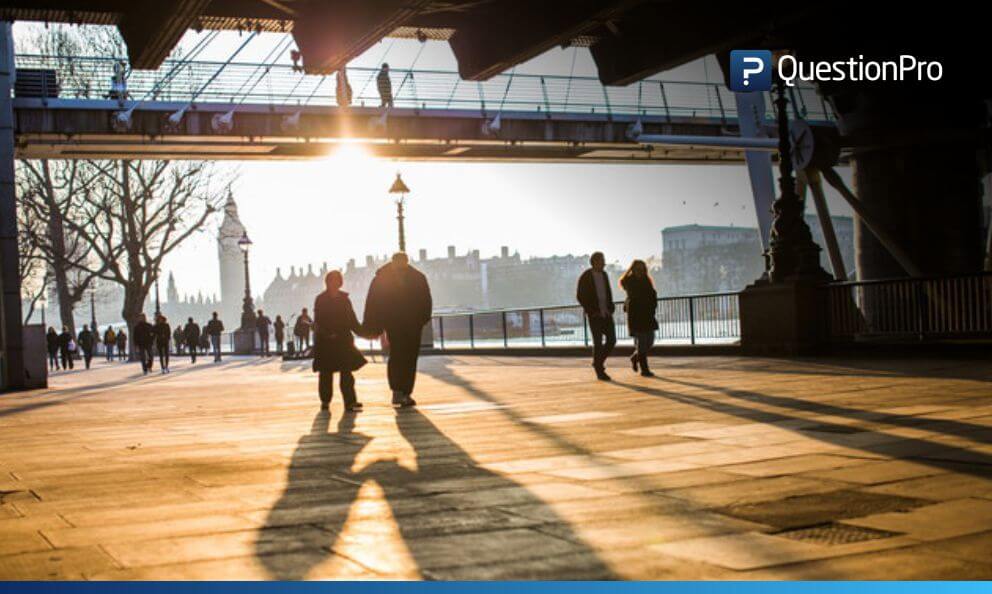 "You've got to start with the customer experience and work back toward the technology – not the other way around." – Steve Jobs
I wanted to start this post with one of my favorite quotes about customer experience. Business starts and ends with customers no matter what you sell and offer as a service.  As a person who's in the business of technology, the way my customers feel about their experience using QuestionPro's product and service offerings affect my bottom line. Along the way, I've gained some knowledge of how to close the divide between customer experience and what happens in the real world. Not only do we need to mind the gap, but we also need to build bridges for insights along the way. Here are a few tips that will make CX and real-world experiences mirror each other.
Don't Assume You Know The Customer
The rise of technology has emboldened customers to impatiently demand better products, better services, and better experiences that are tailored to their lifestyle. It's too easy to look things up on a smartphone and learn something new within seconds. An informed customer base will always be steps or even miles ahead of you. Just because you did a survey with them at one point doesn't mean it's still relevant. Times change and people's attitudes change along with it. No experience is linear. Throw that assumption out the window. It's our job as a business to utilize smart resources and tracking mechanisms that keep ears and eyes on the ground at all times. Failure to address the gap between customer experience and what you think you know about your customers, their purchasing intent, and behaviors could leave you eating their dust.
Make the Investment – Build a Bridge For Insights
Stakeholders and executives take note – the gap between customer experience and real-world experiences only widens until executives make investments to move their center of reference towards their customers. It's never the other way around. Once a customer tastes what it's like to have the best experience their money can buy, that's what they are going to seek out. You lose customers when experiences fall below expectations. Therefore, investing in a clearer understanding of every customer experience will help organizations keep up with the ever-changing demands from our customers.
Make Purposed CX Your Competitive Advantage
Jeff Bezos is 100% customer-centric when he insists that every meeting conducted at Amazon must have an empty chair that represents the customer. His purpose is to ensure the voice of the customer is considered in every business decision no matter how big or small. What is your purpose for tracking customer experience? For me, the purpose of tracking my customer's experience is to better understand the evolution of needs around every customer. I've worked with many customers who started out needing a simple survey and have evolved into an engaged partnership with new tools and services such as an online panel, culture management, integration, mobile app development, dedicated customer success management, and more.
Get Ahead of Your Customer With Smart Data Mining and Predictive Analytics
Customer-centricity begins with data. Customer experience starts with data points along the customer journey. What gets you ahead of your customer is context around all data points and metrics. Organize and create a holistic dashboard view that makes sense to the workers and executives who are invested in every point of the experience. The output must be actionable and, quite literally, a no-brainer. Getting ahead of a customer is all about data-driven actions that deliver a positive experience. Context will allow us to know what the likely outcomes are, how to respond, and note every aftermath so that we can reference it in the future.
Ready to close the gap? Sign up to today for a free 30 day trial of CX.