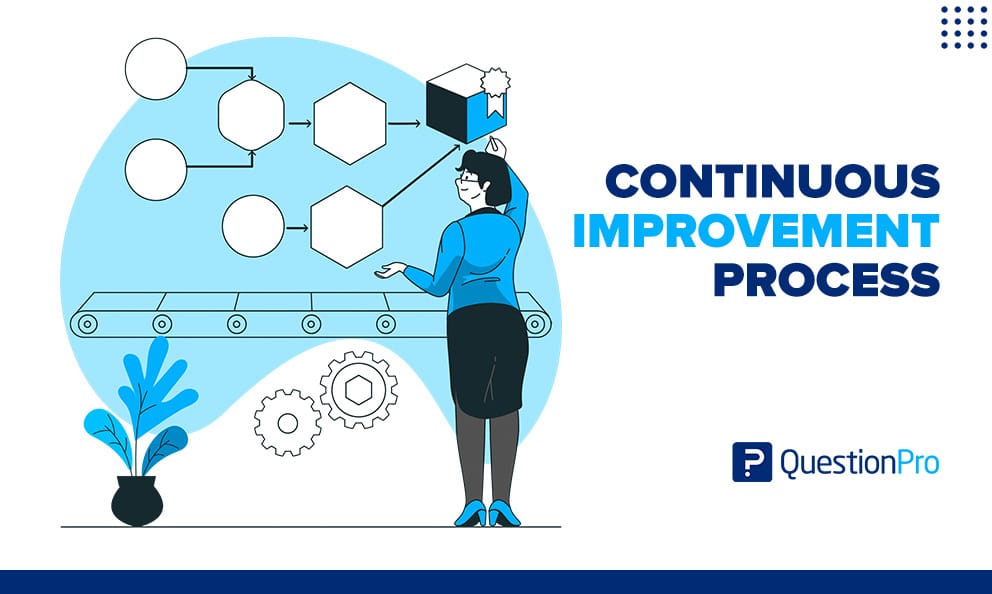 The world is changing rapidly so are the technologies, users, and providers. In this dynamic and competitive environment, companies are adopting lots of new processes and methods to be competitive enough in the market. Players need to improve continuously in terms of their product offerings, service, and solutions offerings. Let's talk about the continuous improvement process.
This would eventually help them retain current customers, cater to the needs of new customers, and expand portfolios, market, and revenue generation. Let's emphasize this point: the procedure is continuous, meaning it has no end. It's a method that becomes ingrained in a company's daily operations.
LEARN ABOUT: Pareto Chart
What is the Continuous Improvement Process?
The continuous improvement process (CIP) is a method that aims to improve products, services, or processes continuously. Offerings as per client's requirements are continuously evaluated for better effectiveness and efficiency. Customer feedback is valued, and the development teams improve the offerings based on it.
In addition to improving the quality and efficiency of the offerings, the continuous improvement process also considers business results, business strategy, employee and supplier relationships, and customers, among others.
Boosted productivity, better collaboration, and morale, increased adaptability, more efficiency with less waste, increased customer satisfaction, and profit enhancement are some of the major benefits of the continuous improvement process.
However, further mentioned are some of the major factors that would hinder CIP implementation across the organization, i.e., fixed mindsets towards traditional methodologies, unclear business goals, lack of transparency, and reluctance to change.
The 4 CIP Phases
There are four phases associated with CIP, namely "Plan," "Do," "Study," and "Act." These are iterative processes in nature.
Plan: Make a change plan and look for ways to improve.
Do: Make the suggested modifications.
Study: Examine whether the change has the desired effect.
Act: Implement across the organization and process if effective.
Some tools or methodologies that can be useful for continuous improvement processes are:
Benchmarking

Scatter Diagram

Flowcharts

Control Chart

Cause and Effect Diagram

Affinity Diagram

Pareto Chart

Force Field Analysis

Check Sheet

Process Capability Index

Ratio
Further to add, surveys and polls, monthly training, ideation, and think tanks, time audits, and catchball (person who is to be held accountable for the execution of certain processes) are some common practices adopted by the companies for CIP.
QuestionPro provides survey solutions and services that can help companies to get feedback from their customers, which is anticipated to help them in CIP. For this, QuestionPro offers various research suites and survey solutions that are completely customizable as per the client's requirements.
Using these solutions and services, companies can get continuous feedback from actual users about their offerings. This feedback and comments from the users serve as valuable inputs for the CIP in the organizations. In addition to that, QuestionPro also provides summarized reports based on the surveys conducted, which can help the higher management in decision-making and responding to market feedback.
Continuous Improvement Examples
Kaizen is one example of a successful implementation of the continuous improvement process, primarily based on feedback, efficiency, and evolution. In addition to Kaize, LEAN technology created by Toyota, Six Sigma, and Total Quality Management (TQM) is some of the other mentionable examples of CIP.
Google, Danaher, Haier, Tesla, and Toyota are some of the leading companies that have benefited from CIP.
Improvements in the business world benefit the bottom line and quality, safety, and employee and customer pleasure. It is observed that customer satisfaction rises by 54% due to continual improvement upgrades.
Continuous process improvement provides a way for all companies to improve at any time. It can help reduce waste and improve outcomes by implementing incremental or breakthrough changes or combining both. The examples and practices/tools for continuous improvement listed above can assist companies in achieving business objectives.
This type of business process management provides a corporation with long-term benefits. Whether the company's effort improves quality, increases engagement, or saves waste, it contributes to your company's long-term success. Improving products, services, or procedures leads to higher sales and efficiency over time.
So, by establishing a continuous improvement culture, companies can secure a company's long-term success. The earlier you start CIP, the sooner you will see its results.
Author: Akash Bhavsar