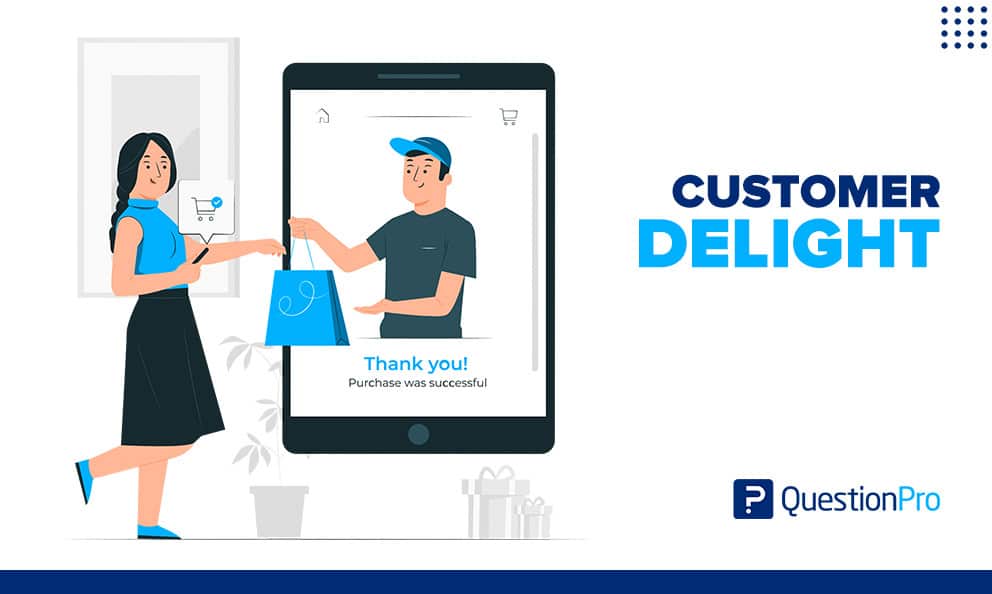 By taking care of your customer, you are actually setting in motion a process that fixes the system and improves the company, leaving the customer better off in the process. This is going beyond providing a good customer experience to providing customer delight.
What is customer delight?
What does it mean to be delighted? And, more specifically, what does it mean for your customer to be delighted? Customer delight is the concept of not only meeting your customers' expectations but exceeding them to the point that they are gleaming with joy.
It's anticipating your customers' needs and acting on them, removing communication hurdles, and continually making them feel like your only customer. It's no secret that customer delight lends itself to positive word-of-mouth marketing, increased customer satisfaction, and decreased churn.
From a company perspective, it's important to note that customer delight is the duty of all employees who will come in contact with customers and prospects. A customer may have a positive user experience, but that can quickly be overshadowed by a negative experience encountered with the invoicing team.
How to improve customer delight?
The best way to ensure customer delight internally is to establish a customer-centric culture: always be asking what is best for the customer experience.
Customer delight is not something that exists on a grand scale between businesses, either. As consumers, we are all constantly entrenched in situations involving our experiences with brands and companies. For example, think about the last purchase you made from a store.
Was there ample parking? Was the item you were looking for easily found? Was the cashier friendly? All of these occurrences are a part of the broader customer experience, and the level of delight you have is dependent on all of them.
Customer Delight Example
I love doing my Doctor's job for him. It doesn't pay anything, but I get to follow up with him multiple times to make sure he gets my prescriptions right and they are received by the pharmacy. Sound familiar? The pharmacy claims they don't receive them and the doctor says he sent them, so I get to be the errand boy until I finally get my meds. But at least I get to talk to my doctor frequently, which we all want, right?
For the past 20 years of our careers, we've been focused on fine-tuning business systems and holding people accountable, so perhaps we're a bit overly sensitive to obvious areas where a little focus on the system could greatly increase the customer experience. Should we expect the Doctor to get the prescription right, the electronic system to send that to the pharmacy, and the pharmacist to prepare it correctly? That alone would be a good enough customer experience, but is this good enough?
Imagine a utopian world where the doctor sends a prescription that takes you multiple calls and a video interview to finally get to the pharmacy. In frustration, he admits that this happens often and they've complained to the clinic's management that the electronic systems are failing, but nothing improves. As a customer, that's a problem for you, but it's ultimately their problem. You're frustrated, but you can't fix it.
In your helpless frustration, you get a call from the office manager apologizing for the hassle and they reimburse you for the co-payment. No, that didn't happen, but it could have. Now imagine this happening over and over again with other patients. As lost dollars stream out of the clinic, would management recognize and fix the system? You bet they would, and fast.
Conclusion
At QuestionPro, we have frequent discussions about Doctors, pharmacies, and clients. As a fast-evolving and rapid learning organization, we work every day to practice what we preach. By discussing real situations both in and out of work, we dig for the kernels of truth and then work to fine-tune our own systems through these lenses and lessons.
As a customer-centric company, everything we do is for the betterment of our customers. All our offerings exist to ensure that our customers are getting fast, reliable feedback they need to inform them about their customers' and their employees' experiences.
If you have a good (or bad) experience story, we'd love to hear from you. Let's collaborate together to help work out the bugs in your customer experience systems so you can truly provide delight to your customers.
Authors: Stephen Zerr & John Speth