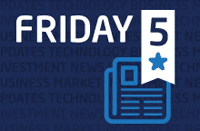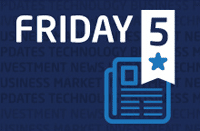 This week, we bring you: what apps to desktop users use on their smartphones; a new marketing term for smartwatch app development; tips for your next Powerpoint; a poll on how US readers used their tax refunds; and the importance of studying your "aren'ts". That's today's #FridayFive!

Bridging the Gap: Desktop Behaviors for Smartphone Insights – Compete Millward Brown Digital Blog
While the results of this study of desktop users is interesting, in terms of the fact that so many desktop users in this particular panel are using a number of retail apps on their smartphones, I feel like there is something missing to the study. First, I'd like to see a study from non-panelists, and this time, start with the smartphone users and ask what they use their desktops for; better yet, ask the respondents to allow a program that could track what type of app is being used on their mobile device and how often, and similar program on their desktop to track programs being used and how often.
Apple Watch: Bliss or Bling? Glanceable Moments Will Decide – Forrester Blog
Marketing and market researchers, take note: we have a new term! Glanceable moments. This defines the micro-moments, 3 seconds in duration, that people will glance at a smartwatch. Are you looking for how to create apps that both complement your possible existing apps while acknowledging this reduction in attention being given to a smartwatch?
How to Create Engaging Powerpoint Presentations from Start to Finish [Infographic] – Hubspot Blog
A few years ago, I remembering hearing someone say in passing that Powerpoint presentations were going to go away soon. According to this infographic, 30 million powerpoint presentations are created each day. Check out this infographic for some tips on how to make your next slide deck engaging.
Americans plan to save – not splurge – with tax refunds this year – Quirk's Market Research Blog
In the United States, tax day has come and gone, and while this article was published before then, I'm curious if the research has borne out in practice? Did you save or spend — or both — your tax refund this year? Take our poll to let us know!
Checking your blind spots – take a look at the "Aren'ts" – Greenbook Blog
We have spent a lot of time and energy on this blog talking about how, when, and how often to get customer feedback. However, Will Pirkey makes a fantastic case for talking to those who are not your current customers. If we always focus on those who are currently purchasing from us, we will miss out on a lot of information that could also help contribute to our brand experience, such as competitive intelligence and possible barriers to new customers.