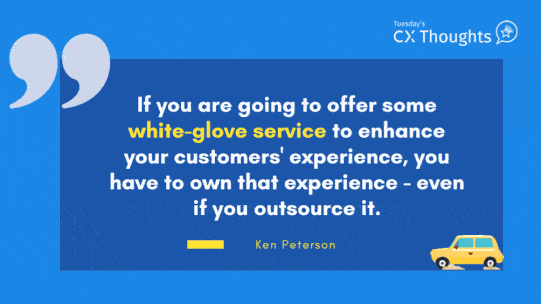 White-Glove Service is Great… Sometimes
Upfront, I'm not a fan of valet car service. It isn't a moral standing or a matter of cost (in some cases, it costs nothing). For me it is about time and control. Whether my car or a rental car, I'm always hesitant to hand my keys over to a stranger who will take it out of my sight leaving them in complete control. If I want the car, there will usually be some waiting time incorporated into the process.
I also see the counter-argument, handing off the car to let someone else find a parking spot – there is a certain appeal to that. The idea is that I don't have to remember where I parked this time versus the last four times I parked in a different spot. It also feels quite "exclusive", something of a "white glove" service, something that doesn't have to be on the customer journey, but if it is there, you could manage it as part of the customer experience.
When That Little Extra Fails
There is a lot to be gained when you do those little "extra" things for a customer. When done well, those extras really can make a difference – of course assuming you did the core things correctly. What happened to me recently, made me question the approach to giving a little extra – only because it failed me.
My recent stay at a hotel was otherwise uneventful. The room was great, the hotel was clean and it overall met my expectations. If I had been asked about only those elements, I would have been more than happy, and likely considered a promoter on a customer experience survey.
Was one thing that held me back from saying it was a spectacular experience, the valet parking. Not because I had to surrender my car with no other parking options, but because of the difficulty in getting it back. They offered two options: I could call from my room, so it was waiting for me when I got down to the valet or the traditional approach of going down and making the request in person. Options are good when options are not available otherwise.
However, in my three attempts to retrieve my car, all three were failed attempts. In the first attempt, I successfully used the "phone ahead" approach – or so I thought. I was told it would take about five minutes, which was the perfect amount of time to get down to pick it up. I arrived in the time allotted, and without my car yet there, I figured I would only have a couple more minutes to wait.
But it Gets Worse!
When the valet returned, he apologized and stated that several requests came all at once, and he was the only one on staff that day. Total wait time was over 20 minutes (beyond the initial five minutes). The next time was more frustrating; when I called down, no one picked up the phone. I gave it a few more minutes, same results.
When I was ready, I made my way down to the valet, and it was in chaos. There were dozens of people there, no valet and no cars.
I went to the hotel desk to inquire about the situation and was told that only one person was available and a conference in the hotel had just been released, so it could be a thirty to sixty-minute wait to get my car.
Since I had a schedule to keep, I opted for a car ride share instead. The third attempt to get my car was a combination of the first two, though not as extreme – the call didn't work, but when I got to value, I had to wait about 20 minutes again to get my car, which was only troubling since I had a flight to catch.
Respect Your Customers' Time
As you build a customer experience strategy, time is always an element to consider.
In the case of the delinquent valet service, it took an otherwise acceptable experience and turned it into a negative experience. When I received the hotel's voice of the customer survey, it wasn't complete because it didn't even let me review that part of the experience; therefore, they didn't have the complete information for the customer feedback loop.
Shortly after I gave my feedback, I received a call from the hotel manager. The conversation was brief and unsettling. He asked the reason for my low rating, and I explained that the valet service could have easily cost me two hours of my time and missed appointments.
The immediate response was, "We offer valet as an additional service for our hotel guests, but an independent parking company manages it." I was hearing the inference that I should not have given a poor rating on the hotel survey because "they don't control that part."
Ultimately, if you are going to offer some "white glove" service to enhance your customers' experience, you have to own that experience – even if you outsource it. It becomes a challenge to delight customers – if you are going to offer something extra to the experience, you also have to succeed in that something extra continuously.
If you don't, your "white glove" service may just be a reason for a customer not to return.
Looking to deliver an exceptional customer experience? Discover more about how to delight your customer at every touchpoint and turn them into brand advocates.
Learn more about QuestionPro CX