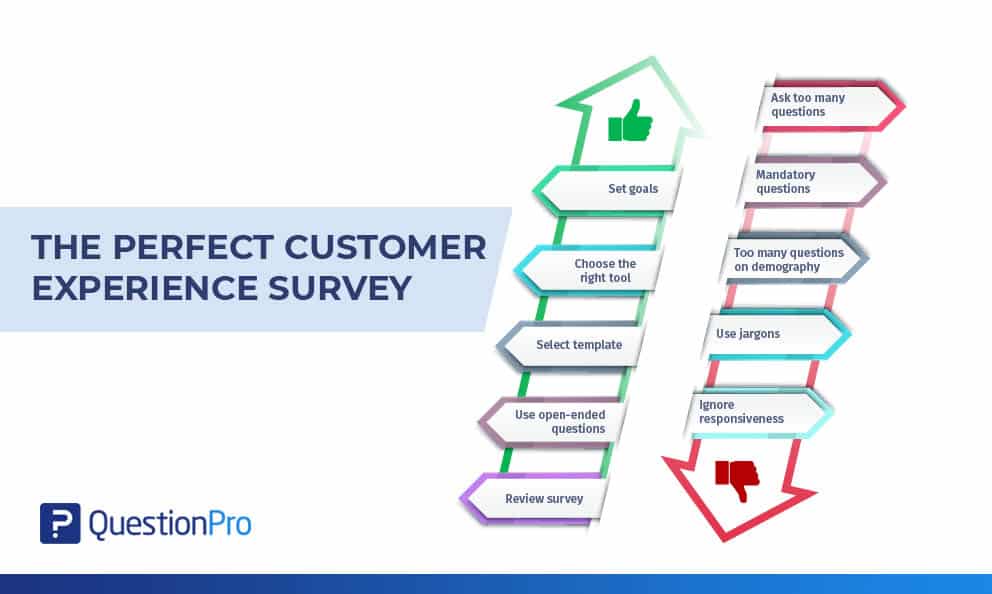 Using a customer experience survey can help you measure the degree of success your business has interacting with customers. By tracking the customer experience through surveys, you can identify problem areas and make changes to improve the overall experience of your customers.
In this article we will review what is a cx survey, three reasons it's important,
What is a customer experience survey?
A customer experience survey allows you to capture a customer's emotions based on their experiences at various touchpoints on their customer journey.
To identify the most important customer touchpoints of your customers, you must map the journey of the customers. Complete customer experience management is crucial for this.
For example, you want to track the customer experience from the moment they think of your brand to their return as a repeat customer in the future. In this process, you should keep a close eye on what the customers say about your brand at every step. Using customer experience survey software and CX survey questions can help you measure customer experience and customer satisfaction at different touchpoints.
One such example is the integration of AeroCRS with QuestionPro. This integration helps AeroCRS get real-time insights before, after, and during the flight. This software provides a powerful method of analyzing your brand from a customer's point of view.
A CX survey looks at both structured data and open-ended questions. Data and customer suggestions can define the overall customer experience of your brand and help you improve customer service, satisfaction, and grow your loyal customers. The most important aspect of analyzing client experience survey data is to form accurate and actionable insights. While some expert-designed survey templates might just do the trick, it's always best to know what forms a great design. Efficient market research digs deep into the experience of individual customers.
LEARN ABOUT: Client Management
Why are customer experience surveys so important?
The CX survey is essential for businesses and organizations to understand what their customers think about their brand. It also gives you better insight into the entire experience journey and customer support. Other reasons you should consider customer experience surveys include:
1. Helps customer retention
A happy customer is a returning customer. By tracking the entire customer journey, you can anticipate if any product or service is not heading in the right direction. Based on customer loyalty, you can also forecast future sales. Effective changes can be immediately incorporated to retain customers.
2. Helps identify your promoters
A customer experience survey helps identify brand promoters or advocates. You can use the Net Promoter Score (NPS) as a starting point to categorize customers as promoters or detractors. You can also use this information to send targeted messages to customers and help convert detractors into promoters.
3. Help gather data to make informed decisions
The best business decisions are based on data and rarely on a fluke. By gathering data, businesses can function smoothly and understand the choices of their customers.
Top 10 tips for designing customer experience (CX) survey questions
Do:
1. Set your goals
The first question you need to answer before you start designing your survey: what do you want the investigation to accomplish? Is it customer feedback on one touchpoint or rating the entire experience? While the broader goal is usually measuring customer satisfaction (CSAT), writing down your goal simplifies your survey process.
2. Choosing the right tool
QuestionPro CX is one of the most effective solutions for evaluating the customer journey. The real-time dashboard allows you to begin analyzing responses as they come in. It also has a detractor recovery feature to help resolve customer issues quickly before you receive bad customer experience reviews or publicity.
3. Select a template and customize it if needed
It's always easier to work on a template rather than designing your survey from scratch. You can also customize it by using your brand logos and colors to make it consistent with your brand.
4. Use open-ended questions
Open-ended questions often generate better responses than structured or multiple-choice questions. Customers often give more insights into their opinions when you offer them an open format. Include open text questions in your customer satisfaction survey questions to encourage customers to open up about their experience.
5. Review your survey
Once you finish designing, review it carefully for any loose ends. Put it through a pretest via a focus group to understand the responses in a better manner.
The Hacker's Guide to Customer Experience. CX complexity depends on the needs each business or project has. We hope this free eBook helps you better understand how to make a successful customer experience program to gather insightful data and turn your customers into advocates of your brand.
If you want to learn more about which CX metrics are the best ones for your business and what is considered a strong score, download our free eBook.
Don't:
1. Ask too many questions
Keep your survey short and sweet. Respondents hate answering pages of questions that eat away at their free time. Ask what is most important in terms of collecting data. The most effective surveys have about five to ten relevant questions.
2. No "mandatory" questions
You can't expect your respondents to answer every question in the survey. If you require an answer, you can expect your response rate to fall. Your respondents will likely lose interest and leave halfway through.
3. Don't go too deep in the demographics
Usually, demographic questions may seem like a good option, but using these questions where it isn't needed only makes your survey lengthy. Even if you want to include such items, it is advisable to ask them towards the end.
4. Avoid using jargon or technical terms
The survey should be easy to read and simple enough to understand. There is a fair possibility that your respondents may not be aware of the technical terms used by your organization. A customer who feels confused is unlikely to complete the survey or give you accurate answers.
5. Remember, it's the "Age of Technology"
While you are pretesting your online survey, make sure that you try it across all handheld devices, including cell phones, tablets, and laptops. This pretest will give you a better idea of how the survey will appear and how readable it is in a different medium.
These Dos and Don'ts will help you create an engaging customer experience survey. Get started with QuestionPro CX to create your first survey and begin tracking the overall experience of your customers today.
What is Customer Experience (CX)?
Organizations place a lot of emphasis on creating an excellent customer experience, and rightly so. The customer experience (CX) is the complete experience a customer has with your business. It is the combination of all interactions a customer might have with your organization. It also looks at how customers use those interactions to form opinions about your business.
Good customer experience is one that meets their expectations at every step of their journey. This could include the process of shopping for a company product online, making a purchase in a store, or calling customer service for answers to a question about a recent purchase. Each interaction is considered a touchpoint in the customer's journey. Their experience at each touchpoint leads to their opinions about your business as a whole.
Consider that customers with positive customer experience are more likely to make a repeat purchase than those with a bad experience. Investing in your customer experience through a customer experience or NPS survey could lead to a direct increase in return customers. Refer to industry NPS benchmarks or NPS scores to see where you stand and refine your initiatives and processes accordingly.
Why is CX important?
Employee experience has dominated the internal satisfaction levels for big organizations, now it's crucial for these to pay more attention to the external, consumer-oriented factors. Positive customer experience is essential because customers today are incredibly tech-savvy. If they are unhappy with any particular brand, they are quick to find a replacement.
According to a study conducted by the White House Office of Consumer Affairs, 80% of Americans are ready to pay more for a product or service, just to ensure a superior customer experience.
This means that customers don't shy away from spending more if a business can provide an extremely positive CX. Focusing on CX can help your company make more sales, even if your brand is not the cheapest option.
Looking to deliver an exceptional customer experience with QuestionPro CX? Discover more about how to delight your customer at every touchpoint and turn them into brand advocates.