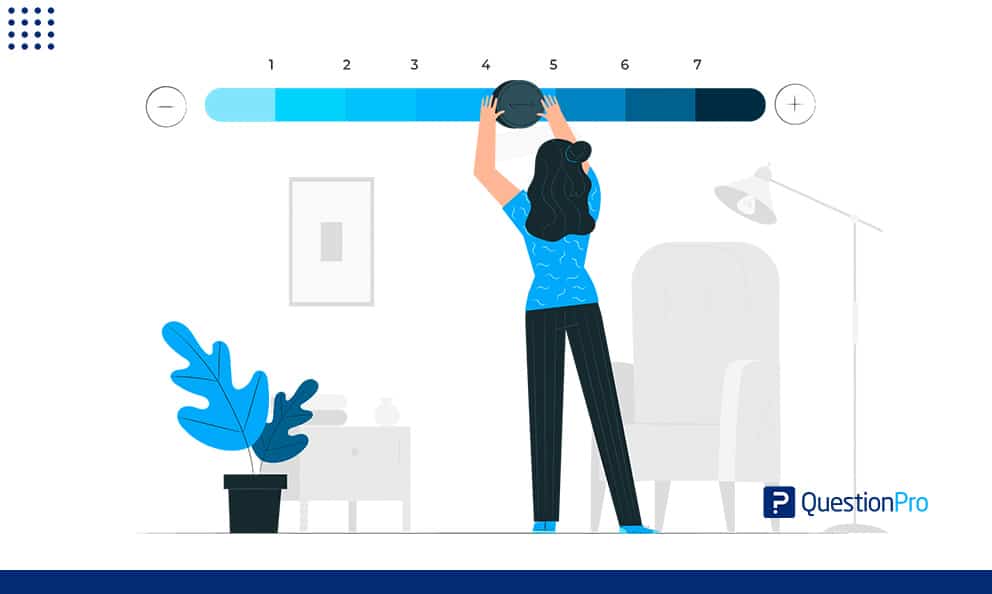 NPS benchmarks are the average Net Promoter Score for a specific industry on a scale from -100 to 100 by gauging customers' inclination to attract and refer new business and repeat business. Brands always try their best to get and stay consistent with a good score.
NPS surveys help keep track of your scores and provide insights into improving them by improving your overall customer satisfaction with your products and customer service.
This blog will discuss NPS benchmarks and how it works for leading industries in 2022.
NPS benchmarks for globally leading industries
Net promoter benchmarks are an excellent way to assess your NPS relative to your competition. They help identify and address aspects that may hinder you from getting a good score. Significant players in any industry have recorded scores that you may use as benchmarks. Use the right NPS survey question to set that score as your baseline.
So why should you look at industry Net Promoter Score benchmarks?
Consider you are in the software industry, and your NPS is 40. This score is good since the industry average is 30+. The leaders in this industry, namely Adobe, and Salesforce, have 62+ and 66+, respectively. This score gives you a perspective of the number of initiatives and efforts you'd need to take to go above the curve.
Here are the average 30+ NPS benchmarks by the industry in 2023:
Top brands achieve a good net promoter score (NPS) by benchmarking against industry standards and improving CX by raising the bar. 30+ industries and their average NPS scores are listed below for benchmarking your brand, according to a recent Retently study: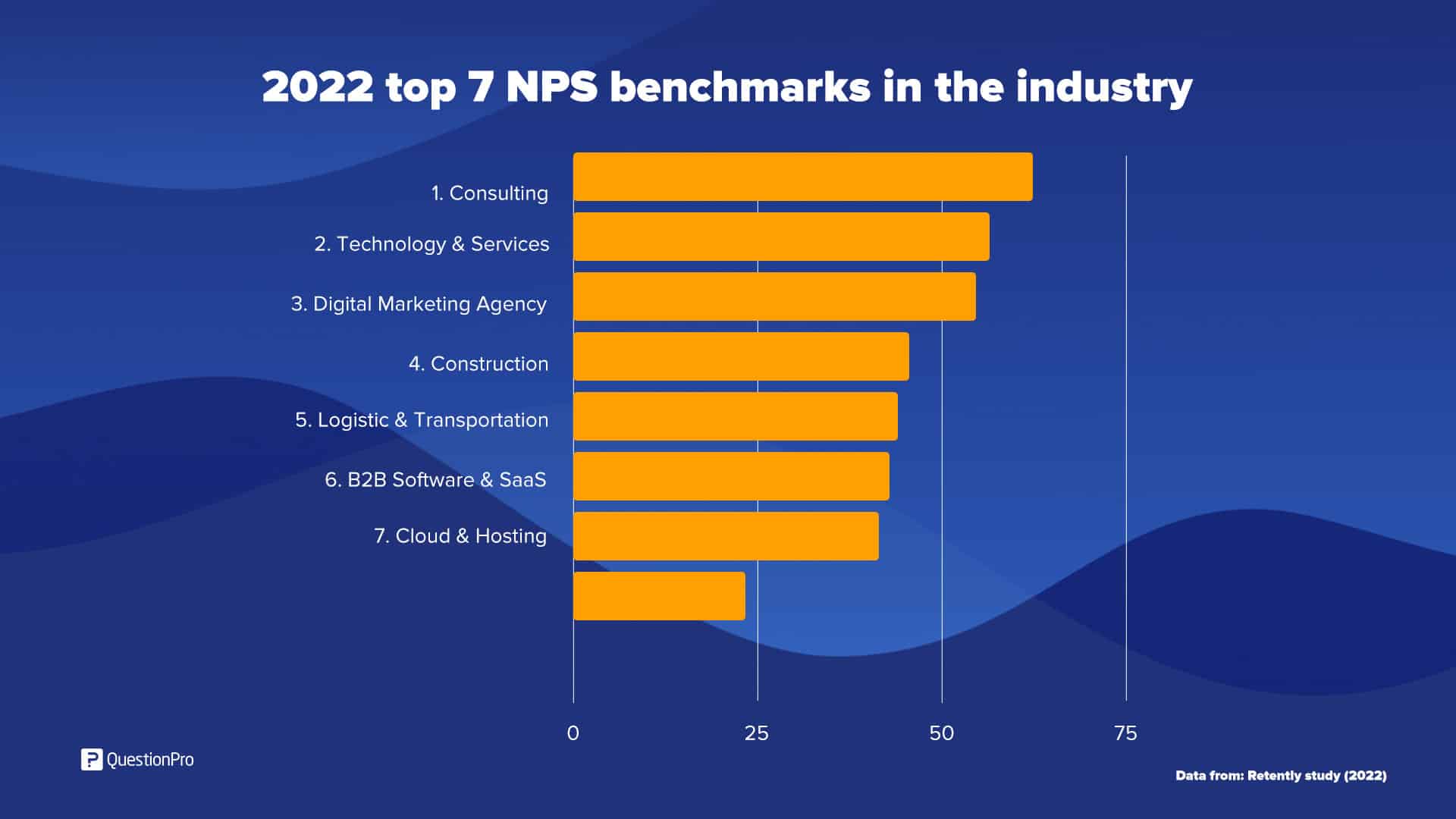 2023 NPS Benchmark for B2B
Consulting: 68
Technology & Services: 61
Digital Marketing Agency: 60
Construction: 45
Logistics & Transportation: 43
B2b Software & SaaS: 40
Cloud & Hosting: 25
2023 NPS Benchmark for B2C
Insurance: 71
E-commerce: 62
Retail: 61
Financial Servies: 56
Healthcare: 38
Communications & Media: 29
Internet Software & Services 4
What if you do not have an NPS benchmark for your industry?
If a benchmark for your industry is non-existent, you should benchmark against yourself. It is worthwhile to remember that NPS isn't merely a score but a system to drive significant improvement in your products, services, and customer experience (CX). This system helps you uncover and close the loop with unsatisfied or unhappy customers and address their real-time issues.
Consider NPS your guiding star to continually improve your business and customer experience management. Always go through customer feedback and any specific comments that you might receive.
These will give you insights into the score you receive and what changes or refinements can improve that score. Advanced survey software like ours helps you with easy NPS calculation and measurement.
Net Promoter Score (NPS) survey template
How to improve and surpass the NPS benchmark for your industry?
Performance, based on measured NPS data in the long term, is key to customer success and customer satisfaction. Hence, it should be part of all your internal communications, such as revenue, new product developments, customer acquisition, customer churn, etc. Having all your departments and functions updated for the next steps and the best results would be best.
Your average Net Promoter Score will not improve by one department's efforts or your process working in silos. So how do you report on and boost your NPS? We've outlined some critical steps for you.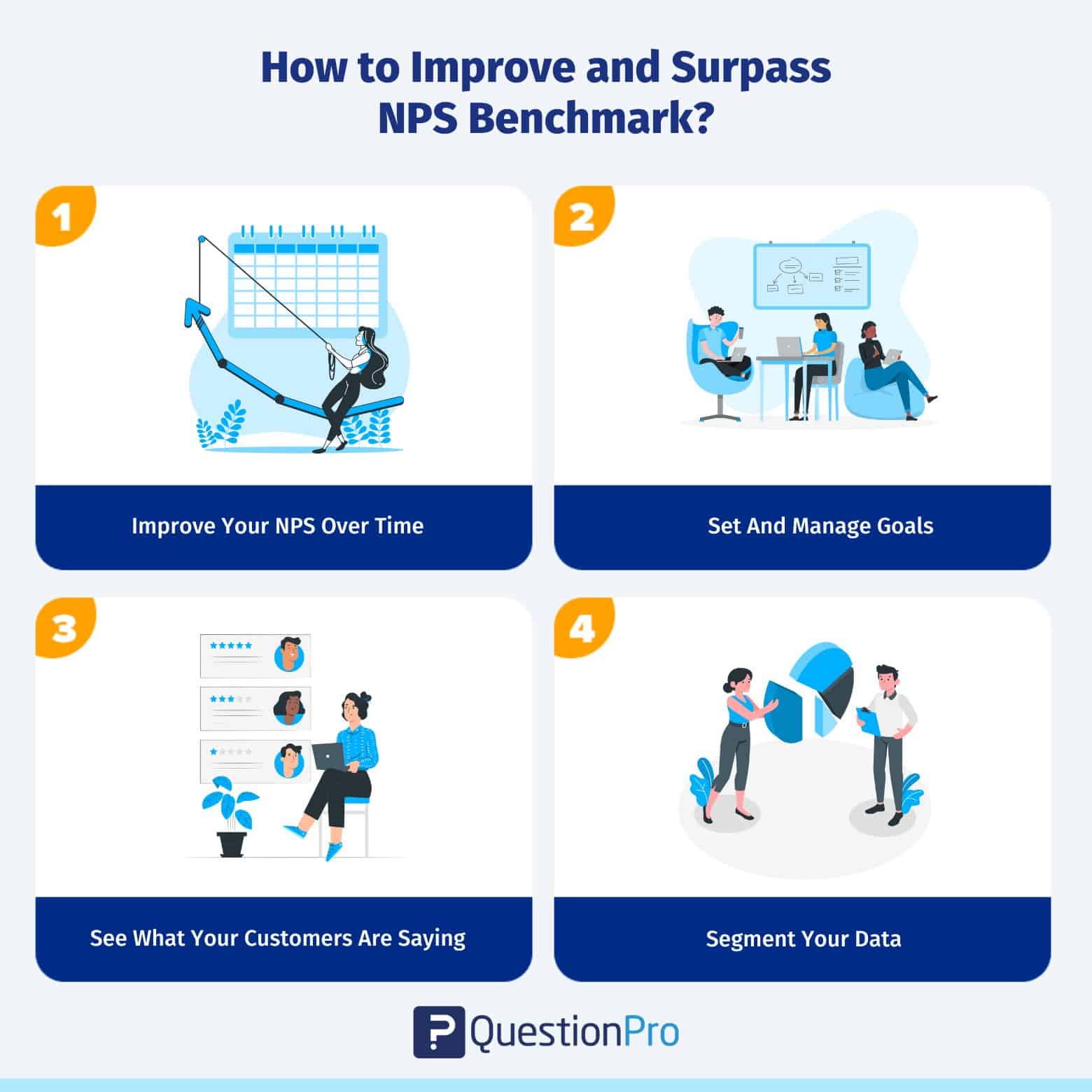 1. Improve your NPS over time
You cannot have an absolute NPS score. It needs to improve over a while. Study the trends for your brand and refine your products, services, or business improvement plans accordingly. QuestionPro CX administrators can gather more profound insights from customer feedback with NPS+.
With it, you go the extra mile after asking for customer ratings on a scale of 0-10. As soon as your customers rate you, they get to support their rating, virtually the reason behind their rating. Upon choosing the root cause, customers get redirected to an open-ended question to input any additional comments. They also can vote for other customers' comments bringing creativity to the system.
2. Set and manage goals
To improve your NPS, map out realistic goals and work towards achieving them. Report on that data accordingly in your internal meetings if your plan reduces customer churn and presents churn and retention information to your teams.
3. See what your customers are saying
It would help if you reviewed your customer feedback and comments on their concerns and grievances for in-depth ideas. Use that idea to see what issues or problems your customers are facing. This evaluation will also help you bucket your priorities as high and low. Customer appreciation for your brand will go high by solving burning and current issues.
4. Segment your data
You need to segment the data you have. You cannot have all your customer data just lumped together in one section. Your customers do not have the same tastes, needs, requirements, or issues.
Segment them per their geography, purchases, licenses, etc., so you can address their concerns or market to them accordingly. Would you send a joint letter to all your customers, and will it be engaging for all? Define customer personas and segment your data accordingly.
Properly segmented data helps identify your brand's top promoters. You can involve these promoters in co-creating new products and services. Evaluation against the industry NPS benchmarks every year helps organizations stay a step ahead of their competitors.
You can further delve into the root cause behind your NPS score using NPS+. It helps you learn the reasons behind customer feedback and gain deeper insights into it. Using NPS+, you can identify ways to improve customer service and satisfaction.
How QuestionPro CX will help you improve NPS benchmarks
QuestionPro CX is a customer experience management platform that provides the following capabilities to help you benchmark your Net Promoter Score (NPS):
NPS Surveys: You can easily create and send NPS surveys to your customers to collect feedback and measure their level of satisfaction.
Data Analysis: QuestionPro CX offers advanced data analysis tools that enable you to track and compare NPS scores over time and across different customer segments.
Benchmarking: With QuestionPro CX, you can compare your NPS score to industry averages and competitor scores to see how you compare to your peers.
Customization: You can fully customize your NPS survey to match your brand, tone, and desired feedback.
Automated Reporting: QuestionPro CX offers automated reporting that enables you to monitor the evolution of your NPS ratings. Reports can be easily shared with stakeholders, and informed decisions can be made based on customer feedback.
By benchmarking your NPS score with QuestionPro CX, you can gain valuable insights into your customers' experiences and make data-driven decisions to improve customer satisfaction and loyalty.