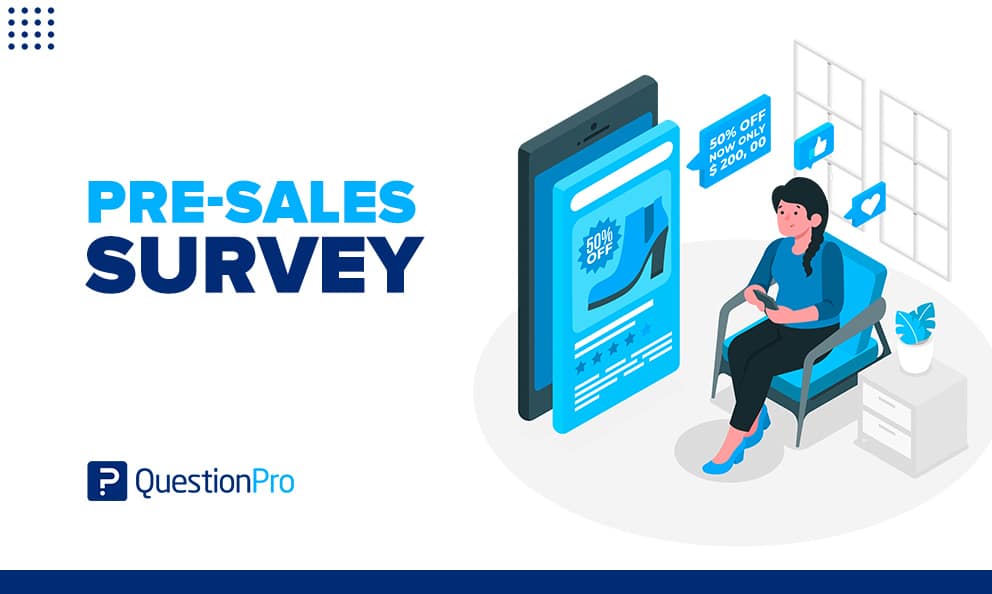 Sales can be challenging because you often have to sell to people who don't need your products or don't have the money to pay for them. This wastes a lot of time that could be saved with a simple survey before a sale. Spend some time making and sending out a pre-sales survey instead of trying to sell the wrong products to the wrong people.
In this blog, we will explore what pre-sales surveys are and provide a complete guide to boosting sales.
What is a pre-sales survey?
Pre-sales survey features questionnaires that reduce time wasted on bad leads, simplify sales cycles, increase conversion rates, and increase transaction size.
It lets you find out important things about your leads. This makes it easy to figure out if you can help them reach their goals or if your product isn't right for them. So, you'll know more about their needs and wants and the purpose they're trying to reach by using your product.
Most importantly, a pre-sales survey will help your sales team avoid wasting time sending proposals to clients who aren't interested, holding demos with clients who can't afford your products, or speaking with leads who will never become clients. Instead, it will inform you how to target the right customers better and convert leads into clients.
Importance of pre-sales survey
There are many ways in which pre-sale surveys can be helpful. One of the best things about it is that it keeps you away from wasting time and energy on bad leads. Here are some essential things about this survey:
Helps facilitate lead qualifying
Most of the people who inquire about doing business with you are not a good match for your organization. Pre-sales surveys allow you to filter out the less promising leads before devoting time and resources to furthering their development.
Saves time on poor leads
In order to check lead data and speed up the qualification process, pre-sale surveys can be quite helpful. It also gives immediate opportunities and lead intelligence, and cuts preparation time. Additionally, it ensures that salespeople only engage in conversation with the most promising leads.
Boosts sales
These kinds of surveys help learn about the preferences and predictions of the future of a lead. The data can help to personalize their experience and accelerate the stage of the sales funnel where they make a decision to buy.
Improves sales messaging
When you know what a potential customer is looking for, you can better focus all of your communications on those needs. This makes the whole process of buying more relevant.
How a pre-sales survey boosts sales
It is possible to increase sales by doing pre-sale surveys. You must comply with a few hints and guidelines to do this. Let's take a look at a few of them right now.
Reduce the amount of time you spend on poor leads
As digital technology and sales tools improve, finding leads is easier. But more leads don't always mean better leads, and most of them won't get further than the first step of your selling process.
When you talk to a customer for the first time, you usually ask a series of qualifying questionnaires to see if it's worth your time and theirs to keep in touch with. You can save time and get the details you need to decide which leads to follow by asking questions in a survey. You could ask the following questions in your survey:
How likely are you to buy our product?

What are you looking to buy from us?
Shorten the sales cycle
The hardest part of making a sale is explaining what you're selling in a way that your potential customer can understand. A pre-sales survey lets you know what they want before you even start. This saves you time and helps you make more sales.
Improve your overall rate of conversion
Not all of your clients will be around at all times. So, the longer it takes to get to the point, the less likely you will keep their attention. You'll have the best chance of making it to the next step of your selling process if you can deliver the right message at the beginning.
Increase the scope of your dealings
The only thing your customers can buy is what you show them. But if you know more about their needs or budget, you can often develop new solutions that suit their purposes. You can make your business deal bigger by coming up with a wide range of solutions for your customer.
Pre-sale surveys can be used in this manner to assist you in going beyond the obvious solutions and increasing your sales.
Conclusion
We now have a good idea of a pre-sales survey and how it can help you make more sales. Now, you can use this survey to find out everything you need to know ahead of time and give your leads well-researched, valuable solutions.
QuestionPro CX is a customer experience management platform that lets you create and send surveys, get feedback in a closed-loop, analyze customer sentiment, set up workflows, and more!
To find out more about the pre-sales survey, you should contact QuestionPro immediately. Sign up for a free account or ask for a free demo so you can use everything QuestionPro CX offers.