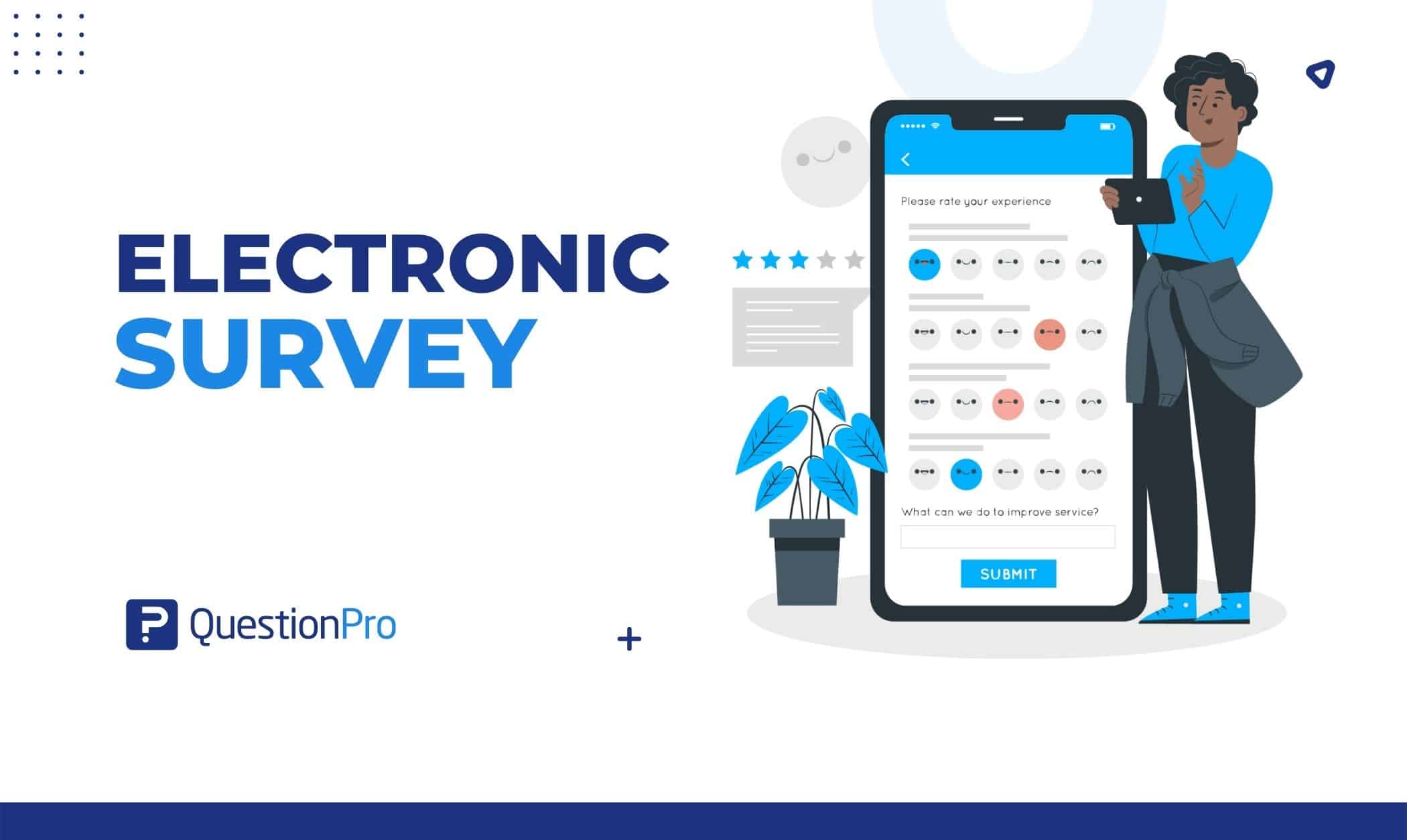 An electronic survey uses a computer to deliver and gather survey data from respondents. Read this blog to learn more about it and its benefits and drawbacks.
Some of what you know about making and using surveys on paper can be used with electronic surveys. One of the most common ways to collect data in human subjects research is through digital survey platforms.
But electronic surveys have different technological, demographic, and response rate features that affect how they are made and distributed and how many people respond to them (Sohn, 2001).
In this blog, we talk about the results of a thorough study of electronic surveys and their benefits and drawbacks.
LEARN ABOUT: telephone survey
What is an electronic survey?
An electronic survey is one in which a computer plays a significant role in both the distribution of the survey to possible respondents and the gathering of survey data from actual respondents.
C.F., Schaefer & Dillman, 1998 use the phrase "mixed-mode surveys" to characterize surveys that offer different response modes (for instance, e-mail solicitation with the choice to print and submit a paper-and-pencil survey).
Electronic surveys, which are essentially online questionnaires, are becoming a more and more common type of market research. It's a scenario in which a computer is crucial to both the distribution of a survey to possible respondents and the gathering of survey data from actual respondents.
A fast-expanding body of literature addresses design difficulties and details the costs and benefits of using electronic survey techniques for researchers considering specific methods.
Depending on the type of technology used to send out the survey and collect the data, there are three main types of computer-based electronic survey data collection:
Web-based;

E-mail-based; and 

Point of contact.
A significant benefit of this type of survey is that data is often available in real time. Analysis can be done with integrated IT tools instead of spending much money, like postal surveys, to enter data from hard copies.
Benefits and drawbacks of electronic survey
Technological developments allow for cheaper and faster research of electronic surveys and surveys. This improves data collection for everyone. Normal to want to comprehend and weigh precautions.
For instance, are there any limitations compared to traditional techniques like mail, telephone, and human survey analysis?
Technology advances might be bewildering. It's tempting to jump on the tech train, but it's crucial to understand how it works. To find out about the benefits and drawbacks of the electronic survey, follow below: 
Benefits:
Web-based (both solicited and non-solicited; italics apply to non-solicited only)
Turnaround time (fast shipping and easy returns).

Reaching a large number of possible respondents is easy.

Able to use various question formats

Checking the quality of data

How easy it is to keep things private

Can deliver items in a way that fits your needs

Can put data right into the database



Based on emails (both embedded and attached; italics only apply to attachments)
Turnaround (prompt delivery and simple return)

Reaching a considerable number of potential responses is simple.
Contact Point
No incompatibility concerns with the software

Less difficulty using computers

Populations without computers can access information

For each respondent, the same instrument was used.

The availability of technology for various inquiry types

Possibility of data capturing in a database directly
Drawbacks:
Web-based (both solicited and non-solicited; italics apply to non-solicited only)
Time-consuming development

Possibility of restricted access within the target demographic

Potential for technical issues to reduce the return rate

Security concerns could jeopardize validity or lower return rates

Sample not under the control

Potential for bias in the sample
Based on emails (both embedded and attached; italics only apply to attachments)
Software that might not work together

The target population may need more easy access.

Confidentiality issues could impact the return rate.

Level of software and attachment process comfort among respondents
Contact Point
Price of the equipment

Time allocation for respondents

A suitable place being found

Development that could take some time

Possibility of a time-consuming data collection process

A vast sample might not be accessible.
Conclusion
Researchers are using computer-based electronic surveys to reach large numbers of respondents quickly and affordably now that computers and Internet connections are prevalent in organizations and members are comfortable dealing with electronic media.
However, there are particular methodological challenges that researchers must take into account while designing and implementing e-surveys.
QuestionPro is the answer if you require a survey design that can handle large response volumes, distribution via online and offline channels (such as print, word, internet, electronic, mobile devices, etc.), and fast analysis.
Using QuestionPro, you can quickly collect and analyze data. Its logic allows you to create meaningful surveys, and a great team will help you through the process in your language.