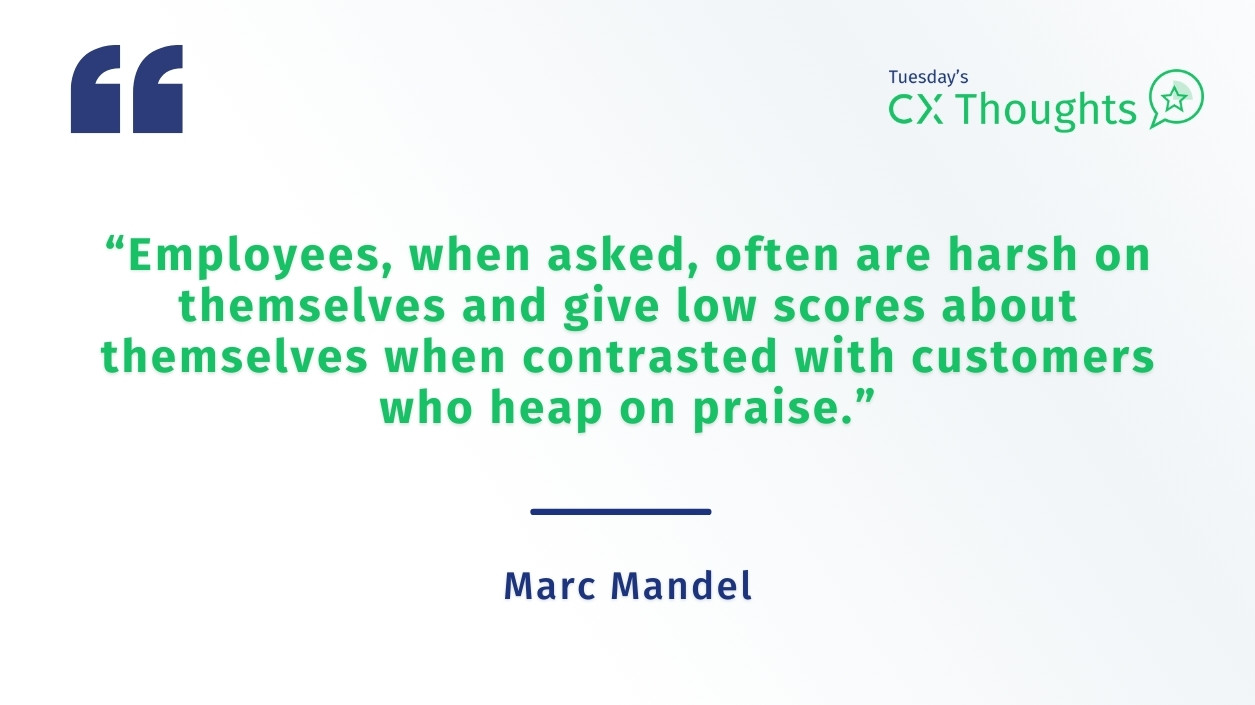 With an astounding 80% of the US workforce disengaged professionally, how can we as CX leaders expect our associates to be able to create authentic customer delight?"
One of my favorite parts of my work-life is the industry friendships I've been lucky enough to make over the years. I find that people who have a professional interest in customer experience tend to be like minded in their apparent belief that the work we all love to do is designed to make things better. Simply said, we tend to be problem solvers, teachers, designers, and often creatives. We often feel like organizational missionaries in our work and that the work we do improves the lives and experiences of many others in even unimaginable ways.
We tend to see the world through the lens of the magic of delight and the wow factor it creates when thoughtfully delivered. As CX leaders and practitioners, however, we also tend to, by the very nature of the work, focus largely on making things better for customers which for obvious reasons, has clear and immediate financial implications as better experiences, as we all know, will bring those customers back for more, more often, even in situations where others offer similar products and services for less money.
I was speaking with one such industry friend recently who recently added his company's contact center operation to his span of control which made sense given the importance of the frontline experience in his industry. Over a casual beer, I asked him how the contract center work is going, and without skipping a beat, he told me just how hard it is.
He told me the single biggest challenge was agent attrition and how that team over the past couple years had north of 130% headcount churn annually. I was astounded to hear that, figuring the math showed that each and every seat in his 850 seat call center had to be refilled at least 1.25 times each year and more surprising, those almost 1,000 replacement hires would cost him nearly $65,000 each on average fully loaded. The math caused my head to spin.
My friend described an almost desperate situation. Even if he continually hires and builds a pipeline of replacement staff, his agents were taking the job, going through training and resigning soon after, sometimes even taking his new hire bonus on the way out the door, only to begin again elsewhere for perceived modest raise elsewhere and leaving him with an empty seat needing to be refilled. There was no end to this conveyor belt, he said.
I asked if I could spend a couple days in his call center, just observing and listening and learning and when I got there, I was shocked to see a clear, pervasive and overwhelming sense of people miserable in their jobs, sleepwalking through their workday and unenthusiastically serving their customers. You could see the eyerolls when the phone rang and the apparent imposition that the customer calling into the call center caused the agent taking the call. It was almost a "Yeah, what do you want?" attitude when they picked up the calls. It was just terrible.
I remembered reading a stat, I believe, that goes back to some original research done not too long ago by Gallup that said approximately 80% of US employees are disengaged at work. This particular call center was living evidence of that, or even worse. My friend clearly had a challenging problem on his hands.
After the visit to the center, I called my friend and asked if he would consider an experiment with his team. He was clearly already at his wits end and said if it'd help, he'd consider almost anything because the situation as-is was unsustainable. I asked if he had heard of a brilliant researcher and academic, Dr. Dan Cable and the work Dr. Cable did something called, "Best Self Activation"? He had not.
Dan Cable studied the notion that if there was a way to actively trigger and encourage employees, frontline or otherwise, to be their best selves at work, magic would happen and disengagement would be almost entirely eradicated. My friend asked about what that meant and how would we implement "best self activation", and also, why, in a CX role, would he really be the person on the team to, for lack of a better term, own it?
I reminded my friend about a wonderfully insightful article published nearly 30 years ago in the amazing Harvard Business Review called, "Putting the Service Profit Chain to Work" which describes the connection between EX and CX so beautifully. The basic takeaway from that article was, simply, "Happy and engaged employees create happy and engaged customers, which in turn, creates profit."
The math was clear. Achieving superior customer experience would be nearly impossible with a subpar employee experience and the rampant disengagement amongst his team was literally killing his profitability by telegraphing their negativism to customers. It was viral and self-fulfilling in a huge, vicious circle, down. I used this to make the point that CX and EX are indeed inseparable and that one cannot stand alone. Cousins, of sorts.
In considering Dan Cable's celebrated work, we set out to prove we could maximize the company's financial returns by directly unleashing his agents to be their best selves at work and in it, re-earn their own commitments toward excellence and service. But how? How would we do this? By serving pizza on Wednesdays? By letting people bring their dogs to work? By making casual Fridays more often? Not even close. We linked their work with customers to their best selves and then ensured their own sense of validation in the work done. Let me explain.
We wanted to show these 850 professionals that their work not only mattered to customers, but it mattered to customers in ways that were most important to the agent. This was not about sharing occasional customer shoutouts and kudos for work well done, there was a lot more to it.
There were a few things we did, as follows.
First, we surveyed each and every call center agent on the team and asked for some baseline information about themselves. We asked questions such as "How do you describe yourself when you are truly being your best?" and "What words do you use to describe yourself when you feel empowered and productive?" and "What personal traits do you have you are most proud of?" and simply cataloged their responses, associating specific traits to each associate such as "patient", "good listener", "creative problem solver" and so forth.
Then, we launched an after interaction survey of their customers this team served. Each call or email or chat session with this team got a short survey soon after, thanking them for the interaction and asking them to rate the service. We then asked an open-ended question to describe the agent's best traits using their own words to describe the interaction with that representative and what worked well and perhaps did not.
Finally, each morning, we sent an email to each member of the call center team that contained a modest sample of the following:

Only positive feedback about their recent interactions. Negative feedback was suppressed.
Only comments from customers about that particular individual that matched the traits that the representative earlier said were their best and most important features.
That was it.
So, imagine if Sally Smith said that call center Robert was a patient listener and gave a high score for his performance and assuming Robert earlier indicated he took pride in his ability to be a patient listener, there was a match and we shared Sally's feedback with Robert. Remember, just the positive feedback and only the feedback that directly matched what each agent took the greatest pride in.
This was incredibly reaffirming to the reps that they not only made a huge and positive difference in their work, they did so in the aspects of themselves that were most important to them. It was through the linkage of impact and self-importance that the magic truly happened.
Within 45 days of sending daily emails with these contextual positive reaffirmations to each agent, we saw agent attrition drop from that nosebleed of 130% to under 20% with most agents now not only staying in their jobs considerably longer and being less prone to churn, they were more committed to their work and continuing to make impact for their customers served.
They took far fewer unplanned sick days and took pride and excitement in their daily work on the team. They told each other encouraging success stories and even helped cross train their peers when it was time to do that. In fact, the New York Times conducted a recent study and published that "employees who find a passion and a purpose at work are more than 3 times as likely to stay with their organizations than those who don't." For my friend, the change was night-and-day and the impact was profound.
My friend's company not only saved nearly $50 million just in headcount replacement costs annually, we measured corresponding improvement in customer overall satisfaction and later, repurchase behaviors for those who called into this team and were served by the staff. This increase in positive customer outcomes added at least another $50 million to the company's bottom line and that number continues to grow to this day.
Part of the secret sauce in helping my friend realize this huge gain was in the analytics we used to look at some interesting data. We were able to not only survey the customers and employees about various views on different experiences, we often asked each group, customers and employees, the same questions and then compared responses between them. Imagine, for example, questions such as, "XYZ company actively shows signs they value their customers", or another, "XYZ company empowers their frontline staff to serve their customers with a focus on excellence truly".
It's eye-opening when you take this type of feedback and overlay it analytically, CX and EX literally on-top of each other and see the differences. While neither pattern is guaranteed, the groups are virtually never aligned. Employees, when asked, often are harsh on themselves and give low scores about themselves when contrasted with customers who heap on praise. Sometimes it's the reverse too, when employees feel like they're being rock stars and customers complain of poor and inattentive service. The story, however, is always in the margins. Enabling interventions was a challenge until we studied the gaps between the two groups and saw clear and distinct patterns in which side of the two was the more critical cry for help.
Doing this type of analytical analysis of the combined CX and EX was critical to my friend's success and the linkage, I reminded him, this was the very thesis of the Service Profit Chain, as described in that HBR article. It all went back to the very point that we could not enjoy a strong CX without a foundational plan to enable a strong EX in the organization. And, then, it was only by igniting the front line associates' desire to be their true, best selves each day at work that unlocked the formula for those huge financial gains.
There was nothing about my friend's company that made them an outlier edge case. Companies all over the world, large and small are similarly challenged and could see similar, significant impact.
As a call to action, I'd love to challenge each of you who've read this article this far to consider your own organization and the connection between CX and EX and more so, how do you enable your employees to be their best selves in each and every customer interaction they have. The rest, as they say, will take care of itself.
For more information:
Dr. Dan Cable, TED Talk on Best Self Activation: https://www.ted.com/talks/dan_cable_best_self_activation
"Putting the Service Profit Chain to Work" HBR article https://hbr.org/2008/07/putting-the-service-profit-chain-to-work
Is there something wrong with your customer experience?
When you complete an honest assessment, the outcome can be beneficial. Particularly when it comes to your Customer Experience program.
Take five minutes and complete an audit for your organization here.
You may discover a gap in measurement, an opportunity to improve a process, the place where an organizational shift needs to take place or an opportunity to win a greater share of your customers' wallets.
We all want that bigger "return". In this situation, the worst case scenario is that you'll get some information that will help your organization since there is no cost or obligation in completing this audit.