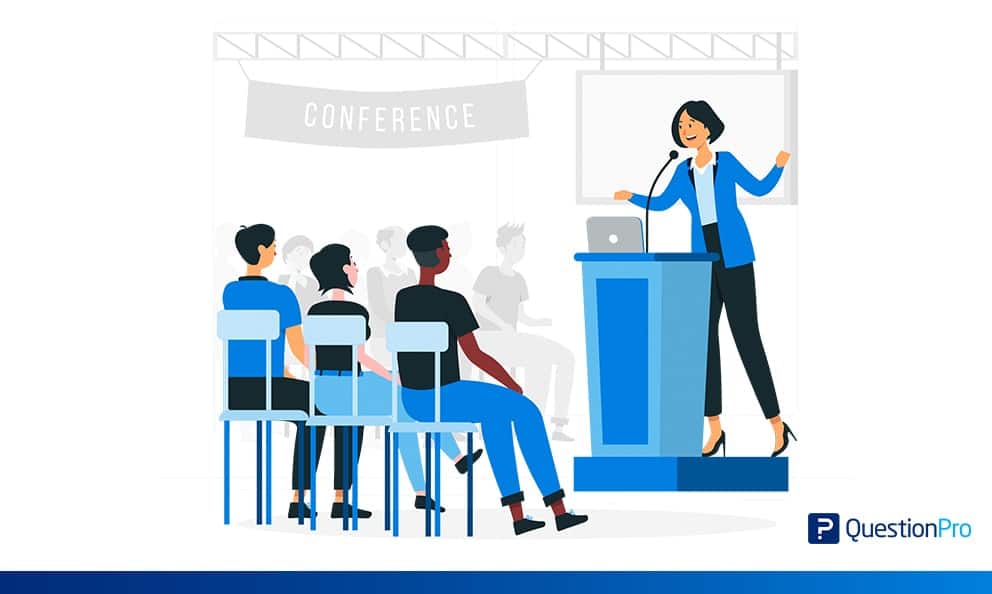 Ensuring company events are engaging is super important in order to maximize their results. Especially online, keeping people engaged is more difficult than ever and teams have to resort to more unique strategies to maintain involvement throughout their events.
In this article, we will talk about the best strategies and tools to increase engagement at events, meetings, and workshops. If you are interested in learning more about the tools that help engage students in the classroom, check out our other article about that.
Tools to Increase Engagement
One of the most premium ways to increase engagement at online events is to promote real-time interactions within the event. In order to emulate real-time events in an online setting, there needs to be a medium for them to interact throughout. This usually presents itself in the form of various collaboration tools, some of which we will detail below. While it's important to use specific platforms to engage participants, we will also talk about some engagement strategies that you can use without designated platforms.
It's important to emphasize both new technologies and the strategies that are more common to in-person meetings because these strategies will not be a one size fits all solution. They will ebb and flow between different events and scenarios, so it's important to understand all of them and the various situations that they can apply to.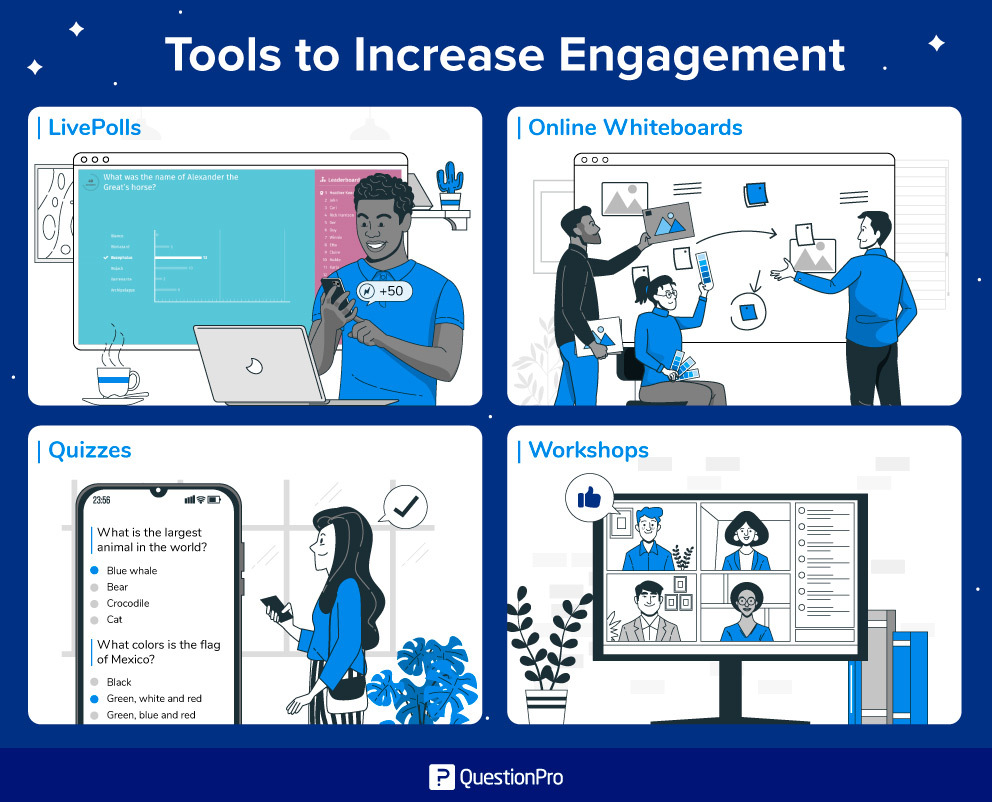 LivePolls is QuestionPro's latest feature that allows people to engage in real-time interactions online through consumable, interactive polls. Having people participate in polls is a great way to increase engagement because it allows people to engage easily, and they can also feel that their voice is being heard. 
Especially in larger meetings, this is a non-intimidating method for people to interact with everyone in the event and involve their opinions. Timed polls are a great tool to use during meetings in order to do a litany of tasks, including to gauge people's attitudes and understandings of certain concepts. Monitoring the attitudes of participants is a great way to ensure engagement and keep people attentive and interactive.
Besides generating quality real-time interactions during online events, polls are also a great way to increase participation for pre-and post-event feedback. 
For pre-event, it could look like anything as big as people choosing the content for the whole event or things as little as the structure, speakers, or break times. This allows those involved to feel like they have some semblance of control over the progression of the meeting and makes them feel more connected to each event.
Post-meeting polls are a great way to follow up with some ideas that need retention from the participants or to gauge their various thoughts and takeaways from the event as a whole. This, similar to polls before and during events, allows people to feel included while also having a formative say over what happens during future meetings.
Whenever you choose to include polls in your event, they are sure to be a great method to keep people engaged and involved with the content of the meeting.
Online whiteboards are some of the best tools to use in order to increase engagement during events. Fresco defines online whiteboards as "A shared online workspace where teams can utilize visual elements in order to express ideas and collaborate together."  Because of their versatile nature, online whiteboards can be used for a ton of different pre-made activities or can function as a perfect brainstorming canvas.
People can access apps like Fresco, Mural, or Miro and begin collaborating in an instant. Online whiteboards are the closest alternative to a real-time collaborative space that people can use together and are therefore the pinnacle of real-time collaboration in digital workspaces. Online whiteboards can be used effectively to gather as many people as needed in the same shared space, and for that reason are great tools to use in order to increase engagement at any virtual event.
Virtual whiteboards can accompany a ton of pre-structured workshops as well as allow users to create their own workshops and edit them to their liking. This is amazing for online events because it allows anyone to create or use a fully customizable canvas to facilitate any kind of interaction they want. For this reason, online whiteboards are some of the best tools to integrate during online events and we highly recommend using one. If you want to learn more about visual collaboration tools, check out Fresco.
Quizzes
Quizzes are interesting methods of engagement for people doing online events and can be spun in two different directions. They either can function as trivia and provide laughable interactions for people during the events, or can hold more important expectations, almost like they do during class. The beauty of using quizzes during events is they are versatile, easy to engage with, allow real-time interactions as people try to figure out the answer, and can either promote a fun environment or one-off learning.
The types of quizzes that are used in various online events depends both on the people overseeing the quizzes and the attitude of the event. Events like meet & greets, or socializers will be much more informal and prone to fun trivia questions, while trainings and consequential meetings will require more important content to be involved with quizzing.
Whichever event is being hosted, having people interact with quizzes is a great way to promote interactions and engagement during online events.
Brainstorming/Team Building Activities
Because events are held online, for the most part, they can sometimes differ from the normal structure/schedule that they would regularly have. This means that other activities can be inserted into meetings or events that would regularly feel completely out of place.
Some examples of this could be a brainstorming session just to get people's thought process working properly, or a team-building exercise to make sure people feel plenty close to each other.
Brainstorming and team-building exercises are great alternatives to fill the dead space that occurs in traditional events and can be accommodated due to the online flexibility that is offered by remote work environments. These events make people feel included and engaged before your real event even starts, putting everyone in a more collaborative mood and in a better space to properly participate.
Breakout Sessions and Workshops
Adding interactive sessions before, during, and after events creates an engaged audience that is more willing to participate. Often during larger meetings, people are reluctant to participate in fear that they will get something wrong or get called out. This fear can be subsided by providing them with opportunities to participate in smaller, more confined groups where they feel more comfortable opening up and engaging in conversation.
Breakout rooms and side conversations help people engage in multiple different ways. They allow people to separate themselves from the larger group and talk honestly about how they're feeling, what they're thinking, and collaborate with different ideas. This not only helps them better understand what the takeaways are from the event, but it also helps them connect with their teammates simultaneously.
While connecting with teammates is important, engaging at the main event is the end goal of these smaller workshops. That goal is achieved through people's attitudes changing as they continue to participate in smaller discussions. They gain confidence in their opinions (which are now mutually agreeable) and are able to participate in the main event with more regularity and confidence.
A great way to keep track of these activities is by sending an event survey. This is an ideal tool to know the perception and satisfaction of the attendees.
Conclusion
Keeping people engaged at events traditionally is never easy, and is made much harder thanks to their new virtual nature. Hopefully, this guide provides some inspiration to those hosting online events and enables you to engage your participants much more effectively.