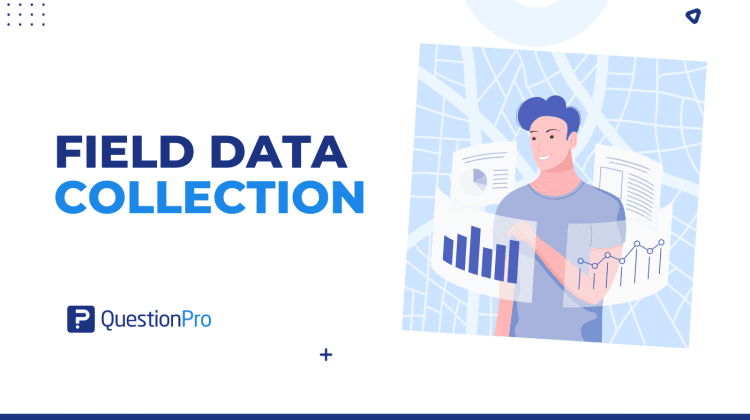 A data gathering effort called "field data collection" is carried out personally in a predetermined physical setting or area (as opposed to remotely).
A corporation can gain access to some of the most critical information by collecting data in the field. It gives managers and other executives a clear view of what's happening at a job site or point of transaction, giving them the information they need to make wise business decisions.
Unfortunately, many firms need to utilize that data effectively. So, in this blog, let's look at field data collection, when to choose this type of data collection process, and what steps to follow to collect field data. 
What is field data collection?
Field data collection is gathering information from an environmental or socioeconomic system that is not strictly regulated by practical guidelines. Direct observation, measurements, GPS equipment, or drones can all be used to carry it out.
The primary goal of field data collection is to measure and observe events in their natural environments. It suggests that the researcher observes the system without trying to change it or make it do anything. 
Numerous types of information can be gathered in the field, such as numerical measurements, observations, interviews, and images. The research question and the phenomenon's characteristics will determine the methodology used.
LEARN ABOUT: Research Process Steps
Although field data collection is challenging and complex, it is also crucial for comprehending real-world systems. Researchers can better understand how these systems function and external variables influence them by investigating occurrences in their natural environments.
LEARN ABOUT: Best Data Collection Tools
How to select the best field data collection environment
No matter what field data you're collecting, it's best to do it in the natural setting where the product will be used. It would help to find a good balance between controlled and raw data.
If your data is too actual, there may be too much noise for you to train or test an algorithm well. But if you control the data too much, you might not show how your device is used.
To choose the right environment, you need to know your technology and what it's meant to do.
Seven steps of the field data collection process
Here are seven essential steps your business needs to ensure data collection happens as planned.
The Plan
A solid survey plan is the first step in a successful data collection process. The questions can quickly get too lengthy. However, when formulating the questions, there are simply three rules to remember:
What precisely is the goal of this field data collection exercise?

How much knowledge do you possess?

What details will you require?
The next step is to create a budget after you've written the questions. Since the number of questions and the price are inversely proportionate, this task is related to the first point.
The cost increases as a result of each additional query. Also included in the budget should be the price of the resources, incentives, and survey design.
The Survey
The survey design dramatically impacts the field data collection process in terms of the number of respondents and how the data is gathered, processed, and evaluated.
Some of the recommended practices that you should stick to are listed below:
Just the inquiries necessary to your research audience and survey should be included. If you can, try to avoid optional questions.

Use clear wording. It ought to be immediately understandable.

It would help if you used straightforward language because the respondents want to finish the form as quickly as feasible. Avoid using jargon if your audience is unfamiliar with the language or it is unnecessary.

Order the list of queries. This advice explains why.
The Tools
Mobile or paper? Depending on who your audience is.
At first appearance, mobile data collection appears quicker, greener, and more cost-effective. However, some circumstances demand paper surveys—particularly if you're in an area with a weak network, such as a restaurant, theater, or small town.
Use offline survey apps if the latter is the case. When your team is back online, they may upload the data to the platform after collecting the information on hand-held devices and storing it in the cloud.

Assume that some of your responses have vision impairments. In such instances, you can use Braille surveys to gather the data, which you can then send to an online survey platform for analysis.



Numerous benefits come with mobile field data collecting, such as significant error reduction, real-time data collection reporting, calculators, conditional questions, etc.
Moreover, field data collecting with a mobile device is less expensive (and not only because it saves on paper). Additionally, it reduces the cost of hiring additional staff to work long hours on survey design, data gathering, and analysis.
The Features 
Creating sophisticated forms becomes necessary when your company deals with data.
Because of this, you require strong form development tools to facilitate the gathering and analysis of field data.
The Test
When collecting data during field research, many things can go wrong, especially if you're utilizing a new technology.
For example, the program might malfunction, there might not be sufficient connectivity, etc.
Do you, thus, have any testing mechanisms for the field data collection procedure? Do your survey participants have the option to report issues immediately?
Although testing the field data collection method takes time, it might save you a ton of time in the long run. Because of this, you must eliminate potential snags by evaluating the process of gathering field data in advance. These actions can be repeated until they are automatic.
The Resources
The field data-gathering technique is a brutal way to obtain client feedback. It takes a lot of effort to accomplish this.
Therefore, the essential resources that you would require for your field data collection method are as follows:
A survey designer will create them.

The questions and answer choices will be researched and developed by a copywriter.

Technical employees, also known as the individual who can operate the survey program and address any potential problems.

To extract insights from the data, an analytics specialist.



The Report
Following the field data collection process, you must complete the following tasks.
Feedback on how it went should be provided.
How did the survey process as a whole turn out?

Are the used data collection techniques error-free?

How may the procedure for gathering data be made better?

How did the respondents respond to the device's offline survey form?

What obstacles did the field survey face?

Does your team require additional training or equipment to meet these challenges?
Prepare the data
If the survey was conducted on paper, an excel spreadsheet must be filled with the data.

You must export it if the information was initially stored on a mobile device and was later uploaded to the cloud.
Analyze the data
Dashboards in online survey tools like QuestionPro allow you to see the data as graphs, charts, and word clouds. Try them out to see how they can speed up analysis.
The following stage is to share the findings with other stakeholders, including your clients, after you have analyzed the results (and respondents if you want). You can use graphs, maps, illustrations, and reports to use the data to make a captivating story.
Conclusion
With high-quality data, you can produce a quality product. And while it would be ideal if all of the information we require could be found online, that is only sometimes the case. At that point, collecting field data becomes crucial.
Furthermore, nothing compares to stepping outside and exploring our surroundings. Because of this, field data collection produces the most significant insights. Selecting the appropriate field data-gathering technique and defining your data collection strategy is, therefore, crucial.
The QuestionPro Research Suite assists in locating the most important findings. Choose the respondents who best fit the profile of your ideal study audience. 
Use QuestionPro to conduct compliance market research on issues important to you globally and locally with respondents who have chosen to participate.