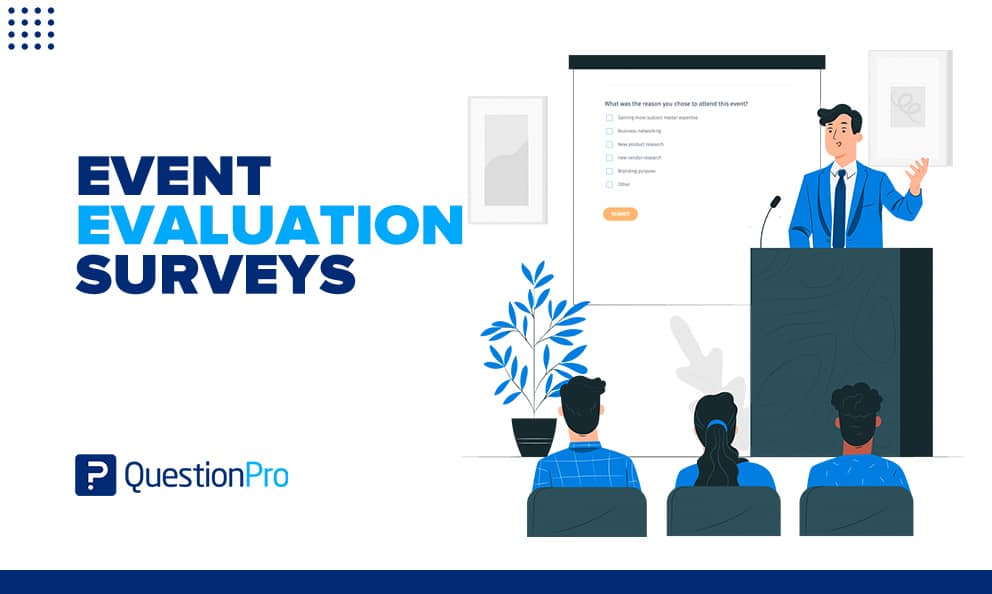 Will you be at a fair, exhibition, course, or workshop soon? In addition to wishing you luck, we would like to invite you to ask the attendees for feedback by applying one of these examples of event evaluation surveys.
We offer you a series of tips that will give you notoriety. Offering attendees the opportunity to leave comments will greatly value them, and your public relations work to stand out. Event evaluation surveys are used to obtain feedback through questions applied during or after attendees have been to an event.
Each attendee has a unique experience, so it is crucial to understand their opinion of applying an event survey.
LEARN ABOUT: course evaluation survey examples
What are Event Evaluation Surveys?
Event evaluation surveys can be conducted for public events, training courses, conferences, trade shows, exhibitions, or webinars. Using the event evaluation questionnaires, you can collect objective and actionable information to organize better events in the future and achieve the satisfaction of your attendees.
For example, an institute that provides training courses has held a session for public image professionals. This event was given by a renowned personality and was attended by many attendees.
In her opinion, the event could have been better in some aspects, such as the facilities and material available to attendees. However, after applying an event feedback survey, the data obtained was that the event was very well received, and many people signed up for the subsequent training sessions. It also provided feedback on other things that needed improvements, such as the registration process and the event audio system.
Therefore, using survey software, the researcher can use event evaluation surveys or make an evaluation of the conference that allows the organizing company to understand the needs of the attendees and, therefore, can work on those areas. that the audience considers that they are not up to the task.
LEARN ABOUT: Event Surveys
Tips for Event Satisfaction Surveys
Timing is important: Once the event is over, you shouldn't wait too long. As soon as it ends, ask the attendees how they felt since the experience is still fresh for them.
You can send the surveys by email with some kind of thank you or even ask them to respond when leaving the event to collect the data that would be more accurate.
Use images and videos: Most attendees prefer to leave rather than sit down and answer multiple questions. Therefore, keeping the survey small and adding attractive photos will give you a reasonable response rate from your audience.
Evaluate speakers/instructors: After the event is over, attendees may only remember speakers they liked. So if you rate all speakers, attendees can suggest which speaker they wanted and why. Using this data, the best exhibitors can be chosen according to the audience's interest, ensuring a large public turnout.
Mobile-optimized poll: Attendees generally tend to leave immediately. In these cases, so that it is not difficult for you to get the audience to respond to the surveys immediately, adapt your surveys or opinion polls for mobile devices.
In today's world, the average person uses a mobile phone continuously. If event evaluation questionnaires are sent by email, they should be optimized so the attendee can respond wherever they are.
Attractive survey design: The design must be appealing to keep the consistency of the brand in their minds, even after the event to create a lasting impression.
Thank your respondents: It's essential to have a thank you page at the end of your survey, as the respondent has gone out of their way to spend a little time with you. Also, to keep the event fresh in their minds and create a lasting impression, you can add links to interesting articles from the speakers or photos taken at the event.
Promote your next event: Event evaluation questionnaires can work as a promotional asset. Use it to end your upcoming event and get a rough idea of ​​how many people will be attending and what they expect from it.
LEARN ABOUT: Speaker evaluation form
Questions to evaluate an event
Among the main questions for event evaluation is the NPS question:
Considering your entire experience at the event, how likely are you to recommend it to your friends or colleagues?
How would you rate the event on a scale of 1 to 7, with 7 being the highest?
Please, indicate 3 things that you liked the most about the event.
Please indicate 3 things that you did not like about the event.
How would you rate the organization of the event?

Very good
Good
Acceptable
Bad
Very bad

How helpful were the event staff?

extremely helpful
Very useful
Something useful
not so helpful
nothing useful

Prior to the event, how much information was provided to you to help you better understand what it was about?

I received all the information
I received most of the information
I received part of the information
I received little information
I did not receive any information

Please indicate your level of agreement with the statement: The duration of the event was perfect. (neither too long nor too short)

strongly disagree
Disagreement
Neutral
Acceptable
Totally agree

Have you previously attended any of our events?

Yes
Nope
tips for creating quizzes for events

What was the reason you decided to attend our event, and what were your expectations of it?
Did the event meet your expectations?
Overall, how satisfied were you with the event?

Very Unsatisfied
Dissatisfied
Neutral
Satisfied
Very satisfied

Would you say the event was interactive?

No, communication was one way.
Yes, it was very interactive

Did the event help you gain new learning or knowledge?
Would you say that the speakers or presenters were well-informed?
Do you have any other comments or suggestions to help us improve future events?
There are countless benefits to participating in events, but without a doubt, taking advantage of the moment to obtain information, for example, through an online form that helps you improve, is vital to continue growing and enhancing your brand.
Event evaluation questionnaires will help you know if you met the expectations of your audience. Applying a survey of this type helps to understand the areas of improvement and, therefore, to offer a better event in the future.