Capturing respondent demographics is an important aspect for most organizations, but it is also perhaps the most annoying aspect for the respondents. Often it happens that they are not uncomfortable sharing information unless – you ask them for it! It's a respondent psychology that is persistent across all industries and organizations have been trying to find mechanisms to make things easier for a long time now.
Well, your wait is over.
Facebook – the platform which ties the real world with its virtual bonds, has over 1.79 "monthly active users" ranging from almost every demographic imaginable. In fact, a person's digital existence today is considered incomplete without a Facebook account!
We at QuestionPro wanted to levy this fact to our client and user's advantage. That's why you can use a special Facebook Authentication for your surveys created on QuestionPro and get valuable audience demographics in just one click.
Here is how to use Facebook Authentication for your survey in 2 simple steps!
Step 1. Once your survey is ready to shoot, just click on the security tab.



Step 2. Select and enable Facebook Connect. By default, Enable Skip Authentication will be Off and SSL Security will be On as needed.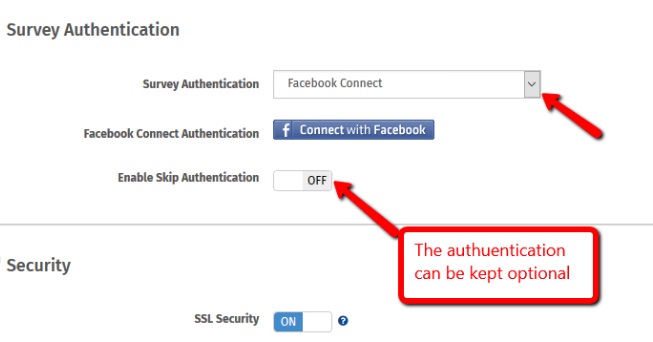 Users will now be asked to authenticate themselves using Facebook.



Moreover, it's not just you who gets the benefit. It is also extremely convenient for your respondents when they can authenticate themselves in just a click and dive right into the survey. In other words, they save time and energy, you get the data you need – In the survey and about the respondent.
Even better, using Facebook Authentication has also shown to get our clients and users much better and faster response rates!