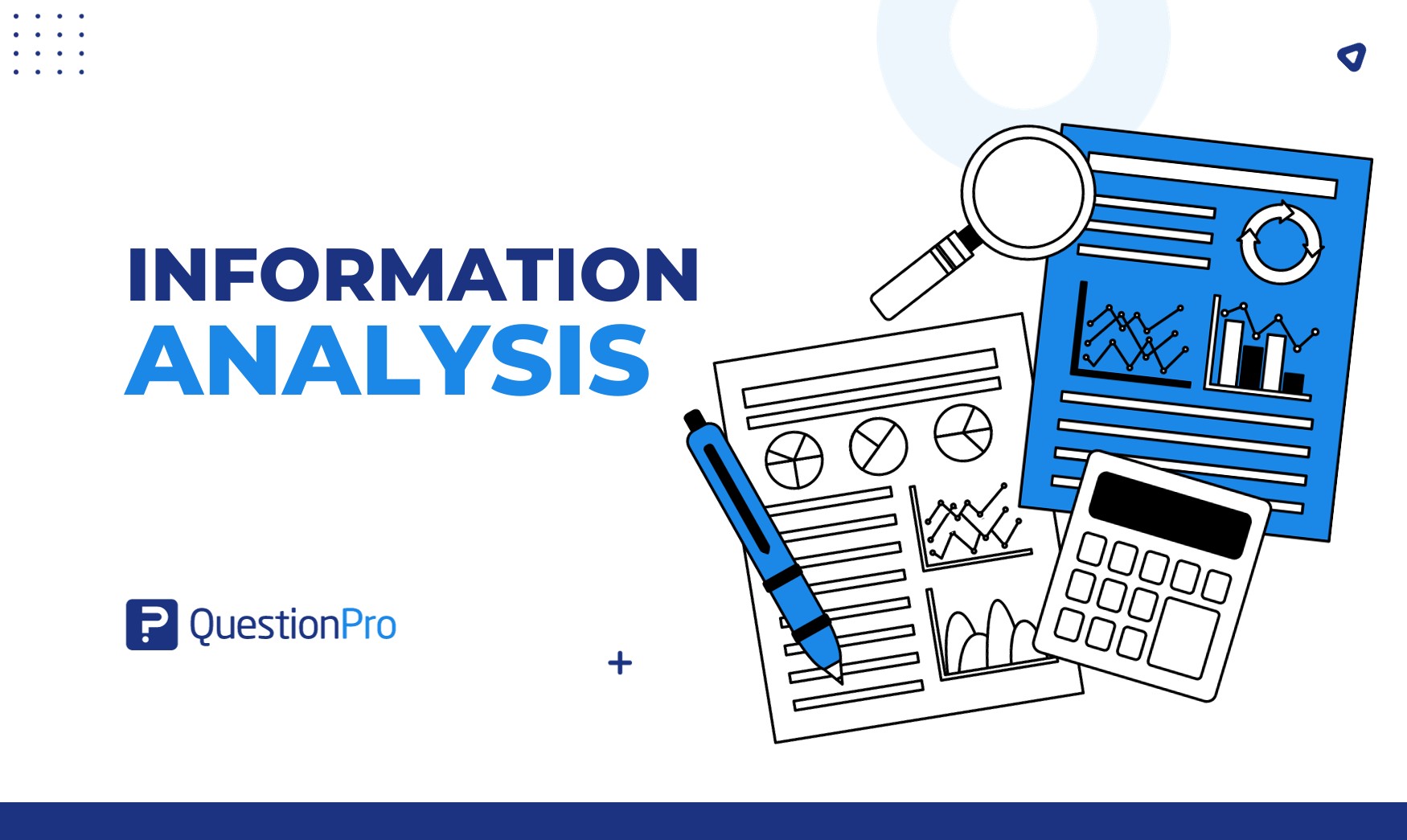 Decisions can make or break success. Making quick and well-informed decisions is absolutely critical in the business world. Analysis is the key to unlocking meaningful insights, and information analysis turns data into actionable insights and guides the path from collection to strategic decision-making.
In this blog, we'll learn about different types and stages of information analysis and how visualization techniques can transform data into a clear and impactful visual representation.
What is Information Analysis?
Information analysis is the organized method of examining, changing, and shaping information to get useful insights and make decisions.
It involves turning raw data into usable information to understand complex situations, identify trends, and find connections. The process typically includes various stages, such as data collection, cleaning, preprocessing, and analysis.
Information analysis involves the process of identifying and extracting important information from a given source. The extracted information is then organized into headings and sub-headings based on a predefined scheme.
Types of Information Analysis
Information analysis can be categorized into several types. Each type serves a specific purpose in extracting insights from data. Here are some common types of information analysis:
1. Descriptive Analysis
Descriptive analysis is all about providing a comprehensive summary of the main features within a dataset. It means making big sets of data easier to understand by organizing them in simple patterns.
This kind of analysis usually uses average numbers like mean, median, and mode. It also involves other numbers that show how spread out the data is, such as range, variance, and standard deviation.
Descriptive analysis helps you find patterns, trends, and how data is spread out. You can use visualization tools, such as charts and graphs, to show the data in a way that's easy to look at and understand.
2. Diagnostic Analysis
Diagnostic analysis helps figure out why specific results or situations occur. It involves looking at data to find connections, correlations, and links.
You can use methods like regression, correlation, and root cause analysis in diagnostic analysis. This helps you understand the basic reasons behind events and explains why they happen.
3. Predictive Analysis
Predictive analysis is all about making smart predictions about future events based on historical data. It uses statistical algorithms, machine learning models, and data mining techniques to identify patterns and trends.
You can use predictive analysis in various scenarios, such as forecasting sales, predicting customer behavior, or anticipating market trends. The goal is to provide helpful insights so that you can make decisions before things happen.
4. Prescriptive Analysis
Prescriptive analysis predicts outcomes and suggests specific actions to get the best results. It helps answer the question, "What should we do about it?" This kind of analysis looks at different possible actions and assesses how they might affect our desired results.
This kind of analysis often uses optimization algorithms, simulation models, and decision support systems. It's really helpful for making smart decisions about strategy and where to put resources.
Stages of Information Analysis
Information Analysis is a step-by-step process that helps you turn raw data into useful insights. It involves various stages, and each one is crucial for making sense of the information. Let's explore the main steps of Information Analysis:
Stage 1: Your Role in Data Collection
Start by collecting relevant data from various relevant sources that cover a wide range of information. Your choices in this step are crucial because they affect how accurate and dependable your later analyses will be. You can use methods such as surveys, observations, or database extractions to ensure a strong and reliable dataset.
Stage 2: Task on Data Cleaning and Preprocessing
Examine the details closely. Identify and fix any mistakes, differences, or missing information in the dataset. Your careful work will ensure that the data is accurate, consistent, and ready for analysis. You can use techniques like imputation and normalization to enhance data quality.
Stage 3: Your Decision on Data Storage Systems
Select storage systems like databases or cloud solutions that ensure easy access, safety, and the ability to grow. The choices you make here will help you retrieve data fast and reduce the chances of losing it.
Stage 4: Your Exploration or Exploratory Data Analysis (EDA)
Examine carefully. Use charts and numbers to understand data patterns, trends, and connections. Discover unusual points, connections, and irregularities, which will help you decide what to do next in your analysis.
Stage 5: Your Analysis of Statistics
Explore the numbers by looking at the average and spread of the data. Summarize the dataset with tools like mean and standard deviation. Visualize the data to get a complete picture of its features.
Role of Information Analysis in Decision-Making
Making decisions is a complicated task that includes thinking about different things, looking at risks, and making choices that match big goals. Information Analysis is really important in this process because it gives a clear and organized way to understand and make sense of data. This helps you in making smarter and more strategic decisions.
Supporting Your Strategic Decision-Making
When you're making big decisions, think of it like planning a roadmap for an important journey. Information analysis is your helpful guide, which will assist you in making smart choices that lead to long-term success.
Understanding the Market: Use Information analysis to get to know what your customers want and what other companies are doing. This way, you can plan how to stand out in the market.
Using Resources Wisely: With Information analysis, you can decide where to spend money, how many people to hire, and how to manage time. It's like choosing the best way to use your limited resources wisely.
Planning for Risks: Information analysis will help you see possible problems before they happen. This way, you can make plans to handle challenges and keep your journey smooth.
Thinking Ahead: You can use information analysis to imagine different future scenarios. This will help you make plans that can change if needed, like taking detours on a road trip.
Real-world Case Studies
Real-world stories show how information analysis works in different situations.
Online Shopping: An online store can use information analysis to improve its website. They can learn what customers like, and sales increase, which will make customers happy.
Healthcare: A hospital can use information analysis to help patients. They can learn how to be more efficient, reduce costs, and improve overall care, which will make everyone healthier.
Financial Worlds: A bank can use information analysis to invest wisely. They can make better decisions, and people can trust them with their money, which will make the bank successful.
Success Stories
Success stories are like the happy endings. It shows how Information Analysis turns decisions into wins, and it can do the same for you.
Growing Bigger: A small company can use information analysis to grow in new places. They can understand their customers better by the analysis and become a big success in the market.
Working Smarter: A factory can use information analysis to reduce mistakes and work faster, which makes everyone proud of their work. This way, they become super-efficient.
Being More Creative: A company can use information analysis to come up with new ideas, which makes their products stand out and everyone excited to see what they do next. This way, they become a creative powerhouse.
Methods of Information Analysis
Information analysis involves different ways to find important insights from data. These methods help turn raw information into useful knowledge. Here are some important methods of information analysis:
1. Quantitative Analysis
Quantitative analysis involves numerical data and statistical methods to identify patterns, trends, and relationships.
How it works:
Descriptive Statistics: It summarizes and describes the main features of quantitative data, such as mean, median, and standard deviation.
Inferential Statistics: It draws conclusions and predicts a population based on a sample.
Regression Analysis: It examines relationships between variables to make predictions.
2. Qualitative Analysis
Qualitative analysis deals with non-numerical data, focusing on understanding meanings, patterns, and contexts. This includes things like what people observe, interviews, surveys, and written materials.
How it works:
Content Analysis: It analyzes the content of texts or media to identify themes or patterns.
Grounded Theory: It develops theories from data by identifying recurring themes.
Case Study Analysis: It is an in-depth exploration of a specific case or situation.
3. Comparative Analysis
Comparative analysis involves comparing different datasets, groups, or entities to identify similarities, differences, or trends. It helps to compare and figure out which options are better. Comparative analysis is useful for checking out other businesses, possible investments, or different action plans.
How it works:
Cross-Tabulation: It compares the relationship between two categorical variables.
Comparative Case Studies: It analyzes multiple cases to draw comparisons and contrasts.
Benchmarking: It compares performance metrics against industry or internal standards.
4. Trend Analysis
Trend analysis is about finding patterns and changes in data over time. It helps you understand how things are changing and predict the future based on what happened before. Market analysis, forecasting, and financial analysis often use trend analysis to make predictions.
How it works:
Time Series Analysis: It examines data collected over time to identify trends or seasonality.
Moving Averages: It smooths out fluctuations to highlight underlying trends.
Cyclic Analysis: It identifies repeating patterns or cycles in data.
5. Ratio Analysis
Ratio analysis is a way to look at how different things relate to each other to understand how well a company is doing or to compare it with others. It will help you compare similar businesses or track how well a company is doing over a period.
How it works:
Financial Ratio Analysis: It evaluates financial performance using ratios like liquidity, profitability, and leverage.
Efficiency Ratios: It assesses how efficiently resources are utilized within an organization.
Comparative Ratios: It compares ratios across different periods or against industry benchmarks.
Visualization Techniques in Information Analysis
Visualization techniques are like strong tools that change raw numbers into stories that make sense. Visualization isn't just about showing data; it's about making information easy to see, understand, and remember.
Let's explore the important parts of visualization techniques in information analysis.
Types of Charts and Graphs
When it comes to presenting complex data, various types of charts and graphs become your trusted allies in information analysis. Each has its unique strengths, making them suitable for different types of information.
Bar Chart: Think of bar charts like vertical or horizontal bars standing side by side. They're excellent for comparing quantities between different categories.
Line Chart: Line charts connect data points with lines, making them ideal for showing trends over time. Watching the line go up or down helps you understand how things change.
Pie Chart: Imagine a pie being divided into slices. A pie chart does the same, representing parts of a whole. It's handy when you want to show the proportion of different categories.
Histogram: Picture bars for showing the distribution of a set of continuous data. Histograms help you see patterns and variations within a range.
Area Chart: Like a line chart, the area below the line is filled with color. This visualizes the cumulative effect of the data, emphasizing the overall trend.
Best Practices in Data Visualization
Now that you have your visualization tools, using them effectively is crucial. Follow these best practices to ensure your data speaks clearly and captivates your audience:
Clarity is Key: Keep it simple. Your audience should understand the message without confusion. Avoid clutter, unnecessary details, and overly complex visuals.
Choose the Right Type: Pick the visualization that best suits your data and the story you want to tell. A bar chart might be great for comparing quantities, while a line chart is perfect for showing trends.
Color with Purpose: Use colors purposefully. They can highlight important information or differentiate between categories. Just ensure not to overdo it; too many colors can be distracting.
Label Clearly: Ensure your charts and graphs are accompanied by clear labels and legends. No one likes to guess what the colors or bars represent.
Consistency Matters: If you're using multiple visuals, keep a consistent style. This makes it easier for your audience to understand and compare information across different charts.
Tell a Story: Your visualization should tell a story. Guide your audience through the data, helping them understand the narrative behind the numbers.
Data Analysis vs Information Analysis
Data analysis and information analysis are two separate processes, each with its own important role in making sense of data.
Data analysis comes first. It focuses on organizing and examining raw data systematically. Data analysis methods use statistical analysis and mathematical techniques to find patterns, presenting results through statistical summaries and visual representations.
Information analysis goes beyond raw data. It interprets data, draws meaningful conclusions, and uncovers actionable insights. It uses a mix of quantitative and qualitative methods to provide synthesized information. This gives a nuanced and contextualized understanding that helps in decision-making.
Their key differences lie in their scope, methods, focus, and purpose. Data analysis techniques help examine data to find patterns, and information analysis goes a step further by adding interpretation and context. Information analysis aims for a deeper understanding relevant to decision-making.
In the analytical journey, the data analysis process lays the foundation by refining raw data, and information analysis enhances the process by giving insights in context, turning them into actionable knowledge. Both are important steps in moving from raw data to informed decision-making.
How does QuestionPro Research Suite help in Information Analysis?
QuestionPro Research Suite is an all-in-one online tool for surveys and research. It helps you easily make, share, and analyze surveys and other research forms. This platform can assist you with the whole research process, from creating surveys to analyzing the collected data. Its features help researchers, businesses, and organizations collect important insights.
Here is how QuestionPro can help you in your information analysis process:
Survey Creation and Deployment: QuestionPro Research Suite allows you to create customized surveys, questionnaires, and forms. This enables the collection of structured data from respondents.
Data Collection: The platform facilitates data collection from diverse sources, including online surveys, mobile surveys, offline surveys, and more. This ensures you a comprehensive dataset.
Advanced Survey Logic: You can include advanced logic features, like skip logic and branching, to customize the survey experience based on respondents' previous answers. This enhances the depth and relevance of collected information.
Multi-Channel Distribution: You can distribute surveys through various channels and reach a wider audience, which ensures diverse perspectives are captured.
Real-time Reporting: The suite typically offers real-time reporting tools. It allows you to analyze data as it comes in. This immediate access to information aids in quick decision-making.
Analysis and Data Visualization: Robust analysis tools enable you to interpret survey results effectively. You can use features for filtering, segmentation, charts, and graphs for clearer visualization.
Integration Capabilities: Integration with other tools and platforms can streamline your analysis process. It allows you to combine survey data with other relevant information.
Information analysis involves collecting, interpreting, and getting useful insights from data. QuestionPro Research Suite is a tool that helps organizations and researchers create surveys, send them out through different channels, and collect various data types.
QuestionPro supports a flexible approach to analyzing information, which helps make informed decisions and plan strategies.
If you want to know more about QuestionPro Research Suite, you can try it for free to see how it can enhance your information analysis efforts.