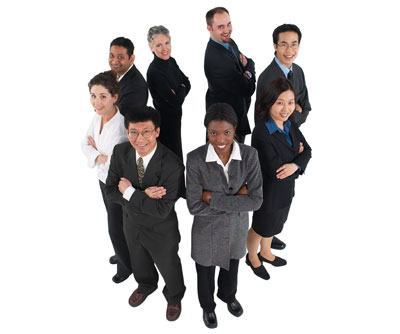 On Tues September 28th, 2010, SurveyAnalytics did a joint presentation with the global leader in human capital solutions: Personified, a division of CareerBuilder.
Diversifying your recruitment strategies is an important initiative for organizations to ensure they are attracting the right talent. Despite what people think, recruitment needs to be customized to an organization's target talent. In today's economy it is very important for companies to attract their ideal employee. Failure to focus on specific specific diversity requirements, education, and work experience would result in a overabundance of non-qualified candidates.
In today's presentation Personified showed us how they use online survey tools to work with their clients in identifying multi-diverse recruitment opportunities including:
-How the recruitment experience differs by demographics (i.e., gender, ethnicity, and generations).
– How your recruiting strategy must be tailored to these specific populations.
What is workplace diversity?
Workplace diversity is the variety of differences among people in an organization, encompassing race, gender, ethnic group, age, personality, sexual orientation, tenure, organizational function, education, background and more.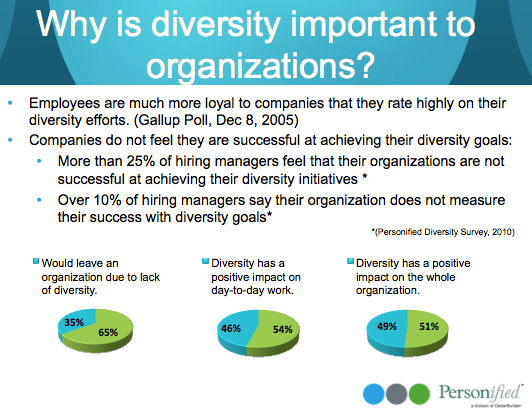 Three basic studies conducted on SurveyAnalytics by Personified are:
•Applicant Experience
-Finding show that many applicants have a prejudged a potential employer based on
the application process (ex. online surveys, questionnaire,  job/org. description).
•Standard Demographic Employment Survey
– Questions include: What were the top 3 reasons you applied for the position?
– Please rank the following factors based on how important they are when you  consider a job or an employer (Ranking).
– Examples of options: Advancement, Balance, Benefits, Culture, Diversity,  Financials, Location, Outreach, Salary, Training, etc.
•Diversity Study
– 515 hiring managers interviewed on opinions of diversity in current organization.
– 2,047 job seekers interviewed on opinion on diversity of potential employers.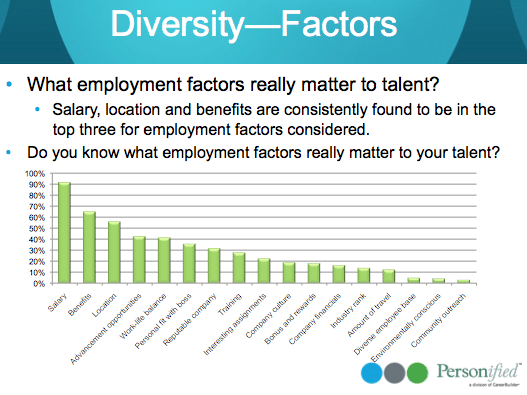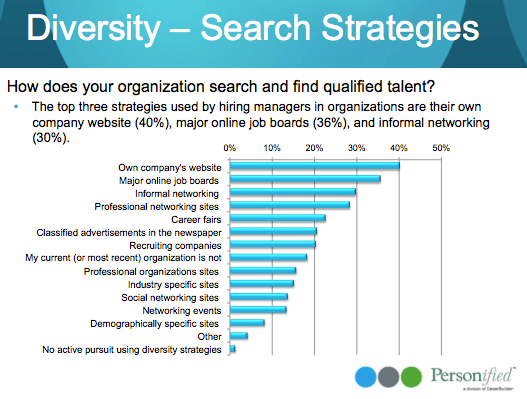 As a result of many studies in we have found the following conclusions:
•Overall, very few notable differences between males and females.
•Gen Y(18-30) has the most differences when compared to both the Gen Xers (31-45) and the Baby Boomers (46-64).
•Advancement opportunity is a bigger factor in employment for minorities than it is for Caucasians.
•Asians and Caucasians find personal fit with boss a bigger factor in employment than Hispanics or African-Americans.
•Different search strategies are used by all job seekers without one strategy being utilized more than another.
Conclusion:
•Diverse groups of people find different things important when thinking about employment.
•Recruitment strategies can and should differ from one group to another.
•Consider the population you are interested in and target the strategy accordingly.
•Find out more information about:
– What is important to them.
– What they want out of an employer.
Download slides from presentation here:
About the Presenters:
Brian Di Bartolomeo, Director, Talent Intelligence and Consulting
As Director, Talent Intelligence and Consulting for Personified, a division of CareerBuilder – the global leader in human capital solutions, Brian Di Bartolomeo manages the talent intelligence projects related to human capital metrics for pre-employment studies. Using his skills as an industrial organizational psychologist, Di Bartolomeo has played a major role in the creation of talent intelligence reports for various Fortune 1000 organizations as well as designing and re-launching Personified's top revenue producing product to 800 sales representatives nationwide.
Over the past 12 years, Di Bartolomeo has specialized in building strategic relationships in diverse settings and industries while using expertise in survey program design, team leadership, project management, contract negotiation and client retention. During his career, he has focused on collaborating with influential consulting firms, national associations and multi-national Fortune 500 organizations in the healthcare, financial, and manufacturing sectors.
Brian completed his Masters' work in Industrial/Organizational Psychology at Elmhurst College and holds a B.S. in Industrial/Organizational Psychology from John Carroll University.

Andrea Briggs, Project Manager, Talent Intelligence and Consulting
As Project Manager, Talent Intelligence and Consulting for Personified, a division of CareerBuilder – the global leader in human capital solutions, Andrea Briggs works with numerous clients to improve the efficiency of their recruitment strategies. Prior to working at Personified, Briggs worked for International Survey Research (ISR), analyzing data for clients' survey research engagements and for United Airlines, specializing in the areas of selection and talent management.
Briggs has both a professional and personal commitment to diversity. She has worked on many research projects throughout her career, including her Master's thesis on racioethnic diversity and how it affects team interaction. Briggs also has an upcoming publication in the Journal of Management looking at team demographic diversity and its relationship to performance.
Briggs currently holds a Master's degree in Industrial/Organizational Psychology from DePaul and is working on her dissertation to complete her Doctorate.
For more information about Personified, a division of CareerBuilder, please go to: http://www.personified.com