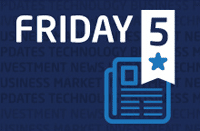 Today is Friday and that must mean it's time for another #FridayFive! Here we give 5 articles from around the web that relate to small business, market research and marketing. Have a great weekend everybody!
Holiday E-Commerce Sales Predicted To Jump 16.6% (MarketingLand)
Predictions are high for this year's Black Friday and Cyber Monday sales after last year's record breaking days. Reports claim that e-commerce sales will jump 16.6% – the question is, will your business be prepared?
Why Knowing Your Audience Is The Key To Success (Forbes)
Discovering who your customer is used to be a luxury only large companies had. In 2o14 though, this is something every business owner can do. Forbes contributor Jayson DeMers talks about why knowing your customer is extremely important.
Why You Need a Mobile-Friendly Site, Yesterday (SmallBizDaily)
Relating to the story above regarding online holiday sales, in order to prepare for such, Adrienne Erin writing for Small Biz Daily discuss the importance of your website being mobile optimized.
How to Create a Risky Ad Campaign (Business Week)
Are you a marketer or small business owner and looking to do something a little risky in terms of a campaign? Steve McKee writing for Business Week walks you through the process.
5 Common Mistakes Entrepreneurs Make on Social Media (Fox Small Business)
Think you're using social media correctly for your small business? Here are 5 mistakes to avoid when you're trying to use common social media channels to benefit your business.