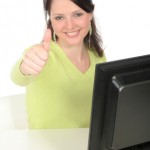 There is nothing quite as satisfying as working with clients who are completely obsessed with their customers' experience with their company.  There is a kind of energy and way about these leaders that immediately hits you between the eyes.  It's a kind of focused energy and passion that borders on a bit of a fixation.
If their customers only knew about their obsession
Equity Trust Company is one of these companies that's obsessed with how their customers experience their service.  It all started when Jeff Desich came to me asking about doing a customer survey.  When I asked him what his objective was, he simply said "I want our customers to do business with us because they WANT to, not because they have to.  I want their experience with Equity Trust to be among the best they've had with ANY company."
Soon after that, I ran across an article by Fred Reichheld "The One Number You Need to Grow" where he outlines a key measurement for loyalty and profitability; the Net Promoter Score.  Jeff not only read this article, he devoured it.  He referenced it in many of our conversations and a few months ago, he sent several members of his associates and management team to actually see and hear Reichheld.
Our bi-annual customers surveys which ask the ultimate question "How likely are you to refer us", are a key driver for their improvement programs.  If their customers only knew how much time, effort and energy is spent on reading, grouping and analyzing their comments – they would be floored.  If their customers only knew how much preparation went into following up with many – if not all of those customers that had made suggestions and comments about improvement areas – they would feel proud to be part of an organization that focused so much of their energy on how easy and pleasant Equity Trust was to do business with.
A little customer obsession is a good thing
Go ahead and obsess about your customers and how they experience you and your company.  They are a source of wonderful insight and ideas.  Stop killing yourself coming up with new ideas and just ask them what they want.  They will be happy to oblige.
About the Author: Ivana Taylor is CEO of Third Force, a strategic firm that helps small businesses get and keep their ideal customer. She's the co-author of the book "Excel for Marketing Managers" and proprietor of DIYMarketers, a site for in-house marketers. Her blog is Strategy Stew.   You can reach her directly at Ivana@thirdforce.net.