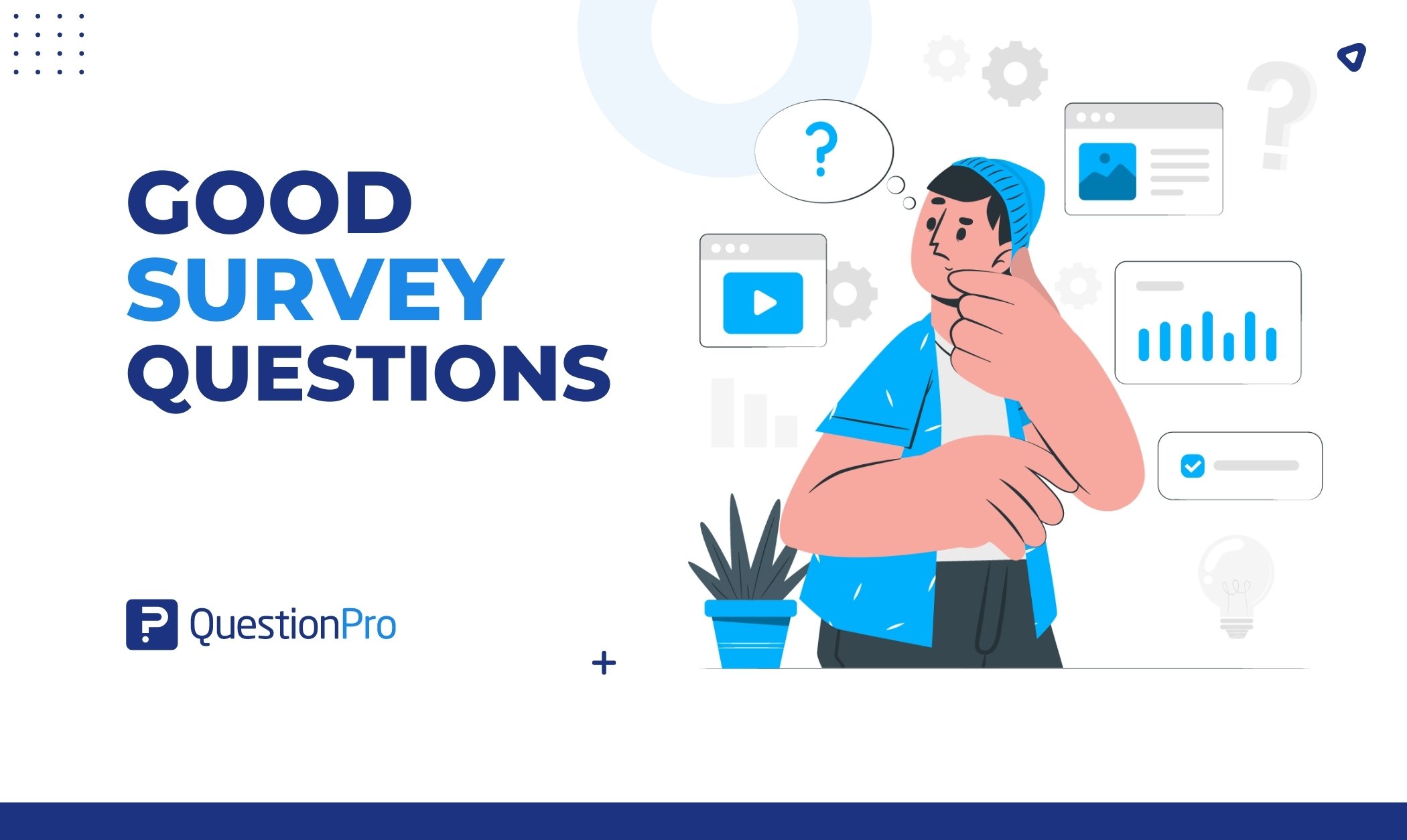 Surveys are a great way to get useful information and ideas from responders. However, the success of a survey relies a lot on how well the questions are written. Making good survey questions is an art that takes time, skill, and careful thought.
In this blog, we'll talk about the different kinds of survey questions, show you some examples, and give you some important tips to help you make smart surveys that get accurate and useful results.
What are good survey questions?
Good survey questions are well-designed, clear, and unbiased questions used to collect data and insights from respondents. They are a crucial aspect of any survey as they determine the quality and reliability of the data obtained.
A good survey question tells you something important about your customer, employee, or target group. This data tells you how they feel about different parts of your business. It can then be used to make your goods, services, or experience better as a whole.
Good survey questions are also asked at the right time so that they are useful and get accurate and truthful answers. Overall, good survey questions should help you get closer to your business goals.
Characteristics of good survey questions
Good survey questions possess several important characteristics that contribute to their effectiveness in gathering valuable data and insights. Here are the key characteristics of good survey questions: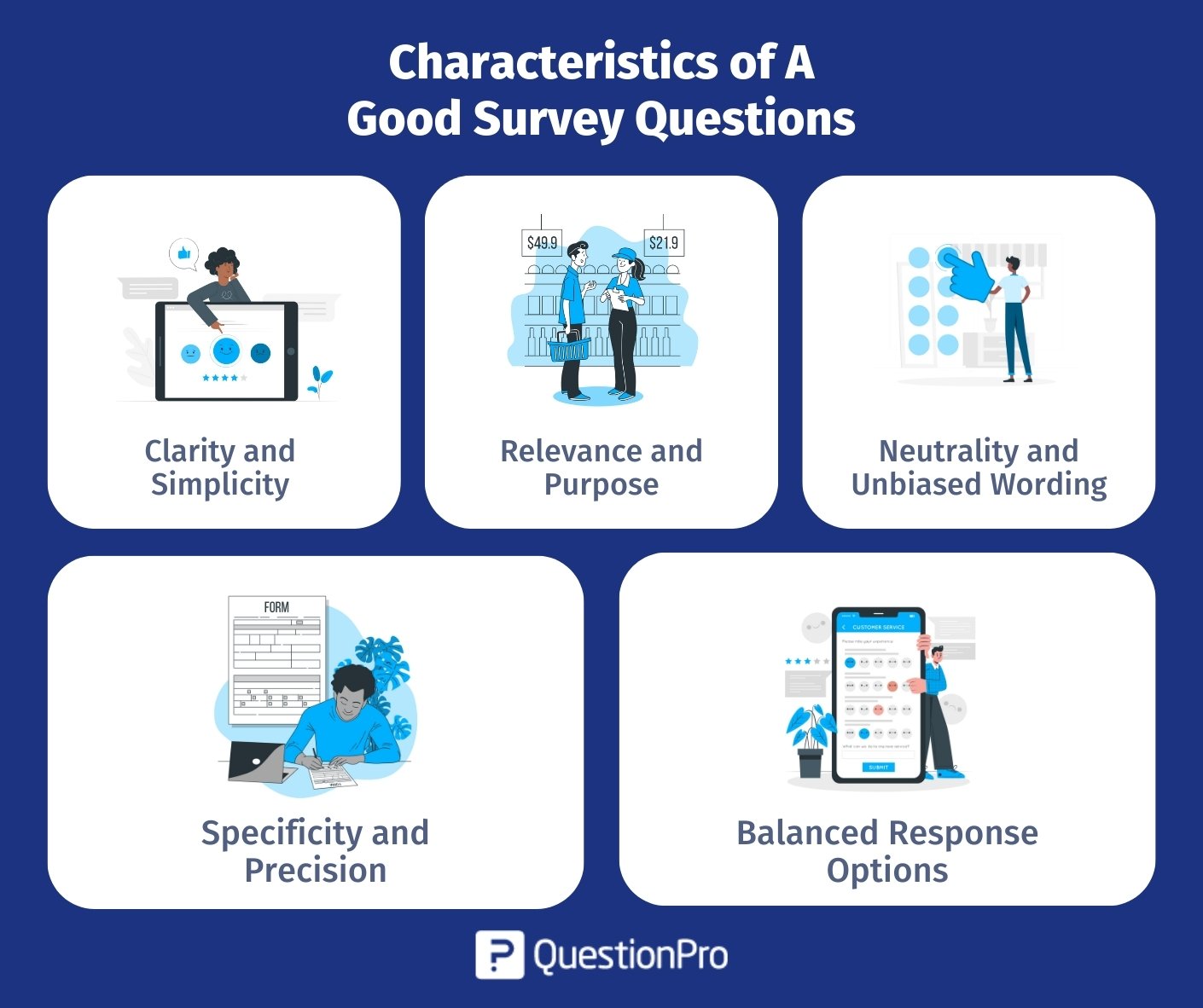 01. Clarity and Simplicity
Good survey questions are written in clear and simple language. Avoid technical jargon or complicated phrasing that might confuse respondents. A clear question ensures that respondents understand what is being asked, leading to accurate responses.
02. Relevance and Purpose
Each question should align with the survey's objective and purpose. Avoid irrelevant or redundant questions to keep the survey focused and maximize respondents' engagement.
03. Neutrality and Unbiased Wording
The questions should be neutral and unbiased, avoiding any leading or loaded language that might sway respondents' answers. Neutral questions encourage honest responses, providing more accurate data.
04. Specificity and Precision
Focus on one aspect at a time and avoid double-barreled questions that combine multiple issues. Specific and precise questions help respondents provide targeted and meaningful answers.
05. Balanced Response Options
When using multiple-choice questions, ensure the response options cover all possible answers without overlap. This allows respondents to choose the option that best represents their opinion.
Types of effective survey questions
Effective survey questions are essential for obtaining valuable and reliable data. Here are some types of good survey questions to consider:
01. Dichotomous questions
These are close-ended questions with only two possible answers, typically "yes" or "no."
Example: "Have you purchased our product in the last six months? (Yes/No)"
02. Open-ended questions
These questions allow respondents to provide free-text answers, giving them the freedom to express their thoughts and opinions in their own words. Open-ended questions provide qualitative data and deeper insights.
Example: "Please share any additional comments or suggestions you have about our product."
03. Closed-ended questions
These questions offer specific answer options, often in the form of multiple-choice, yes/no, or rating scales. Closed-ended questions are easy to analyze and can provide quantitative data.
Example: "How often do you visit our website?
Daily
Weekly
Monthly
Rarely or never"
04. Likert scale questions
These questions use a scale with a range of response options to measure respondents' attitudes or opinions.
Example: "How strongly do you agree or disagree with the following statement: 'The user interface is user-friendly.'"
05. Ranking questions
In these questions, respondents are asked to prioritize or rank a list of items or options in order of preference.
Example: "Please rank the following factors in order of importance when choosing a restaurant: price, location, cuisine, ambiance."
06. Rating scale questions
These questions use bipolar adjectives on a scale to measure respondents' feelings toward a specific item or concept.
Example: "Please rate the customer service you received as helpful – unhelpful, friendly – unfriendly, efficient – inefficient."
07. Multiple matrix questions
Matrix questions present a grid-like format with several rows and columns, asking respondents to answer multiple questions based on the same set of response options.
Example: "Please rate the following features of our app on a scale of 1 to 5: ease of use, performance, design, reliability."
08. Demographic questions
These questions gather basic information about respondents: age, gender, location, or occupation. Demographic data helps in segmenting and analyzing the survey results.
Example: "What is your age range?
18-24
25-34
35-44
45-54
55+
09. Conditional questions
Also known as branching or skip logic, these questions direct respondents to different follow-up questions based on their previous responses.
Example: "If you answered 'yes' to question 3, please explain your experience in the space provided below."
Remember that survey questions should be clear, concise, and relevant to your research objectives. Avoid leading or biased questions to ensure accurate and unbiased responses. Pre-testing the survey with a small group can help identify any issues or areas for improvement before distributing it on a larger scale.
Tips for creating good survey questions
Achieving good survey questions requires careful planning and consideration. Here are some essential tips to help you create effective and valuable online survey questions:
07. Define clear objectives
Clearly outline the survey's purpose and objectives. Knowing what you want to achieve will guide the creation of relevant questions.
What are your primary reasons for using our product/service?
How would you rate your overall satisfaction with our company's customer support?
02. Keep it concise
Use simple and straightforward language to ensure questions are easy to understand. Avoid complex phrasing or jargon.
On a scale from 1 to 5, how much do you like our brand?
Please rate your opinion with the statement: "Our website is user-friendly."
03. Test before deployment
Pilot tests the survey with a small group to identify any issues with wording, question order, or clarity. This helps refine the survey for optimal results.
What improvements would you suggest to enhance our event planning process?
How did you hear about our latest product release?
04. Be neutral and unbiased
Avoid leading or biased language that may influence respondents' answers. Stay neutral to ensure unbiased data collection.
How would you rate the effectiveness of our marketing campaigns?
Do you find our pricing fair and competitive compared to other brands in the market?
05. Offer balanced response options
Provide comprehensive and balanced response options for multiple-choice questions that cover all possible answers.
Which of the following factors influenced your purchase decision the most?

Price
Quality
Brand Reputation
Customer reviews
06. Consider skip logic
Use skip logic or branching to personalize the survey flow based on respondents' previous answers. This enhances the survey experience.
Have you used our mobile app before?

Yes
No (Skip to Question 9)
How satisfied are you with the performance of our mobile app?
07. Include open-ended questions
Incorporate open-ended questions to allow respondents to provide qualitative feedback and insights.
Please share your thoughts on how we can enhance our product's features and functionalities.
What specific aspects of our customer service impressed you the most?
08. Avoid Double-Barreled Questions
Focus on one aspect at a time and avoid combining multiple issues into a single question.
How satisfied are you with the product quality and customer service?
Do you find our website informative and visually appealing?
09. Prioritize Relevance
Ensure each question directly relates to the survey's objective. Avoid irrelevant or redundant questions.
How often do you use our subscription service on a monthly basis?
How likely are you to purchase our new product offering in the next six months?
10. Respect Respondents' Time
Keep the survey reasonably short and engaging to maintain respondents' interest and encourage higher completion rates.
What is your primary reason for visiting our store today?
On a scale of 1 to 10, how satisfied are you with the speed of our website's loading time?
By implementing these tips, you can create good survey questions that lead to reliable data and valuable insights for informed decision-making.
Learn About: Aided Awareness vs Unaided Awareness in Survey Questions
How QuestionPro can help in creating good survey questions
QuestionPro is a complete survey app with many tools and features to help you make good survey questions. QuestionPro can help researchers and businesses make good poll questions because it has an easy-to-use interface and a lot of advanced features. There are many different kinds of questions on the platform, such as multiple-choice, Likert scale, rating scale, and open-ended questions, to meet different study goals.
Users can access pre-made questions and survey formats through QuestionPro's question library and templates. This saves time and makes sure that the questions are well-structured and useful.
Also, skip logic and branching choices make it possible to personalize surveys by sending people to specific questions like teacher survey questions, employee survey questions, or couples survey questions based on the answers they've already given. This feature stops people from asking things that aren't important, which makes it easier to collect data.
QuestionPro lets users change the order of questions and response choices to avoid bias and make sure the survey is fair. This makes it less likely that respondents' answers will be influenced. Also, the platform lets survey makers preview and test the questionnaire with a small group to find any problems with clarity or wording before sending it to a large group of people.
The reporting and analytics tools in QuestionPro make it easy to look at the data so that users can get useful information from the survey answers. Researchers can use visualizations and statistical summaries to look at the data gathered, make decisions, and draw conclusions that make sense.
Overall, QuestionPro's many features and resources make it a useful tool for making well-written poll questions that lead to good data and results that can be used.