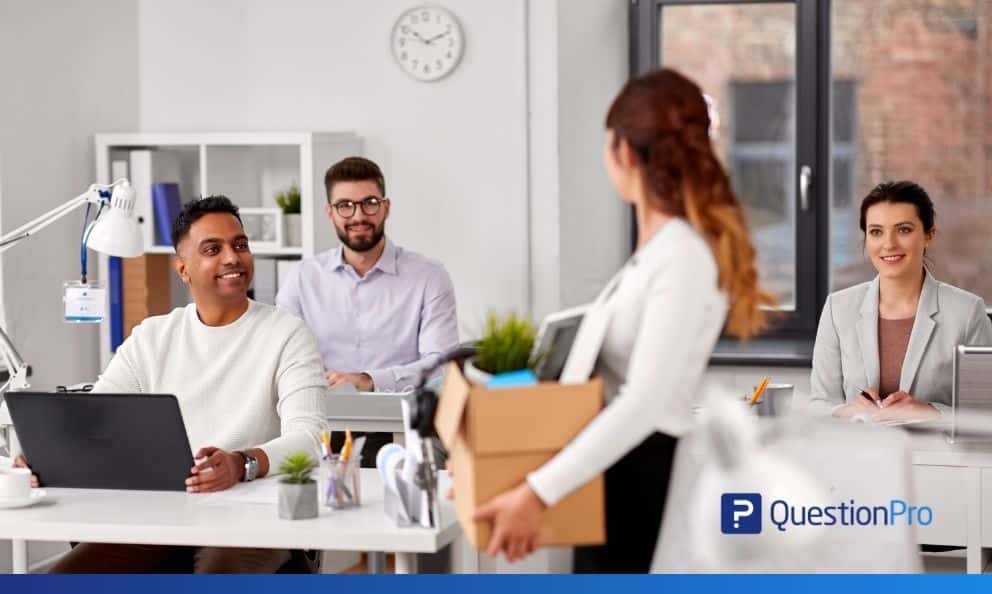 What is the Great Resignation?
In April 2021 —one year and a month after the start of the first large-scale confinement— we began to see a phenomenon that, over the weeks, Professor Anthony Klotz began to call "The Great Resignation."  More than 4 million Americans resigned in a single month, while almost 10 million vacancies were posted in the same period. This is why people began to quit their jobs en masse. Unlike other waves of resignations, the demographics agree that it is happening pretty evenly. People of all ages and seniorities; of all ranks, industries and backgrounds.
How has this phenomenon changed the workplace?
If we have learned anything during the pandemic, it is that it's unpredictable in more ways than one. Therefore, two buzzwords have become essential for workplace culture designers: adaptation and resilience.  These adjustments have been vertiginous and implemented without much planning. This has generated uncertainty for the employees of a company—especially, regarding the future of their careers.
While it is true that young people are willing to make sudden decisions especially now that they have a bit more cash to burn (such is the basis for the growing mindset of the YOLO Economy), many multigenerational employees are generally changing careers to cope with the uncertainty of the future — while many others are only looking for a company that offers them, in simple words, what they got during the pandemic: flexibility.
LEARN ABOUT: Workforce Planning Model
According to a Microsoft study, up to 41% of the global workforce intends to quit their job in the following year, while in QuestionPro's own survey found out that up to 76% of workers are willing to quit, and 58% are looking, whether actively or passively.
For this reason, at QuestionPro Workforce —we present you 3 ways to handle The Great Resignation, so you can better retain your talent:
1. Find out how the needs of all your workers have evolved
The great remote work experiment reordered the lives of all your employees: some were impacted more and some less so, but there is certainly a before and after work-from-home (or work-from-anywhere, like us here at QuestionPro). We all began to rethink our relationship with work, and its place on the priority scale. Therefore, if you're in charge of HR for your company… yep, you have to give a serious review to your work environment and satisfaction surveys from before the pandemic!
The rules of the game have changed, and now that the return to the office is approaching little by little. Not everyone is going to want to return to the "old normal." To avoid further resignation waves and it is important to effectively survey your people, and really listen to them. Many are motivated to change jobs or resign in search of what you may not be giving them. In many cases COVID revealed the true colors of a company: those that already had a good culture knew how to adapt. Companies that didn't likely translated their toxic environment into the remote work areas. 
Each employee experienced the pandemic in different ways. Some have tried flexibility and yearn for a return to the office, or an efficient hybrid model. Be clear about the expectations that are established for the new work modalities. 
2. Lead with empathy, feedback, creativity and interest
A modern manager doesn't just delegate and drive strategy. Quite the contrary: they begin by shaping the culture of their team. A leader who is accessible, vulnerable and in touch with their emotions will transmit the same to their team. There is no better time to put this into practice than now, when burnout levels have joined The Great Resignation to create a perfect staff turnover storm.
Several studies have concluded that talking to your employees about their workload, passions and aspirations increases productivity in the workplace. This further opens the possibility of integrating those hobbies or aspirations into their day to day at work. This bonding method helps employees feel more engaged and satisfied with their work, which in turn increases productivity.
In addition to asking these questions in the meetings that you will gradually schedule to inquire more about your staff, you can also create surveys on their interests, in addition to the usual ones you already conduct on work climate and culture. 
3. Reinvent the way your team works based on knowledge and not intuition
As a leader, your obligation will be to create intelligence-based work models that benefit the mental health and well-being of your team. In addition you must encourage interaction, collaboration, and the spark of creativity. After the Great Resignation it is crucial to prioritize these assets of a team. Ask the hard questions, collect the data, and adapt your strategy to encourage retention. Create work hubs dedicated to solving problems or doing specific tasks.
This way, you can have the best of both worlds for your staff. According to research, what post-COVID employees value most is the flexibility to decide on the way they work. A happy, motivated employee is an employee that will avoid resignation.
Remember that every resignation, recruiting, and onboarding process costs money. This wave of resignations could add up to costing over $23 billion across organizations. Therefore, plan ahead by doing the right things at the right time. Intuition must be replaced by concrete data and insights to make more informed decisions, and make your company thrive even in the hardest times.
LEARN ABOUT: Organizational Resilience
Learn more about how to get ongoing continuous feedback from your employees and start taking action to make a positive impact in your organization with QuestionPro Workforce.