In January I had the pleasure of sharing insights from QuestionPro's first workforce survey of 2021 at the People Analytics and Future of Work (PAFOW) event.  As organizations globally debate the best way to structure their workforces moving ahead, we wanted to share some of our employee experience survey insights and learnings, as a part of knowledge sharing, to help others make decisions that are the best for each of their companies and organizational cultures. 
There isn't going to be a one-size-fits-all solution to the best way to structure a working model moving ahead. Just as organizational cultures are unique to each employer, the answer to the best way to build a workforce model will be unique as well. In thinking through the best individual approach, we suggest to start by considering a couple of simple questions:
How do we better connect with, and understand, our people inside the organization to improve their overall employee experience?

What data collection approach should I take to be able to make the best possible decisions on our working model?
How QuestionPro got to Work from Anywhere 
Before COVID-19, our CEO and Founder, Vivek Bhaskaran, believed that everyone should work from the office, that it was the way for the best work to happen.  After COVID broke out, all of a sudden we found out that we could be just as productive from our homes, and Vivek was the first to admit that his previous philosophy was flawed.
From a business performance perspective, we were able to maintain the growth that we've seen in the years before. From a talent acquisition standpoint, we've definitely been able to see the benefits of hiring the best talent, no matter where they are. It's working for us and we continue to stay connected with our workforce. 
At the moment each of our employees is continuing to work outside of the office, from wherever they wish. However, we are not claiming that we will follow this model forever; we're going to work from anywhere for now and continually monitor what's going on externally, as well as what's going on inside of our organization, and adjust our strategy accordingly. To be able to do so most effectively, we'll share how we plan to continue to monitor the needs of our employees.
Empathy at scale
A recent McKinsey survey found that one of the biggest shifts due to COVID was on the digitization of employee interactions and collaboration. One of the critical impacts of this shift is that it enables companies to even better connect with their people at scale, and in a more personal way than they could before. Even in industries where doing an online workplace survey prior to the pandemic would have seemed like a great challenge, it is much more feasible to do today.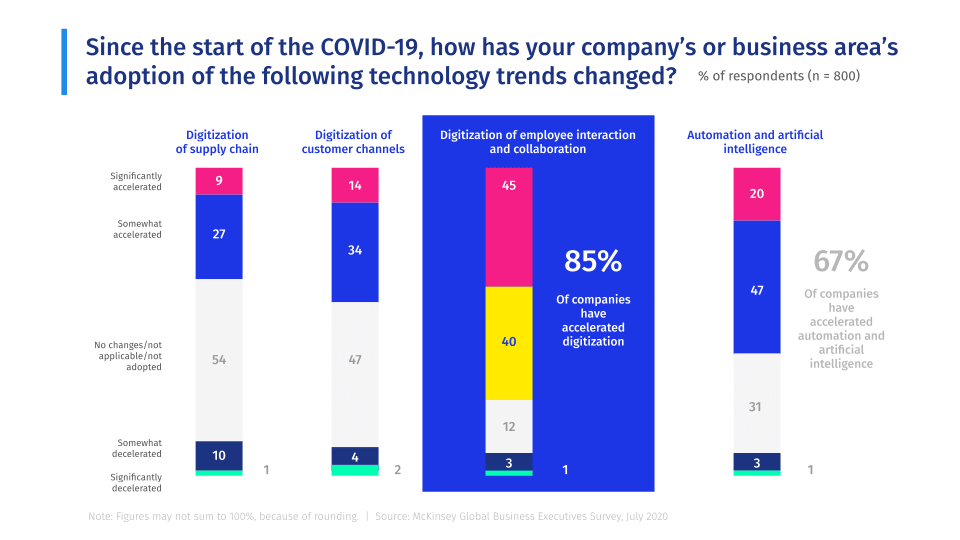 Our lives continue to be blended much more than before the pandemic, and with that comes a change in how we understand our workforce. A recent Harvard Business Review, Trends Shaping the Future of Work, discussed the anticipated shift of employers managing the employee experience to the life experience of their people. Of course this shift has to be done very thoughtfully. Organizations are generally cautious about asking questions that might be considered as sensitive. But with the given times, we need to find a way for the data to help us better understand and support the employees in ways that aren't so traditional. As a community, we can really help each other to find the most effective ways to do that by having conversations with our employees.
Read our article: What to know about employee burnout during Covid times- how to measure and tackle?
Key highlights from the workplace survey
As we kicked off another complex year, QuestionPro's leadership really wanted to find a way to connect with our workforce in a deeper way.  Though we ran a number of pulse surveys through 2020, there was so much we wanted to know to make sure we were creating the best possible employee experience in this new world of work. We designed our study to capture a few key pillars based on our previous pulse survey findings, and extensive research of the market. 
For example, how we connect and work with others can have a great impact on our overall life experience. As our people continue to go through challenging times globally, we want to make sure QuestionPro's culture is providing effective support for overall wellbeing. So a few key pillars we built questions around were:
Relationships

Collaboration

Diversity & Inclusion

Wellbeing
How we can create even better daily experiences as well as further support career aspirations. Answers to these questions offered insights into:
Engagement

Growth & development
Company culture can have a great impact on the feeling of autonomy, transparency, flexibility, and how our people can get their job done.  The responses helped us know what our people think about below areas:
Autonomy & Empowerment

Innovation

Transparency & Trust

Agility

Intent to Stay & to Recommend 
Some of the most interesting insights we gained from the results were in the areas of diversity & inclusion, wellbeing and the intent to stay.
Diversity & Inclusion
We found that we have a reason to celebrate as out of the different areas we evaluated, we scored highest on diversity and inclusion. In spite of the different backgrounds in terms of nationality, education, age, gender, religion and more, people were able to connect and feel that they can bring their authentic self to work. These were some of the specific questions we asked:
I get to work with people with various backgrounds, experiences, opinions, and perspectives.

I am comfortable with others from work – regardless of their title or position.

I can be my whole self and don't have to pretend to be someone I'm not.
Wellbeing
While we were creating the survey we wanted to be thoughtful of the number of the questions we were asking employees, and the amount of time it would take them to answer. We asked the greatest number of questions about wellbeing, and we saw that we made the right decision because out of the different pillars this is where we had the greatest opportunity to improve. 
Relationships can have a significant impact on the wellbeing of our employees, both the relationships with the manager as well as with the other team members. What we found very interesting and promising in our study was that the majority of our employees said that their health and wellbeing matter to their manager. But we also found a great opportunity for leaders to show that they are taking care of themselves both physically and emotionally. We have an opportunity to do a better job of leading by example.
With our teams spread across the globe, we dove deeper to understand the wellbeing in different regions. We found that in Latin America and the Middle East and North Africa teams really excelled in this area, and the United States had the greatest room for improvement. 
Where women struggle more with wellbeing
Various global studies showed that the pandemic had a different impact on different demographic groups. When we looked at gender differences in how our employees were currently feeling, we found that there were several areas where women were scoring significantly lower than men. For example, only 52% of women at QuestionPro said their levels of workplace stress related to work are manageable. And only 56% said that they could shut off from work and find time to rest.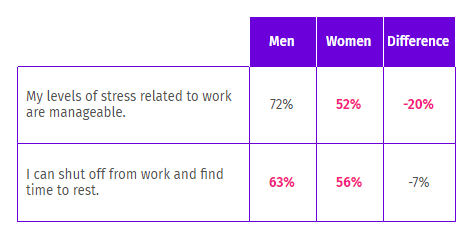 When we took a closer look at relationships, we saw that nearly 1 in 10 women said they have a good relationship with their colleagues, but fewer than 7 in 10 have found a way to stay connected to their colleagues while working remotely, a 20% difference from men.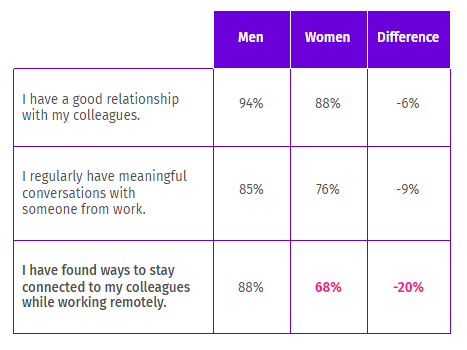 This sheds a light to great differences in experiences that can happen within the same organization. As employers consider hybrid working models in the future, there is a great likelihood that women may choose to work remotely more often than men as it will allow them more time for their responsibilities at home. It will be critical for organizations to monitor how well people are connecting over time to make sure no individuals, or groups, are starting to systematically disconnect from their colleagues. 
With these great differences, we also did a drivers analysis to see how great of an impact some of these factors had on stress levels. One of the main factors that contributes to the wellbeing of employees is the ability to unplug. When they feel that they can switch off from work to recharge themselves or balance other life responsibilities, they feel less stressed. Although managing schedules and taking time off is the individual's responsibility, during these times of high uncertainty, we would certainly recommend that leaders take a more proactive approach and check-in with their direct reports and encourage them to take the time off.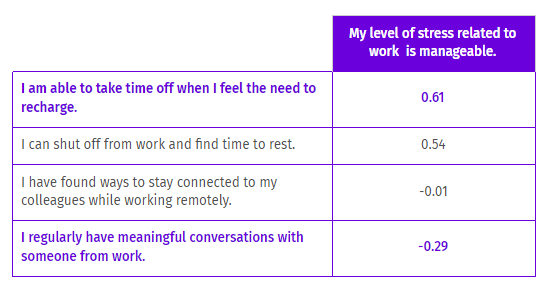 Intent to stay
Most organizations that conduct employee surveys tend to focus specifically on employee engagement surveys, because this is one area that is nearly unanimously important across organizations. And the other factor that is as important and equally frequently measures is the length of tenure.
To our surprise, we found that, especially for women, the level of engagement was not highly correlated with the intention to stay in the next two years. Again, this is a great indication that organizations have a great opportunity to better understand their employees as their whole selves, not workers only, while creating a culture that would assure people are more likely to stay longer. Because in the data we are seeing that there is much more than being engaged that is driving a person's decision whether to stay or leave. 

Where do we go from here?
We hope that this glimpse of how we started the year connecting with our workforce helps you with ideas for your upcoming conversations with your employees. And where do we go from here? We just made some strategic decisions with the leadership team for changes that we will roll out in Q1, and after that, we are going to do pulse surveys with the select population of employees who expressed particular concerns in the areas we are looking to improve. Then we will do a confidential follow-up with those where we have the greatest opportunity to improve their employee experience and see how effective our changes were. Stay tuned on some more follow-up information here! 
And… those who said they were 'Okay' in the workplace survey, we know a lot can change in a short amount of time, so we will follow up with them in a subsequent company-wide survey to get an overall view of the employee sentiment again. 
We are also working to empower managers to have a conversation with the team at scale (i.e., run their own independent surveys), without waiting for a directive from HR, if they feel a certain sentiment within the team that they want to understand better. There is some coaching and considerations with frequency and increasing awareness of question banks, but we believe this is an important way to move our culture.  
And finally, we are going to be involving employees in taking ownership of some action items where they showed a lot of passion. For example, employees expressed a great desire to connect more with colleagues outside of meetings, whether virtually or in-person in a responsible and safe way, and we'll be organizing employee task forces to make sure we can execute this in a timely and most effective way. 
If you are currently focusing on your culture, be it on wellbeing initiatives, employee experience, employee engagement, employee empowerment, or else, and you'd like to know how surveys can be a more powerful part of your strategy, please connect with us. We'd love to talk with you and see how we can help with your particular goals and initiatives.