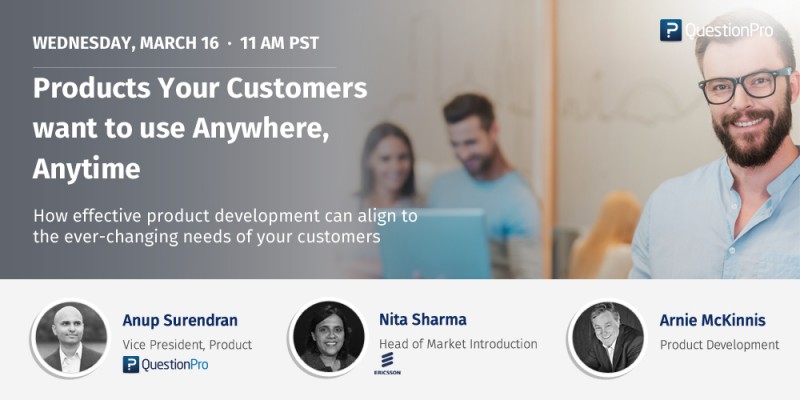 Habit-Forming Products
Developing habit-forming products and creating the behavior design that makes them possible, has changed from being just a nice-to-have to a need-to-have in the extremely competitive world of mobile apps, digital services and amongst any other products for that matter. That is exactly why QuestionPro had invited two knowledgeable product experts Nita Sharma and Arnie McKinnis to join Anup Surendran, VP of Product and Engineering at QuestionPro on the panel for our webinar on habit-forming products.
Dr. Nita Sharma heads up the Market Introduction of Ericsson Expert Analytics. Nita has over 20 years leadership experience in Product Management and Engineering in both startups and Fortune 500 companies. She is passionate about startups and is actively involved in mentoring and advising entrepreneurs.
Arnie McKinnis is strategic, multidisciplinary product marketing professional. He has worked with a wide range of technology companies both big (HP, AT&T, EDS, JD Edwards) and small technology companies. For the past decade, he has helped develop and launched "as a Service" cloud, SaaS, User Engagement and Service Integration technology products.
Here are the slides that were shared during the webinar.
Nita and Arnie shared great insights and examples on what forms different types of habits, how product developers can find the habits of their customers and what how to actually go about creating  truly habit-forming products.
Here is a couple of questions from the webinar.
How do you find habits in enterprise products vs consumer type products?
In enterprise products, instead of looking for habits as such, you can observe focus more on the processes involved. For example, if a company introduces new technology – they most likely will provide support processes, and from product standpoint – one needs to ask – how can I insert myself in these processes? Can I sell my product or services into an existing function? Great example for that is UPS. UPS has an extremely powerful integration that fits within the logistic cycle for parts distribution. They can insert themselves into that process and utilize a function or process within and enterprise that is logistics and comes in with their product and shows how they can do it better, more efficiently, how they can track it, make it mobile etc.
How to hit a sweet spot between a consumer feeling inundated and annoyed with information and still feeling consistently engaged and excited – even cared about – by the product?
First, you should look at two things – conscious and unconscious feedback. For the unconscious feedback – most products have the embedded analytics, so you would get feedback on what features were used and how much time was spent on what etc. For the conscious feedback, it really comes down to the customer. Let's look at the example of Fitbit. By tracking the activity data, they plug in even more into our lives, attempt to form our habits by sending motivating emails, notifications on days when our steps are low. They could measure the result of this with the embedded data, but that would not really display the trigger. At this point, they should actually be do surveys and gather their customer feedback. So once you have a certain feedback – again – that is when you can decide on touchpoints and frequency of communication and achieve the right balance before customer might get annoyed.
Where and how to start creating Habit-Forming Products?
1. List 5 habits of your customers (if you don't know – ask, observe or assume)
2. Taking each habit, think about how your product either supports it or detracts from it
3. Develop new use cases or scenarios based on the "Best" fit
4. Plan for stickiness in design process
5. Continuously improve through measured feedback
If you're interested in more product tips – look at the 7 step framework for building amazing products.
We also just announced another webinar on April 13th on creating authentic employer branding. Sign Up Now!
Here is the video recording of the webinar.