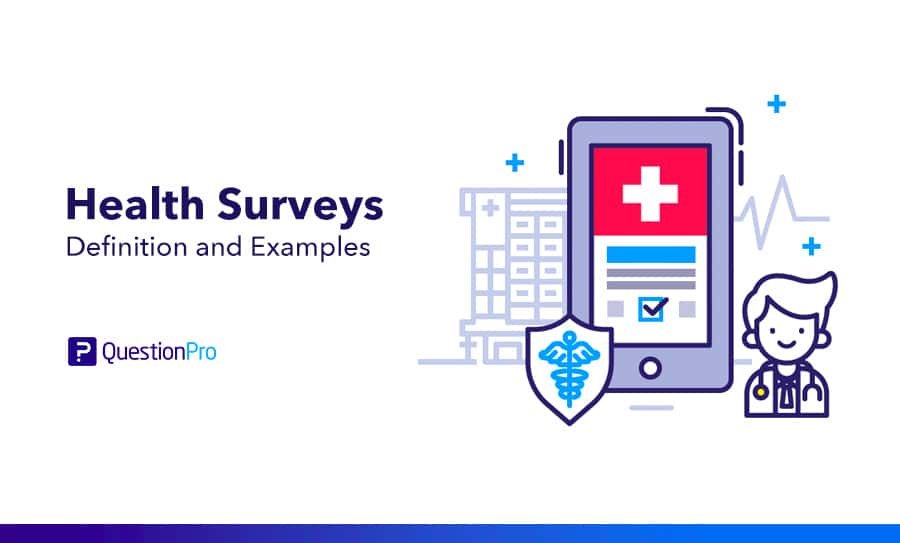 How was your experience the last time you visited a doctor's office? How long did you have to wait? Did they apply any health survey to get your opinion? Let's talk about it.
You have probably had to answer a form with a pencil and paper or answer surveys for the hospital while you waited to be treated, perhaps a survey with some questions that can help your doctor formulate your file.
On many occasions, you might have to take another questionnaire when you're already inside the office, waiting for your doctor to take note of all your symptoms or the treatment he will give you.
When a person feels bad physically and emotionally, it should be a priority to give them a better office visit experience as physicians show commitment by providing the best care. The hospital should always take the surveys after the patient has left the hospital to ensure they have the time and awareness needed to gather real answers.
What is a Health Survey?
A health survey is a tool used to gather information on the behavior of a specific group of people from a determined area. This kind of survey allows health care experts to understand better how a community acts towards health.
Health surveys are a necessary and helpful instrument for decision-making when crafting a health plan. Health surveys provide specific information about the epidemiological situation, health trends, life habits, and the use of health services from the patients' point of view.
This type of survey allows physicians to locate risk factors in the community around the hospital or health care centers, such as tobacco use, alcohol use, poor diet habits, and lack of physical exercise, which are common health behaviors.
Health Survey Examples
The most important part of a health survey is the correct implementation. Patients need to have a specific time to answer the survey question without intervention during the hospital experience, which usually is when they feel least prepared to answer questions; instead, they should answer them at the end of their visit.
Having the right health survey questions in a survey will allow you to collect valuable data about your respondents' health and well-being and adequately meet your research objectives.
The objective of this research tool can be: to understand general health, the factors that affect a certain disease, the opinion about the medical services provided, and the risk factors associated with the individual's health, among others.
You may be interested in reading: Patient satisfaction survey
QuestionPro continues to innovate, and now you can do a health survey using the Homunculus question that helps you have better results and streamline services and the relationship between doctor and patient.
Use our Homunculus question for your health survey
The Homunculus question type captures visual data based on the patient's selections by pointing to the area where their body is experiencing discomfort. In these health and disease questions, 24 pain zones can be identified in the front and 29 in the back of the human body, allowing clinicians to get a preliminary but clear idea of ​​the patient's condition.
We recommend reading other types of questions for your online survey.
You can conduct a short survey using the Homunculus question in your health survey. At the same time, the patient waits to be treated by the specialist; when the doctor enters the consultation, they already have the data and can lead to a complete examination based on the information previously provided. This will provide better care and experience to the patient and streamline the entire medical consultation process.
We recommend you also read: Examples of questions for health surveys.
How to create a Homunculus question in your online survey
As with all QuestionPro question types, the Homunculus survey question is mobile-friendly and can be taken offline with the QuestionPro Offline Survey App.
To use this type of question, first go to the "Advanced question types" list and then select the "Health Care" question category.
Learn here: how to take a medical history questionnaire.
Use the Homunculus question in your health satisfaction survey
Many of QuestionPro's clients who want to take a healthcare survey have found in this type of question a way to change the way they work with patients, using it in two ways, for example:
1.) On-site: The patient's physical data is collected through a short health survey via a tablet without connection to the QuestionPro offline mobile app.
2.) Remote Assistance: As the development of technology has spawned a new lifestyle around the world, remote assistance by physicians has also become increasingly common.
Advantages
A health survey will let a hospital or health care center know what its patients think about the service they provide. With our platform, they can receive patients' comments in real-time. It helps to know which areas present severe issues and make the necessary adjustments to correct them.
Hospitals can collect information on medical care times and improve metrics, for example, through health surveys. They will be able to know if a diagnosis is made correctly or if the medications that patients obtain are adequate for their treatment. By collecting patient feedback through health surveys, the hospital can avoid potential lawsuits for loss of life due to poor care.
To further enhance the patient care experience, the QuestionPro API integration enables physicians and healthcare institutions to retrieve previous medical history. Facilitating care and providing more accurate information to personalize and ask the appropriate questions to each patient undoubtedly speeds up and helps improve health services.
Finally, I recommend that you also read our Guide to Medical Care Surveys.