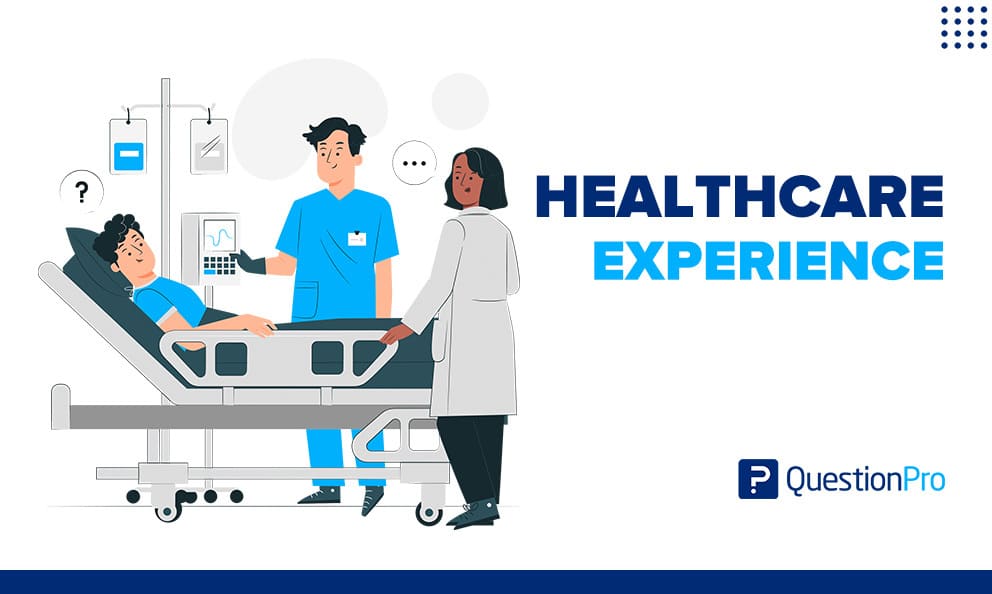 In healthcare, the patient's experience of care is defined by the patient or family. An individual's healthcare experience with a particular aspect of care is usually associated with a particular clinical condition or presentation, such as the care of someone with a hip fracture who attends A&E, or a child with asthma.
What is healthcare experience?
Healthcare experience is a topic that we have always ignored, But recently COVID has taught us that Healthcare experience should be the priority for any individual, family, group, society, organization, country or around the globe. Because if your health is not good then nothing can be good.
So Healthcare experience should be used by everyone like patients, doctors and hospitals but apart from that, it should be a priority for organizations too. This change is coming like many organizations are applying Healthcare experience for the betterment of the employees and thus will improve the productivity in the org if everyone is healthy.
This can help to maintain the work-life balance.
How can the healthcare patient experience be improved?
Patient experience is a vital component of healthcare. Whether a patient presents in the emergency room or for a routine visit, a positive experience helps ensure treatment follow-through and trust in their clinician. As clinicians and healthcare administrators, we must prioritize the patient experience as a crucial step in the continuum of care. To help, we have gathered ten tips to improve the patient experience.
10 Tips to Improve healthcare Experience
Assess operational efficiency to prevent delays or excessive waiting times for patients.

Effectively communicate with the patient or family in a caring and compassionate manner, while focusing on empathy.

Let's say hello.  Call the patient by his or her name.

Describe your role and who you are.

Apologize if necessary for the delay.

Talk about something non-medical to start the conversation.

You should acknowledge the concerns they have. View the encounter through the patient's eyes.

Keep a relaxed attitude and appear not hurried.

Keep calm and listen without interruption.

Be sure that the patient understands what the treatment plan entails.

Educate and inform them of the time it will take for the evaluation or diagnostic. Do not overestimate the time, but promise less and deliver more.

Inform the patient if there is a delay.

Provide comfort to the patient.

Ensure that the patient understands the home care plan and provides thorough, clear instructions. Teach back whenever possible.

Assess staff wellness and unit morale. Happy Staff = Happy Patients
Advantages Of Working In A Healthcare Industry
Strong Job Outlook
Due to the ever-growing population, the healthcare industry is expanding continuously. Also, these jobs are considered the most respectable jobs because people are involved in the noble work of saving lives.
Variation In Career Opportunities
There are several varieties of work in the healthcare industry. One can also change their position many times to try some different positions.
Better Salary And Improved Benefits
Since healthcare is constantly seeking new employees, their salary is better than any other industry. Also, they enjoy several benefits which they are offered along with their job. However, your salary depends upon your training and your capability.
Chance To Help People
We all believe that those who are involved in healthcare fields are doing noble works. In these professions, you get immense pleasure in serving humanity.
Fulfilling Work
They spend their time making a difference in others which increases their motivation and overall job satisfaction. They get pleasure doing their work.
Disadvantages Of Working In A Healthcare Industry
Work in this field can be physically draining


Healthcare workers have to work longer than average work time. Working more than 12 hours a day can be strenuous. Moreover, spending the whole day inside a room with the patients can be stressful. But if you are passionate about serving patients, then this can be the right job for you.

Non-traditional schedule


Sickness and diseases never come according to anyone's schedule. Therefore, even if you are outside, spending holidays with family, you have to rush to the hospital in emergencies.

Observing death


Life and death are not in anyone's control; therefore, death is inevitable. And it can be very stressful to spot someone dying in front of you.
Types of Healthcare experience:
There are the following types of Healthcare experience:
Patient

: The one who is taking Healthcare experience for himself or family. From a patient point of view it's important for him because that will impact emotionally and financially. So it is helpful for him to take care of himself or family in terms of health if he is well aware about any disease if there is any. Healthcare experience helps him to give him brief information about his or family's health.

Doctor

: Healthcare experience helps doctors to make sure that all the patients are getting the treatment so that it will improve doctor's clients.

Hospitals

: Hospitals use Healthcare experience to improve the experience of patients so that it will improve hospital's revenue every year.

Organisations

: Healthcare experience is useful for orgs so that overall they can have statistics of their employees' health. This has become the policy of orgs so it creates trust between employees that orgs are taking care of them in terms of health. This creates a really good experience with productivity.
Conclusion
If it is true that relevant data helps you manage better, then this author suggests it is time that our health systems bring new measurement tools to bear on the crucial first five minutes of an encounter, when the individual is making the transition and becoming a patient.

Here at QuestionPro, we are Health Insurance Portability and Accountability Act (HIPAA) compliant and all individual data collected in the form of online surveys is protected. We have the physical, network, and process security measures in place while collecting patient health information (PHI). 
Administering HIPAA-compliant surveys using QuestionPro tools help organizations manage their research while being mindful of PHI collected. QuestionPro provides a Pulse-type of the survey to provide a better way of Healthcare experience. Which can be used by Individuals, Hospitals, Doctors, or Organizations. 
Authors: Ravi Kumar, Rohan Mansukhe, Sriram Ramaswamy