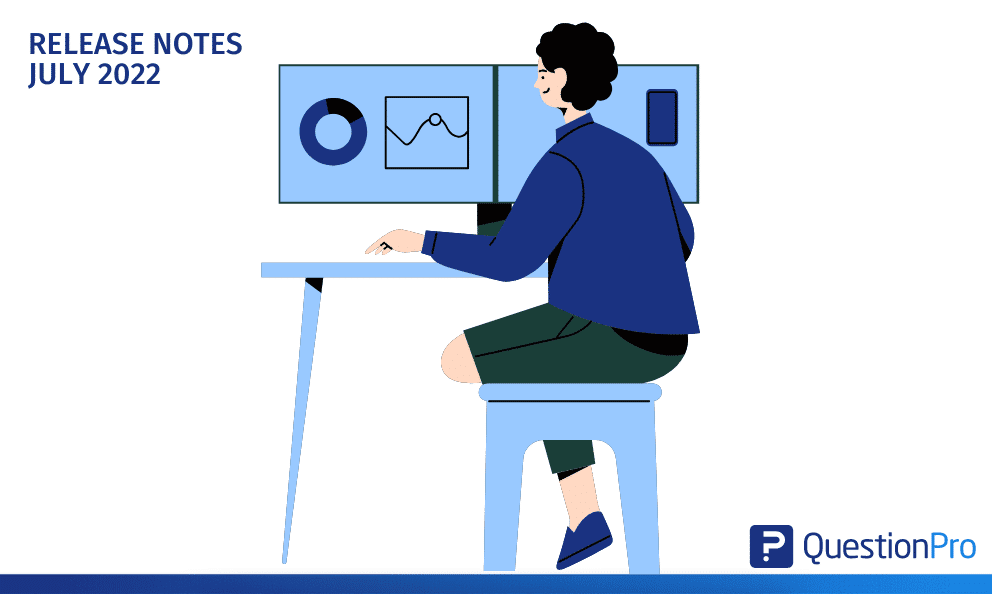 At QuestionPro, we believe in continuous improvement and innovation to offer products that cater to the evolving needs of the world of research. Our team is constantly striving to make sure you get the insights you need to offer the best products and services, here we are with a list of all the new features and enhancements released this month.
Research & Insights
Surveys: 
Enhancements 
Bugs and other enhancements
SA-8078: Copy surveys across any data center.

SA-9613: System text on dashboards should display in the language selected for the dashboard.

SA-9666: Allow special characters in drop-down lists.

SA-10087: Customizable validation message for request-response on drag and drop rank order question.

EC-1512: Fixed validation issue with creating email addresses API V2 endpoint.

EC-1494: Fixed issue with users unable to change default signup role.

EC-1496: Fixed issue with an automated email from recipients not redirecting to the reply-to email address.

EC-1503: Fixed issue with SMS template creation requiring a reply-to email address.
Communities
Enhancements
Bugs and other enhancements
CM-2775: Fixed the issue with polls activation.

CM-2791: Fixed the issue with members not seeing the default survey.

CM-2781: Fixed issues with admin email notifications for 'Idea' approval not working.

CM-2757: Fixed issue with importing members using an excel spreadsheet.

CM-2763: Fixed issues with scheduled member export.

CM-2774: Fixed issues with member export scheduler.

CM-2796: Fixed issues with reset password link.

CM-2809: Fixed issue with points not getting credited to the members.

CM-2727: Fixed "Panel not found" issue. 

CM-2767: Fixed the label missing for the 'Single Row Text' question issue.

CM-2824: Fixed issue with email deployment.

CM-2743: Fixed the issue with scheduling reminders for the same date.

CM-2810: Fixed error 500 on taking the survey.

CM-2823: Fixed issue with deleted notifications reappearing on the portal.

CM-2817: Fixed the issue with the topic comment thread.
Workforce
Enhancements 
Bugs and other enhancements

:
WF-

2813

: Fixed issues with Chinese characters in 360 reports.

WF-2770: Fixed issues with a custom theme.

WF-2517: Fixed issues with the display option for the survey builder.

WF-2794: Fixed issues with CSS not loading for taking survey and preview.

WF-2811: Added the ability to change deployment name.

WF-2812: Added demographics value in SPSS.
Customer Experience
Bugs and other enhancements
CX-2068: Enhanced the computation logic of the Weighted Mean widget by excluding the weight assigned to the N/A option.

CX-2228: Fixed the issue where Widgets weren't displaying the correct data when filtered using custom variables. 

CX-2182: Fixed the issue for the blank graphics received in the Push Metrics reports.

CX-2189: Fixed the issue where Custom Variables data was not displayed when downloaded from the Disposition screen.
Hope these features and enhancements will help you advance your research while ensuring the best experience for your audience, customers, and employees.
If you have any ideas, questions, or feedback, please send them to us at [email protected]