Have you ever thought of using your QuestionPro online survey tool to test a new concept for a web site?  I hadn't ever really thought of it — until just yesterday.   That's because I'd forgotten about all the new feature advancements such as drag and drop questions that make it super easy to test out my web site copy and concept.
So today, I'm going to show you a real example of how I've been using QuestionPro to test a new small business panel that I'm creating called SmallBizOpinions.
What triggered the idea to use QuestionPro to test my Web Site copy
Here's what happened.  I had a web site design selected and I had already written and gone through several rounds of copy editing.  But I still wasn't completely sure that the copy was clear enough and that it would engage my target audience (small business owners) enough to take action and join my survey panel.
I was going to ask a few small business colleagues and friends to look at the site and I wanted to get their feedback.  But my challenge was making sure that they would give me feedback I could do something with — and making sure that I kept them focused on exactly the areas that I wanted to tweak.
That's when the lightbulb came on — I mean normally, I would use a quick survey to collect feedback!  So why not do that with QuestionPro?!  Well, at first, I thought it would be challenging importing all the pictures and the elements of the site — but when I thought more about it — I realized that it wasn't has hard as I thought.
The Challenge – Is my concept clearly understood by the target audience?
The first thing I had to do was take a moment to understand what my objectives were — I didn't want feedback on the design — that was settled.  What I wanted was to show them elements of the site and make sure that they understood what I was saying — and if they didn't understand it, I wanted them to tell me what was missing.
A-HA — now that I was settled on that, the rest was fairly straightforward.
I took some screen shots of the web page concept and then inserted them into my survey —  Here's what it looks like: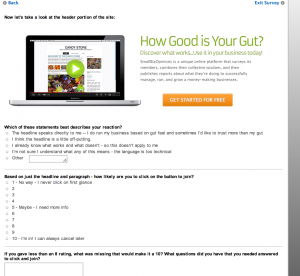 If you want to see it in action — just click here:
https://www.questionpro.com/t/AS9BZPPPj
My favorite feature in this process was the "Drag and Drop" question type.  I was able to pull each paragraph from the web site copy and then ask people to drag and drop them into the order that they'd like to see it in.
Why use QuestionPro to test web copy instead of user testing?
There are tools that allow you to test web sites and user experience, but this is a little different.  I don't want to test how easy it is to navigate the site – I want to test how clear and effective the copy is.  And this is what made QuestionPro the obvious tool with which to do this.
Why not use A/B testing to test your copy
The traditional way that we test the effectiveness of web copy is by doing what's called A/B testing.  There are tools that you can use to do that such as Unbounce or Web Site Optimizer by Google.  But quite frankly – I don't have the technical skills involved to do that.  I have a concept design and some copy.  So this is why I chose QuestionPro for this.
What do you think? I'd love to get your comments, suggestions and feedback about how you might use QuestionPro to test your web copy.