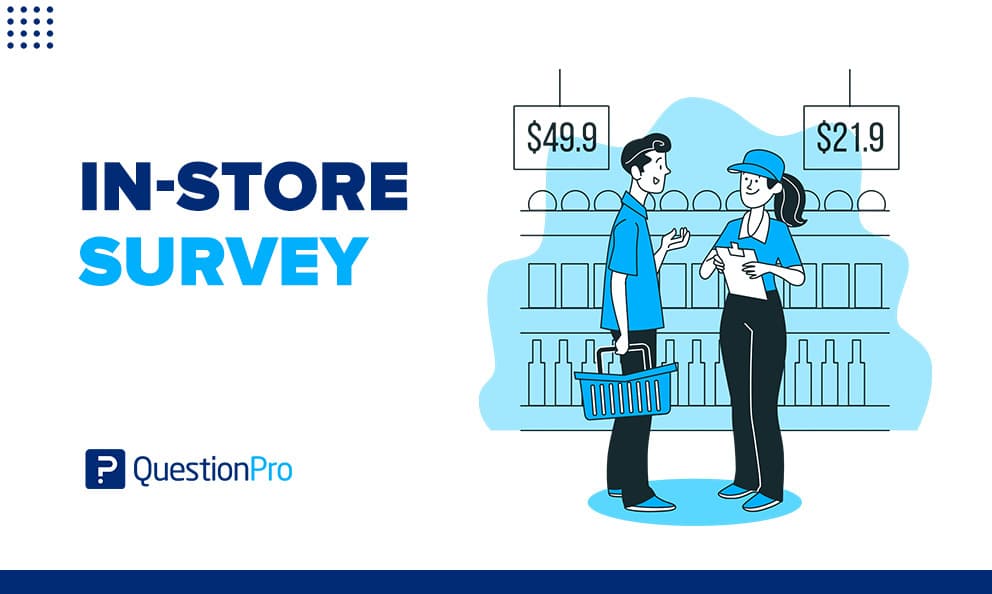 In this article, you will learn what in-store surveys are and how they can help you get information to improve your company's customer experience. Following the proper methodology will help you meet your goals. Let's learn more about it.
What are in-store surveys?
In-store surveys are a research technique that enables the researcher to collect data from the respondents in a store setting. They are used mainly by marketers and researchers who want to know customers' shopping habits and preferences to understand them better.
In simple words, in-store surveys are a quick and easy way for retailers to get feedback from their customers. It is an in-person research method that involves asking questions to customers in the store.
Types of in-Store Surveys
There are two types of in-store surveys: intercept and non-intercept. The difference between these two is how you administer the survey. For an in-store survey to be effective, it is essential to conduct it properly.
The survey method may include sampling, surveying, interviewing, and recording data correctly with a reliable system.
1. Store intercept surveys
Store intercept surveys are a type of non-probability sampling. They measure customer experience in retail stores by observing customers as they shop.
They can be done in any store by walking up to random shoppers and asking them about their experience with the store. This method of surveying has been around for decades; however, it is still one of the most effective ways of gathering customer feedback.
2. Non-intercept store surveys
Non-intercept surveys are a type of survey where the respondent is unaware they are in a survey. These surveys are typically in a store setting, and the respondent is asked to complete a survey when they make a purchase survey.
Non-intercept surveys have many benefits over other types of surveys. For this reason, they are cost-effective, easy to set up and take less than five minutes. Non-intercept surveys are thus ideal for companies that want to get feedback from their customers but don't have the time or resources to send out an email survey or conduct one over the phone.
They are four sub-types of in-store surveys:
Customer Satisfaction Survey: This survey type includes asking the customer how satisfied they are with their shopping experience.
Product Evaluation Survey: This survey is conducted by asking customers' opinions on a product they bought.
Purchase Intentions Survey: This survey is conducted by asking a customer if they plan to buy again or not.
Shopping Motivation Survey: This survey is conducted by asking a customer why they shopped at the store today, what motivated them to shop at this store, and what items are of interest.
Benefits of in-store surveys in market research
In-store surveys are a great way to get feedback from customers and understand their needs. Such intercept surveys help measure crucial aspects of market research, such as customer satisfaction and product development.
In-store surveys are an effective way for retailers to learn more about their customers and how they experience the store.
The benefits of in-store surveys include:
A better understanding of what customers want and need from the store:
Such surveys help gather in-depth insights into what store customers need/want. Organizations can then better understand their customers' needs, inventory levels to fulfill their demands and other insights.

Gathering feedback on products and services.

Improving customer service.

Increasing store traffic.
It is important to avoid long or complicated survey types so that customers can complete it in the store. The questions should also be relevant to the store's products and services.



In-store Survey Questions can be about (Focus Area):
Did a customer get the product that they wanted? (Availability of products as per your customer demands)

Do they feel that they can get this product at better prices in other stores (Price )

How much easy/difficult it was for a customer to locate the product in-store (Organizing products in an optimized and user-friendly way is a must)

Staff Behavior?
How useful are in-store surveys:
The short answer is: Very Useful! They are one of the most effective data collection methods due to their high response rate and the reliability of the data collected.
Do you still have doubts about the use of these types of tools? Here are two statistics that your store could be part of:
A recent study shows that 53% of store customers believe that retail store owners don't know what a customer wants to be available in their store.

Another study shows that more than 60% of in-store customers feel like companies do not take the time to understand their needs, while more than 50% feel it is almost the same experience as with an online retailer.
How to do in-store surveys?
The most effective and most used way to carry out in-store surveys is through tablets and kiosks so that the user can share their feedback quickly.
They are usually placed in diverse areas throughout the establishment or in the cash register, an important point since it represents the last touchpoint in the entire customer journey and is a place where you usually have to wait a couple of minutes. so consumers are often more likely to share their opinions in that waiting period.
Our survey app will allow you to turn any mobile device into a valuable data collection point for your business.
The best part? You do not need to consume data or be connected to the internet to collect answers. You just have to create your questionnaire in our survey software and synchronize it with your application.
And that's it! You will be able to choose representatives of your establishment to carry out the data collection face to face or place your tablet on a stand and activate our kiosk mode so that your consumers begin to share their valuable opinion with you and detect areas for improvement.
Are you interested? Learn more and schedule a no-obligation demo with one of our representatives.
In recent years another trend that has gained ground is contactless surveys; these can be distributed in physical media such as QR codes. A very valuable tip to increase your response rate can be the use of Survey Incentives, which can be discounts in your own establishment or some free product.
Sample questions for conducting an in-store survey
The survey should be in a polite and non-judgmental manner. The questions should be phrased as statements, not questions, to avoid creating any negative feelings.
The store survey gathers information about the customer's shopping experience and the effectiveness of marketing efforts.
In-store survey questions example:
What do you like the most about this store?

What are the top 3 things you dislike about this store?

If we changed one thing, what would it be and why?

How often do you come to this store?

What is your gender?

Are you happy with the collection in our store?

Did someone assist you with your shopping experience?
The best-suited questions for an in-store survey:
The goal is to extract your customer's feedback quickly, correctly, and interactively.
NPS (

Net Promoter Score

):




Where the goal is to extract overall sentiments towards your entire brand experience. This is a good way to get an insight of how many customers are your promoters or are detractors and passives.

CES (

Customer Effort Score

): How easy was it to find what you were looking for? The insights help organizations understand and reduce the customer efforts needed to find what they are looking for.
Since a customer can be in a hurry, in-store surveys with binary Yes/No type answers can have incorrect data, leading to wrong insight about customer experience.
Are you looking for efficient market research? Explore QuestionPro CX suite and start collecting insights into what your customers really want.