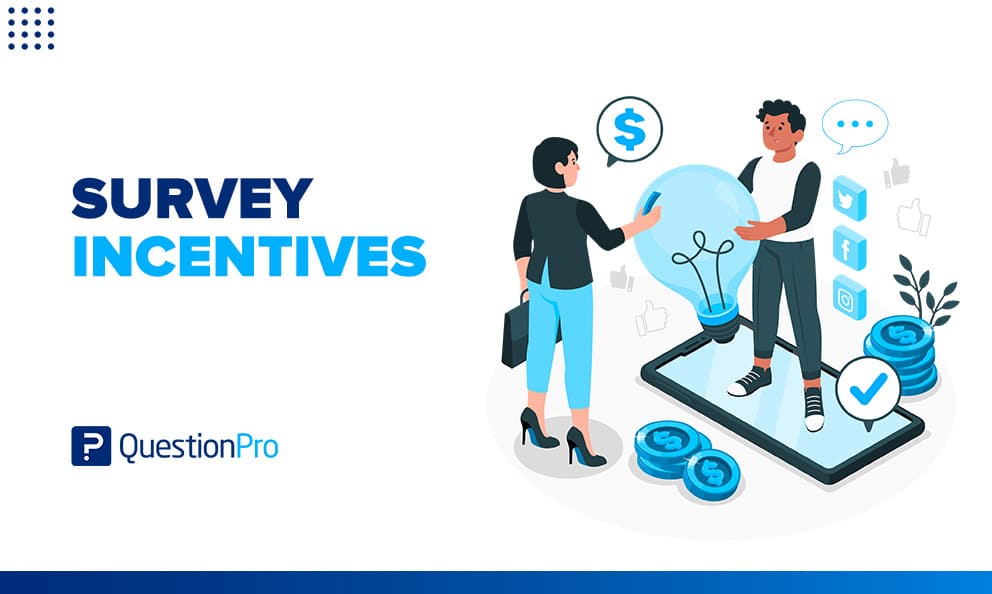 Answering surveys is nobody's favorite activity unless they receive some benefit from it. Especially online, it can be annoying for clients, impacting the company's customer experience and damaging their brand reputation. With survey incentives, an organization could enhance customer experience by offering benefits for their contribution.
Let's talk about it. Companies are looking for ways to collect information about their consumers. This incentive provides the company with valuable information and improves the relationship with the client.
What are Survey Incentives?
Survey incentives are rewards or benefits provided to survey respondents in return for their time to answer the survey questions. Most people need a push that will encourage them to spare some time and respond to the survey. Survey incentives drive them to take action and complete the survey while increasing the chances of gaining customer loyalty.
Thus, rewards not only compel the sample audiences to take up a survey but also to complete it without dropping it off midway. So, what can be the best survey incentives? Let's look at some of them which have been time-tested by industry experts.
Top 5 Best Survey Incentives
1. Survey incentive #1: Gift cards
You can reward your respondents for completing the survey by giving them gift cards like Amazon gift cards, Starbucks gift cards, Tango gift cards, etc. Once they answer all the questions, send them a redemption link. You can either customize the survey thank-you page to have the link to their gift card or send them an automated email having the redemption link.
2. Survey incentive #2: Monetary incentives
Cash incentives are another way to encourage your respondents to finish the survey. Depending on your budget and the total number of respondents, you can either give all of them a fixed amount or draw people randomly in a raffle. Both of these methods have their pros and cons.
By rewarding all who complete your survey, you let them know that there is assured prize money – however small it may be. But if you select people from a draw, there is a chance that one may not get a reward despite answering the survey. Hence, people may feel demotivated and less likely to answer the survey again.
The most common way to offer monetary incentives is through a prepaid Visa card. Respondents can redeem these digital prepaid cards to shop online or pay their bills. These cards give people more freedom to use their rewards the way they want to, and so in a way, they are better than gift cards.
3. Survey incentive #3: Digital giveaways
Make your respondents happy by giving them a masterclass subscription or reimbursing their yoga class fees. You can even sponsor any event or community membership fees, digital magazine subscription, or gift them an online course. Such rewards help respondents grow personally and professionally. You can tie up with some good brands and offer these benefits to those who answer the survey.
4. Survey incentive #4: Discount coupons
Discount coupons have been a traditional way of building a loyal customer base. You can reward your respondents with discount coupons if they complete the survey within the stipulated time. You can give discounts on your products and services or famous brands like Subway or Nike.
5. Survey incentive #5: User-defined and fulfilled
Survey software like QuestionPro lets users define custom rewards like branded swags, personalized cakes, and hand-written thank-you cards, to name a few. User-defined rewards give much freedom to the survey creators to reward their survey takers. They can have many options to create a close and long-term relationship with their audience. In turn, the respondents feel special and increase their loyalty. They are more likely to answer the survey for the same organization again.
Benefits of using survey incentives
Higher completion rate: When survey takers get rewards, they feel more driven to complete the survey. They might have other priorities, and so rewards help you to make them re-evaluate their priorities. Survey incentives are applicable only if they answer all the questions and submit the survey. Thus, offering an incentive will help you collect more responses.
Loyal respondents: Survey incentives can make your respondents answer your future surveys again. After all, who wouldn't like gift cards, coupons, or giveaways?
Higher engagement: The survey takers might carefully read all the questions and options before hitting the submit/done button. Thus, they will spend more time on the questionnaire, boosting the engagement rate.
Quality data: When respondents answer questions carefully, they are more likely to select the options honestly. They are more likely to share their honest opinions and feedback. Hence, they won't choose answers randomly or be influenced by order bias. This leads to collecting quality data and, in turn, gaining meaningful insights.
Use Survey Incentives and improve your response rate.
If you want to explore how survey incentives can improve the response rate of your research project or want to learn more about the best practices, get in touch with us. We'd be happy to help!
Sign up for our free account. It's free for a lifetime and doesn't require a credit card! We offer more than 80 features with our free Essentials account, the highest in the survey software industry!.