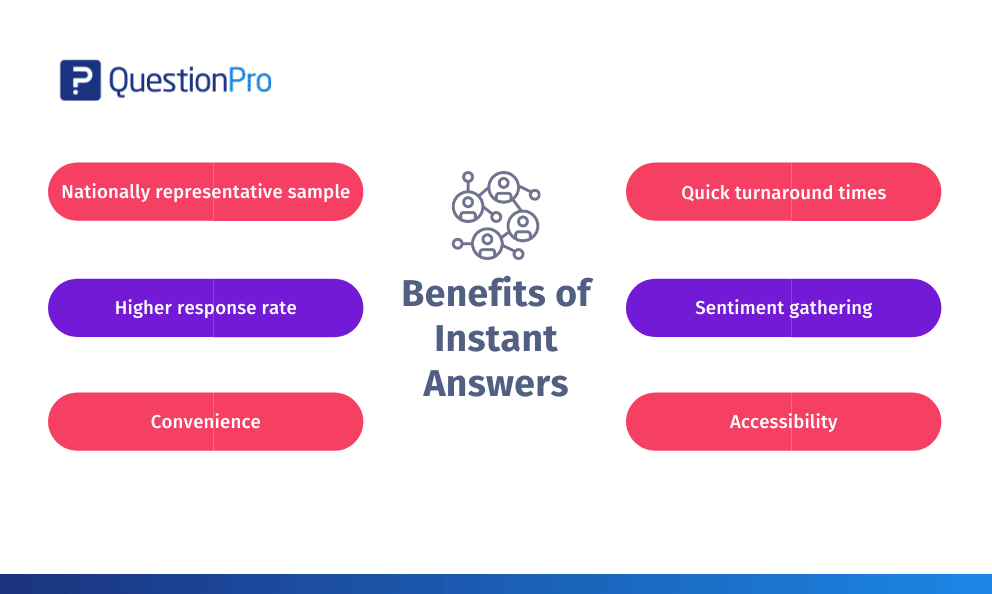 Introduction to QuestionPro's Instant Answers
Researchers have sent out lengthy online surveys with a considerable response time to ask simple questions for too long. Today's world is transitioning to shorter and quicker quantitative surveys, and researchers need instant feedback to make essential business decisions. They need a faster way to capture the same sentiment that long surveys capture. QuestionPro's Instant Answers, integrated with Slack, help you ask these burning questions for immediate feedback.
For example, naming a product is not the easiest decision to make. With Instant Answers, you can efficiently conduct a poll and ask your respondents their preference. It helps you ask crucial yet straightforward questions and get a census-balanced preference response.
How does Instant Answers work?
QuestionPro's Instant Answers is powered by Slack integration. Researchers can efficiently reach the right people, quicker than ever, and receive immediate responses. The idea is to post a question via Slack, choose the region, language, and sample size. The tool fields the question to a nationally representative sample where you receive census-balanced responses directly in Slack. With this feature, researchers need not design surveys and look for distribution channels. Post your question in Slack, and a survey automatically gets created and triggered to the audience. Integrating with Slack helps them reach respondents within no time to collect time-sensitive data.
The three steps to quick insights
Follow these three quick steps for Instant Answers with Slack integration:
Ask a question in Slack using the standard format. For example – /answer Why did you choose us? [Economical] [Range of features].

Select the sample size.

Choose the target region.
What are its benefits?
Nationally representative sample:

Census balanced respondents proportionally filled by age, gender, region, and ethnicity.

Quick turnaround times:

Receive responses within minutes of fielding the question. Best suited for time-sensitive data. We've tested it multiple times, and it never fails to deliver. 

Higher response rate:

The survey takers of today prefer quicker surveys. The drop-out rate from longer surveys is much higher than instant answers.

Sentiment gathering:

Instant Answers is powerful to capture the same sentiments that more extensive surveys capture.

Convenience:

Using Instant Answers is hugely convenient and arguably the easiest way to collect accurate data.

Accessibility:

Access census balanced respondents without having to spend too much time sampling your audience.

Anonymity:

All the responses are anonymous. Respondents prefer anonymity, which in turn boosts response rates.
When can you use Instant Answers?
Below are a few examples of using Instant Answers to its full potential.
Political polling:

Get a pulse of federal and other government policies. Understand what's on the minds of people. Respondents like political polling questions to be kept anonymous, and it brings anonymity to the table.

Advertising testing:

Know what your customers will like. Tests advertisements and collect consumer sentiment backed messaging to ensure you have a strong message that attracts potential customers.

Academic studies:

Test your hypothesis with real consumer insights. Use it for academic research, thesis, and other studies to capture real-life sentiments.

Brand awareness:

Are you positioned to win against rival brands? Gain a competitive edge in the market by enhancing your brand to increase customer recognition and loyalty.
QuestionPro's Instant Answers is a futuristic research tool that researchers prefer due to its ability to fetch quick responses. Do away with lengthy surveys for capturing time-sensitive insights. Our panel of more than 22 million global survey respondents will ensure you receive census-balanced, immediate feedback to any question. Please write to us at sales@questionpro.com to know more.