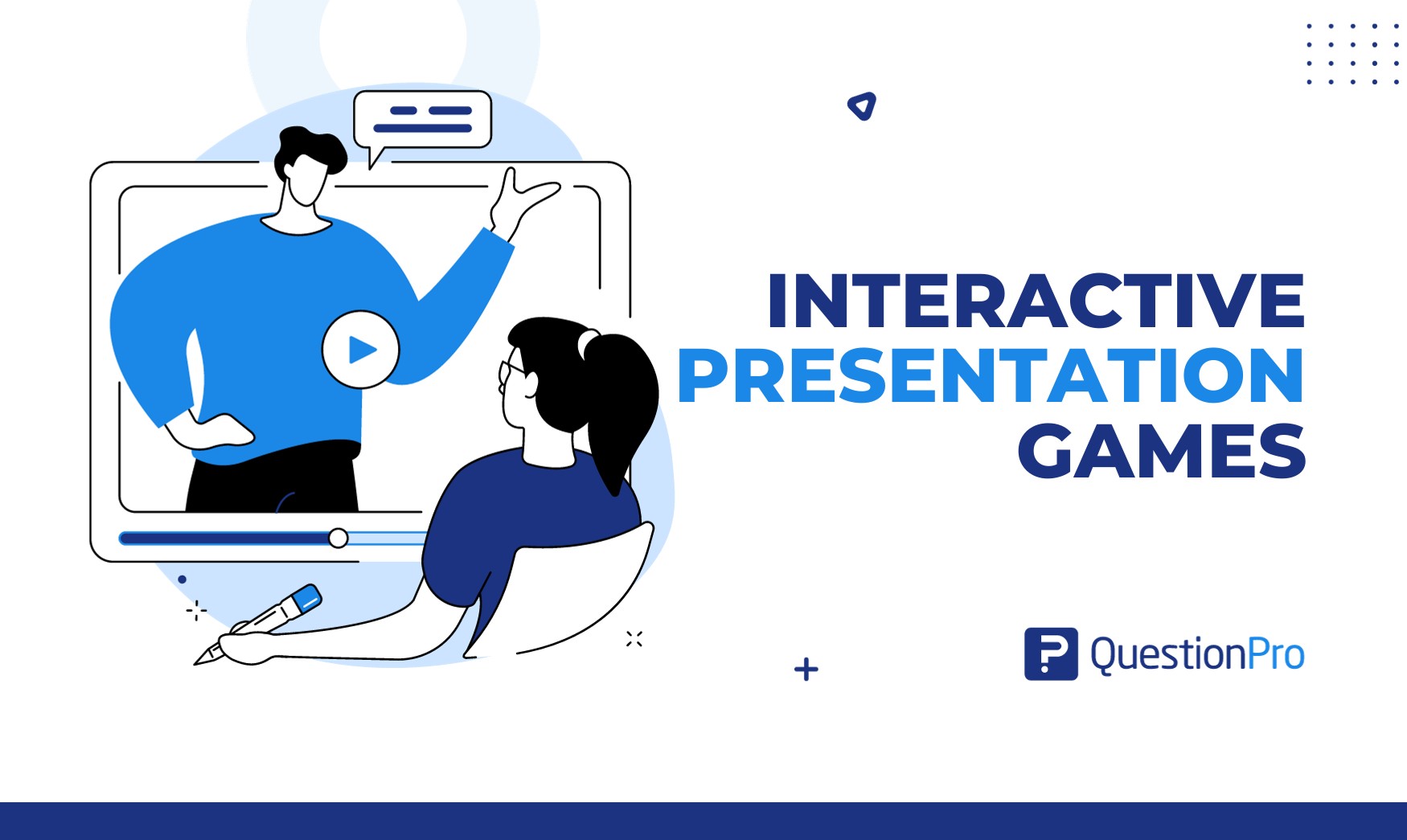 In the world of presentations and public speaking, engaging your audience is crucial. A captivating presentation can leave a lasting impact and ensure that your message is heard and retained. One effective way to achieve this engagement is by incorporating interactive presentation games into your talks.
Interactive presentation games break the monotony of traditional slideshows and transform passive listeners into active participants. In this blog, we'll explore 15 interactive presentation games that can make your presentations more dynamic, memorable, and enjoyable for your audience.
Why Use Interactive Presentation Games?
Traditional presentations often involve passive listening, which can lead to disengagement and limited retention of information. On the other hand, interactive presentation games create an environment of active participation.
Making your presentations more memorable and impactful. They foster interaction, feedback, and collaboration, turning your audience into active participants rather than passive observers.
Benefits of Engaging Your Audience
Engaging your audience with interactive presentation games offers numerous benefits:
Increased Engagement: Interactive presentation games grab your audience's attention and keep them actively involved throughout the presentation.
Improved Information Retention: Active participation enhances the retention of key information, ensuring that your message sticks with your audience long after the presentation is over.
Enhanced Learning: Games encourage a deeper understanding of the subject matter, making it easier for your audience to grasp complex concepts.
Better Audience Connection: By involving your audience, you establish a stronger connection, making them feel valued and heard.
Immediate Feedback: Games provide opportunities for instant feedback, allowing you to address questions and concerns in real time.
Fun and Entertainment: Interactive fun games add an element of fun and entertainment to your presentations, making them more enjoyable for your audience.
How to Choose the Right Presentation Games
Selecting the appropriate presentation games depends on your audience, topic, and objectives. Consider factors such as the size of your audience, the level of interactivity you desire, and the technology available. Tailor your choice of games to align with your presentation goals, ensuring they enhance your message rather than distract from it.
Now, let's explore 15 interactive presentation games that you can incorporate into your presentations to engage your audience effectively:
01. Polling and Surveys
Polling and surveys involve asking questions to your audience and collecting their responses in real time. This game is useful for engaging the audience and gathering valuable data or opinions.
Example: During a marketing presentation, you can use polling to ask the audience which social media platform they use most frequently for product discovery, with response options like "Facebook," "Instagram," or "Twitter." The results can guide your marketing strategy.
02. Quiz and Trivia
Quiz and trivia games challenge the audience's knowledge of a specific subject. Correct-answer questions encourage competition and learning because participants' scores are added up.
Example: In a history lecture, you can organize a trivia quiz about historical events. Ask questions like, "Who was the first President of the United States?" and award points for correct answers to make learning history engaging.
03. Interactive Q&A Sessions
Interactive Q&A sessions allow the audience to ask questions and engage in a live dialogue with the presenter. This interactive presentation game promotes engagement, clarification, and in-depth discussions.
Example: After a business strategy presentation, open the floor for an interactive Q&A session where the audience can ask questions about the proposed strategies, fostering a deeper understanding of the material.
04. Gamified Scenarios
Gamified scenarios present real-world situations or challenges to the audience. Participants make decisions, and the consequences of those choices are revealed, creating an immersive learning experience.
Example: In leadership training, simulate a business scenario where participants make decisions as managers. Their choices affect the company's success, making the learning process engaging and interactive.
05. Virtual Reality and Augmented Reality Experiences
Virtual reality (VR) and augmented reality (AR) games provide immersive 3D experiences. Participants can explore virtual environments or interact with augmented elements.
Example: In a product launch presentation, use AR to allow the audience to visualize how the product would fit into their homes. They can use their smartphones to see a virtual presentation version of the product in their living rooms.
06. Storytelling Challenges
Storytelling challenges encourage participants to create and share their stories, fostering creativity and personal expression.
Example: In a team-building workshop, ask each participant to share a personal success story related to teamwork. This engages the audience and builds a sense of connection among participants.
07. Collaborative Whiteboard Activities
In real-time, collaborative whiteboard activities involve multiple participants contributing ideas, drawings, or annotations on a digital whiteboard. This game fosters teamwork and brainstorming.
Example: During a brainstorming session for a new project, use a digital whiteboard tool where team members can simultaneously sketch out their ideas and add comments. This promotes collaboration and idea generation.
08. Interactive Polls and Word Clouds
Interactive polls and word clouds engage the audience by having them vote or input keywords related to a topic. The results are displayed dynamically.
Example: In a conference PowerPoint presentation about technology trends, ask the audience to submit keywords related to the most exciting emerging technologies. Display the results in a word cloud to visualize the collective interest.
09. Simulations and Case Studies
Simulations and case studies replicate real-life scenarios for participants to make decisions and see the outcomes. This game is effective for practical learning.
Example: In a business strategy workshop, provide participants with a case study of a struggling company. Have them analyze the situation and propose strategies to turn the business around. The best solutions can be discussed as a group.
10. Role-Playing Exercises
Role-playing exercises involve participants taking on specific roles or characters to act out scenarios. This game promotes empathy and communication skills.
Example: In customer service training, participants can take on the roles of customers and service representatives. They act out various customer service scenarios to practice effective communication and problem-solving.
11. Breakout Rooms and Group Discussions
Breakout rooms and group discussions split the audience-focused audiences into smaller groups to discuss specific topics or tasks. This great game promotes active participation and in-depth exploration of ideas.
Example: In an educational webinar, use breakout rooms to divide participants into smaller groups. Each group discusses a different aspect of the topic and then shares their insights when they return to the main session.
12. Live Challenges and Competitions
Live challenges and competitions introduce competitive elements to the best presentation games. Participants can compete individually or in teams to solve problems or complete tasks.
Example: In a team-building event, organize a friendly competition where teams compete in a series of challenges. Challenges could include problem-solving tasks, physical activities, or trivia quizzes to foster teamwork and camaraderie.
13. Interactive Presentations
Interactive presentations incorporate multimedia elements, quizzes, and audience participation throughout the entire presentation screen to keep the audience engaged.
Example: During a product launch presentation, embed interactive elements such as polls, quizzes, and live demos within your slides. This ensures constant engagement and information retention.
14. Icebreakers and Energizers
Icebreakers and energizers are quick, fun activities designed to create a relaxed atmosphere and engage the audience at the beginning of a presentation or during breaks.
Example: At the start of a team meeting, use a fun icebreaker like "Two Truths and a Lie," where each participant shares two true statements and one false one about themselves. It lightens the mood and promotes bonding.
Creative challenges and brain teasers stimulate creativity and problem-solving. They present puzzles, riddles, or creative tasks to engage the audience stand.
Example: During a creativity workshop, present participants with a riddle or a creative problem to solve as a group. Encourage them to think critically and come up with innovative solutions, fostering creative thinking.
How QuestioPro LivePolls can help in Interactive presentation games
When you use any tool for an interactive show, you need to think about how your audience votes and your presentation's goals. Make sure the interactive elements enhance the learning or engagement experience rather than becoming a distraction.
Here are some ways a survey-based tool like QuestionPro can assist in creating interactive presentation games:
Question and Quiz Creation
Many interactive presentation game tools allow you to create questions and quizzes that you can integrate into your presentations. These questions can be multiple-choice, true/false, open-ended, or other formats. Participants can then respond to these questions during your presentation.
Interactive presentation fun game tools often include features that engage your audience. This can include things like timers for questions, leaderboards to display scores, and interactive survey elements that make your presentation more engaging and fun.
These tools typically provide instant feedback to participants. Correct answers might be rewarded with points, while incorrect answers could be followed by explanations. Scores are often tallied in real time, creating a competitive or gamified atmosphere.
Interactive presentation game tools can help you collect data on participant responses. This data can be valuable for assessing learning outcomes, understanding audience vote opinions, or tailoring your content to your audience's preferences.
You can often customize the appearance and behavior of interactive elements to fit your presentation's theme or style. This allows for creative and engaging presentations.
Such tools enable audience members to actively participate and feel involved in your presentation. This can lead to higher engagement levels and better retention of information.
Some tools provide analytics and reports after your presentation, which can help you assess the effectiveness of your interactive elements and the overall presentation.
Conclusion
Incorporating interactive presentation games into your talks can elevate your engagement, foster learning, and make your message more memorable. Whether you choose polls, quizzes, simulations, or storytelling challenges, tailoring the games to your audience and objectives is key.
By doing so, you'll transform your presentations into dynamic and unforgettable experiences that leave a lasting impact on your audience. So, level up your presentations with these interactive games, and watch your audience become active participants in your message.