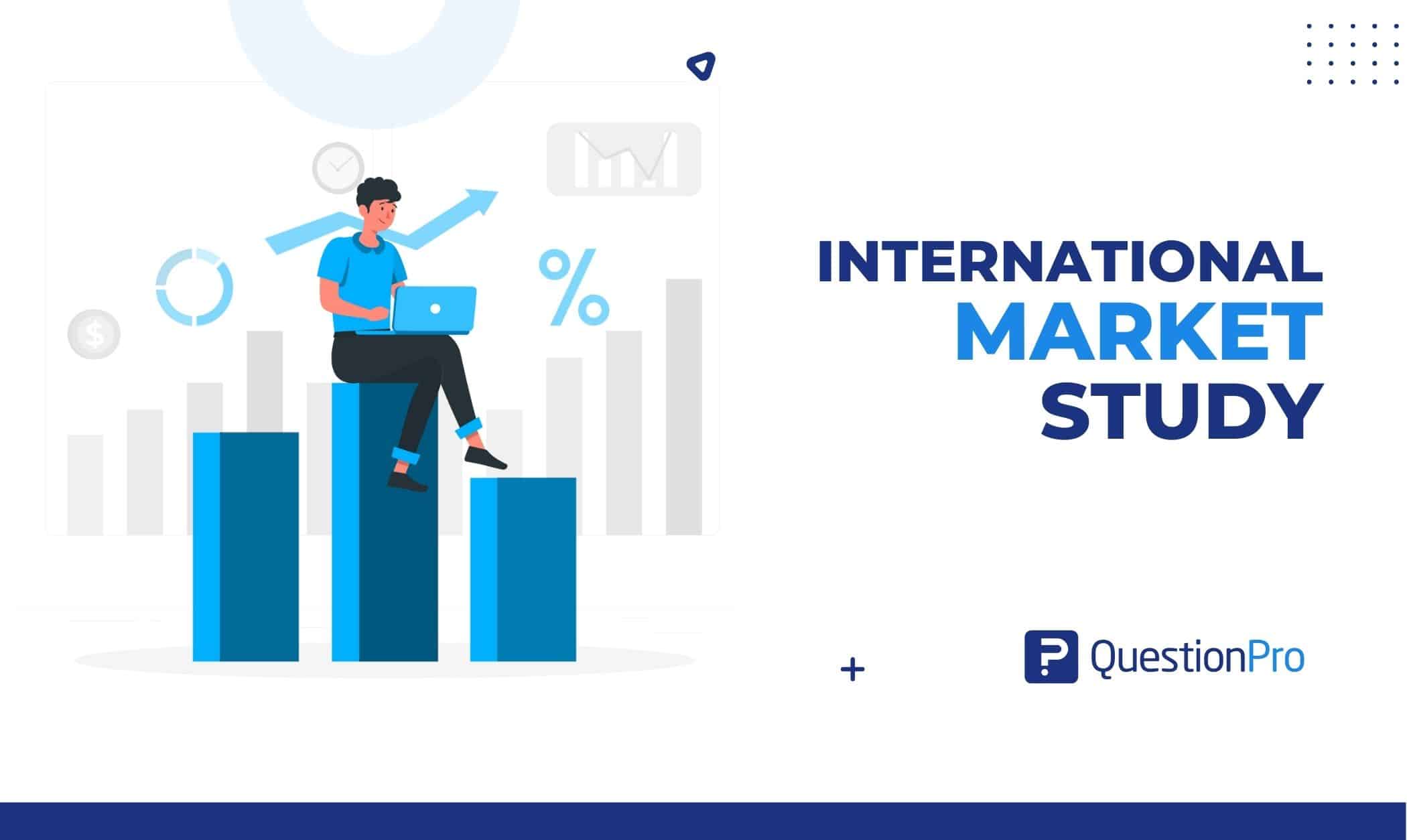 The fundamental decisions made by international marketing managers are the same as those made by those who work in just one nation.
They naturally make these choices in a more complex environment. Similar to marketing decisions, there is no distinction between domestic and global studies regarding a market study's fundamental purpose or methodology.
But when more and more nations participate in the same choice, the process becomes almost exponentially more complicated. The methods and practices used in marketing study are now genuinely worldwide.
This blog will discuss international market study, steps, and methods.
What is an international market study?
An international market study is a vital part of a successful export strategy. Studying and evaluating the demand for your product and aspects associated with a particular export destination is essential.
The data will aid your company in making the most of its export plan in terms of both time and money. The correct resources can assist you in comparing marketplaces and targeting the best ones.
Steps & methods of international market study
The international market study, like the domestic one, comprises several steps. However, the International market study process has some quirks, such as national variances between nations caused by political, legal, economic, social, and cultural differences and the comparability of study results due to these disparities.
Step – 1: Definition of a study problem
The most important step in conducting a study is the problem definition. Determining the information management needs requires defining the study problem. The study process results are unlikely to be helpful if the problem is not identified.
Step – 2: Estimating Information Value
Only when information makes decisions better does it have value. The value of knowledge rises as;
Making the wrong choice will cost more money,
Our understanding of the best course of action decreases, and
The information that the study will produce will be more accurate.
The guiding principle for selecting whether to conduct an additional study is that it should only be done when it is anticipated that the value of the information will outweigh the expense.
Step – 3: Choosing an Approach for Data Collection
In the International market study, there are three fundamental methods for gathering data:
Secondary data
Survey data
Experimental data.
Other than to aid in the current problem's solution, secondary data were gathered. Primary data are collected specifically to assist in resolving the issue at hand.
Therefore, survey and experimental data are secondary data if they were previously obtained for another study; they are primary data if they were initially collected for the current investigation.
Due to its advantages in terms of cost and time, secondary data are gathered first.
Step – 4: Selection of a measurement technique
Marketing study utilizes four fundamental measurement techniques:
Questionnaires
Attitude ratios,
Observation, and
In-depth interviews and project methods.
Like choosing a data collection strategy, a measuring approach is primarily influenced by the sort of information requested and its value.
Step – 5: Choosing a Sample
Instead of conducting a census of the entire group, most marketing studies focus on a sample or segment of the population relevant to the issue. Typically, the population is specified as part of the problem description process.
Step – 6: Choice of Analytical Methods
Data are only helpful after being analyzed. A set of collected observations are transformed into descriptive assertions and/or relationship inferences through the process of data analysis.
The sorts of analyses that can be performed rely on the sampling procedure, measuring tool, and data-gathering technique.
Step – 7: Evaluation of Study Ethics
Marketing experts should limit their study endeavors to morally upstanding procedures. Studies that adhere to ethical standards consider the researcher's interests and those of the general public, respondents, clients, and the study profession.
Step – 8: Calculating the Time and Money Needed
Time is the amount of time required to finish the project. The financial need is the monetary equivalent of the time spent by employees, the time spent on computers, and the cost of materials. The time and financial demands are not separate.
Step – 9: Make a research proposal
A plan, or guide, for carrying out and managing the study is given to the researcher through the study design process. This plan has been written as a research proposal.
A written research proposal should precede any study effort. The research proposal aids in ensuring that the decision-maker and the study remain in sync with the primary management issue, the data needed, and the study methodology.
International market study survey methods:

Personal interviews: Personal interviews are the most common way to acquire data in international marketing studies.
Mall intercepts interview: The United States, Canada, and European nations can use mall intercept interviews as a research technique that involves stopping mall customers to conduct interviews. They are not frequent in underdeveloped countries, at least not in my experience.
Telephone surveys: International market study surveys by phone have various advantages. International telephone calls are cheaper, surveys can be done from one location, telephone interview results are dependable, and client and interviewer management is easier.
Mailing surveys: Industrialized countries with high literacy, good mailing services, and mailing lists employ mailing surveys. This strategy is limited in developing countries.
Electronic or Email surveys: Electronic surveys for things like computers and software are becoming more common in the US and Europe. Email replaces mail and phone surveys.
Along with these survey methods, survey softwares like QuestionPro can be used to make your international market study easier and better.
Conclusion
An international market study is the systematic planning, collecting, recording, analysis, interpretation, and reporting of data about a particular marketing choice that an international business must make.
The International market study process has a few unique characteristics, such as the national variances between nations resulting from political, legal, economic, social, and cultural differences and the comparability of research results due to these differences.
A corporation doing international marketing research could run into several issues. However, it is quite beneficial for any business.
QuestionPro is more than just survey software because it provides solutions for every problem and business. We also have technologies like our InsightsHub research library for handling data.
While utilizing QuestionPro to better understand your clients and other study subjects, you may make important decisions swiftly. Utilize the enterprise-grade research suite's capabilities right away!