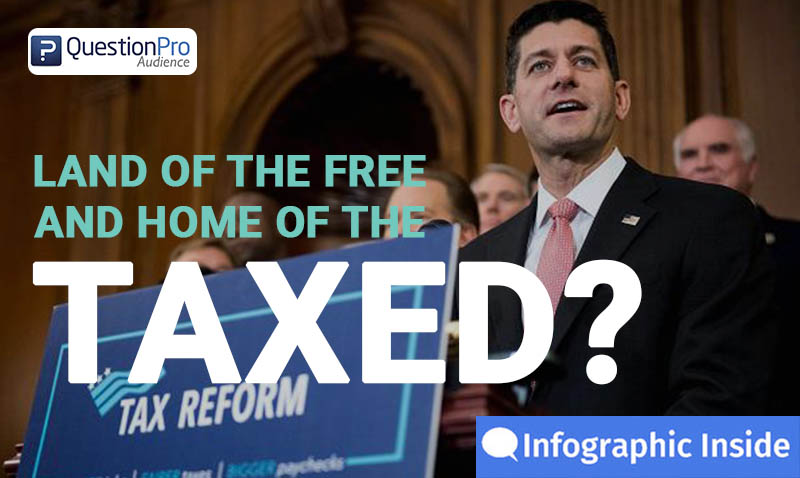 The call to reform the tax code was one of President Trump's biggest promises during the 2016 presidential campaign, and after much debate and fanfare, the Senate passed the proposal, 51-49, marking the first time in 27 years the tax code has been substantially changed. The tax reform bill has been covered by every news channel and political reporter, but how do the American people feel about it? QuestionPro Audience conducted a study with our registered voter panel to get their insight and perspective on this controversial bill.
We polled 400 Americans and found that the majority of respondents are in favor of the new tax code, even though only 32% believe they will receive a tax cut in 2018. 28% opposed the bill, and 31% were unsure how they felt about it. When asked how important a priority tax reform should be, 75% of respondents felt it is very important, while 17% did not think it was important and 7% did not think it should not be done.
Taxes can be confusing, even for the most well-versed CPA. When asked if they understand the tax reform bill, 27% understood it, but 21% did not. 45% felt they had a slight understanding of the bill, while 7% had actually read the 429-page document. No surprises here—65% of respondents think U.S. taxes are too high. One-third believe they are the correct amount, but 6% felt they were actually too low! Our panel members were asked how they voted in the 2016 presidential election—26% indicated they voted Republican, 29% voted Democrat, 24% voted Independent and a whopping 21% did not vote at all. On numerous occasions, President Trump has suggested the bill is "for the middle class and a bill for jobs", but 56% of respondents believe it will primarily benefit the upper class, while only 21% think the middle class will profit.
Below is a preview. Download the full 16-page research report here!