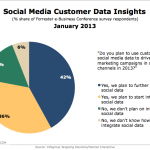 The Big Data Trend continues as more and more marketers treat their customers' social media data as real market research and use it in the planning of future marketing campaigns.
4 in 5 marketers surveyed at the DMA2012 Annual Conference and Forrester Research's e-Business Forum last year said they plan to use customers' social media data to drive marketing campaigns .

Website analytics (49%) was the leading source for generating customer data among respondents, followed by email interactions (19%). Traditional media such as direct mail (8%) and print (1%) were seen by far fewer respondents as the best source of customer data, with SMS/phone analytics (8%) and display (3%) also relatively of less import.
Maybe because I'm from old school market research experience and remember when we couldn't track actual behavior and had to ask what people would do instead of tracking what they actually did.  But this trend is really exciting to me because I think it improves predictability and predictability improves the quality of the decisions that we make in our business.
So this is where I'd be curious about YOUR thoughts as professional market researchers.  Do you see this as "secondary" data, in that you can look it up, it's collected via analytics and social media.  Or do you see this as primary data because it's shared by "respondents" albeit unconsciously participating respondents.
Either way the advent of social media data analysis opens up a whole new way to build relationships with our customers and to see what matters most to them.
Another piece of good news for marketers and market researchers is that marketers are projecting increased spending on data.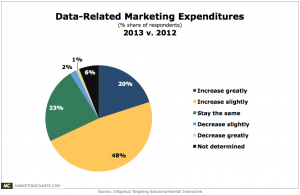 And this means that market research and data analysis will play an important role in future marketing campaigns.
What is your take on this research and the impact that it will have on your industry?