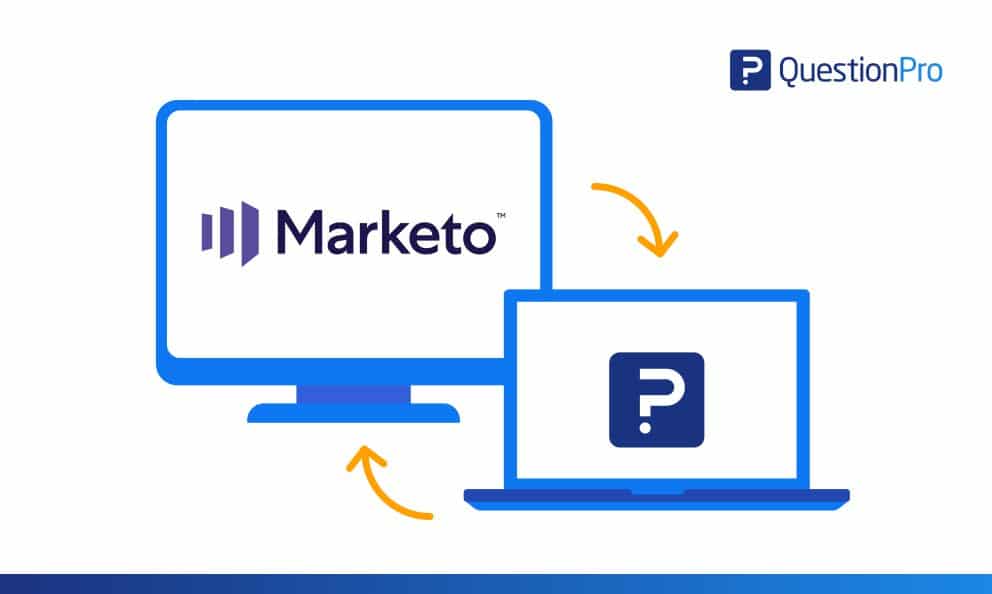 With Marketo, users can log every digital interaction they have with their potential or existing customers, so as to indulge in a relevant conversation with them. When you have an online survey tool integrated with Marketo to measure customer interactions, organizations can optimize their strategies to reach out and engage the audience in order to achieve their business goals. When an organization integrates its online surveys with Marketo, it accelerates conversions and improves the sales process as the data collected in Marketo is enriched with customer insights. 
Three benefits of integrating QuestionPro with Marketo
Helps to retrieve information, which otherwise is harder to get with pop-up surveys, forms, or phone calls. 

You are in control of the data. You get to decide how to send surveys and what data is sent to Marketo.

It does not matter whether the respondent completes the survey; each response that is mapped will be recorded in Marketo.
How to Integrate Marketo with QuestionPro 
Create a survey that you want to integrate with the Marketo. 

Once you create the survey, go to the

'Integration'

tab. 

You will be redirected to the page containing all the third party tools with which you can integrate QuestionPro and select

'Marketo'

third option from the left.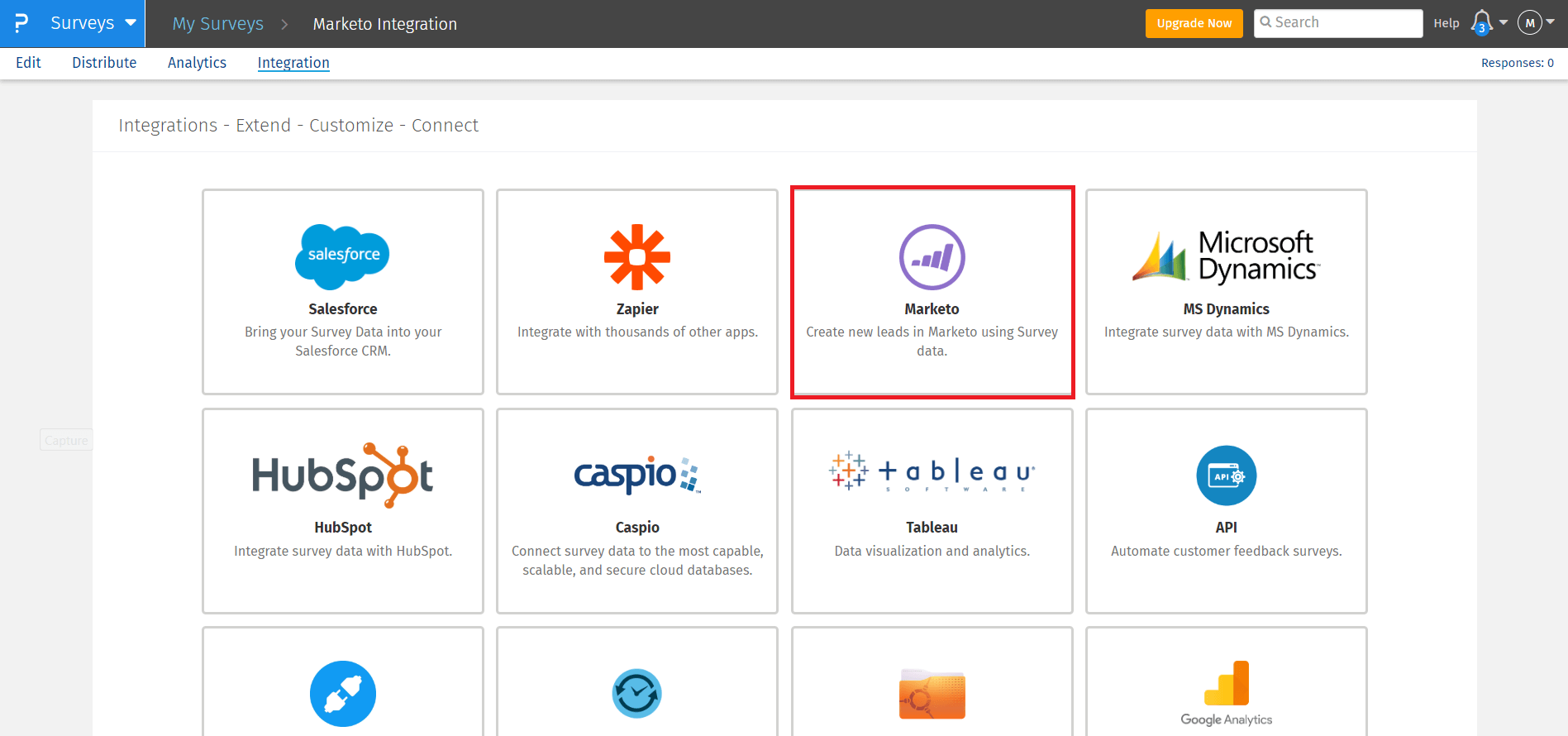 To integrate with Marketo you will need 

Connection Name,
Client ID

,

Client Secret

and 

Connection URL.

Visit '

Quick Start Guide for Marketo Rest API

' to understand, how and where to get these details. 

Once you have the details, fill it in and hit the 'Save' button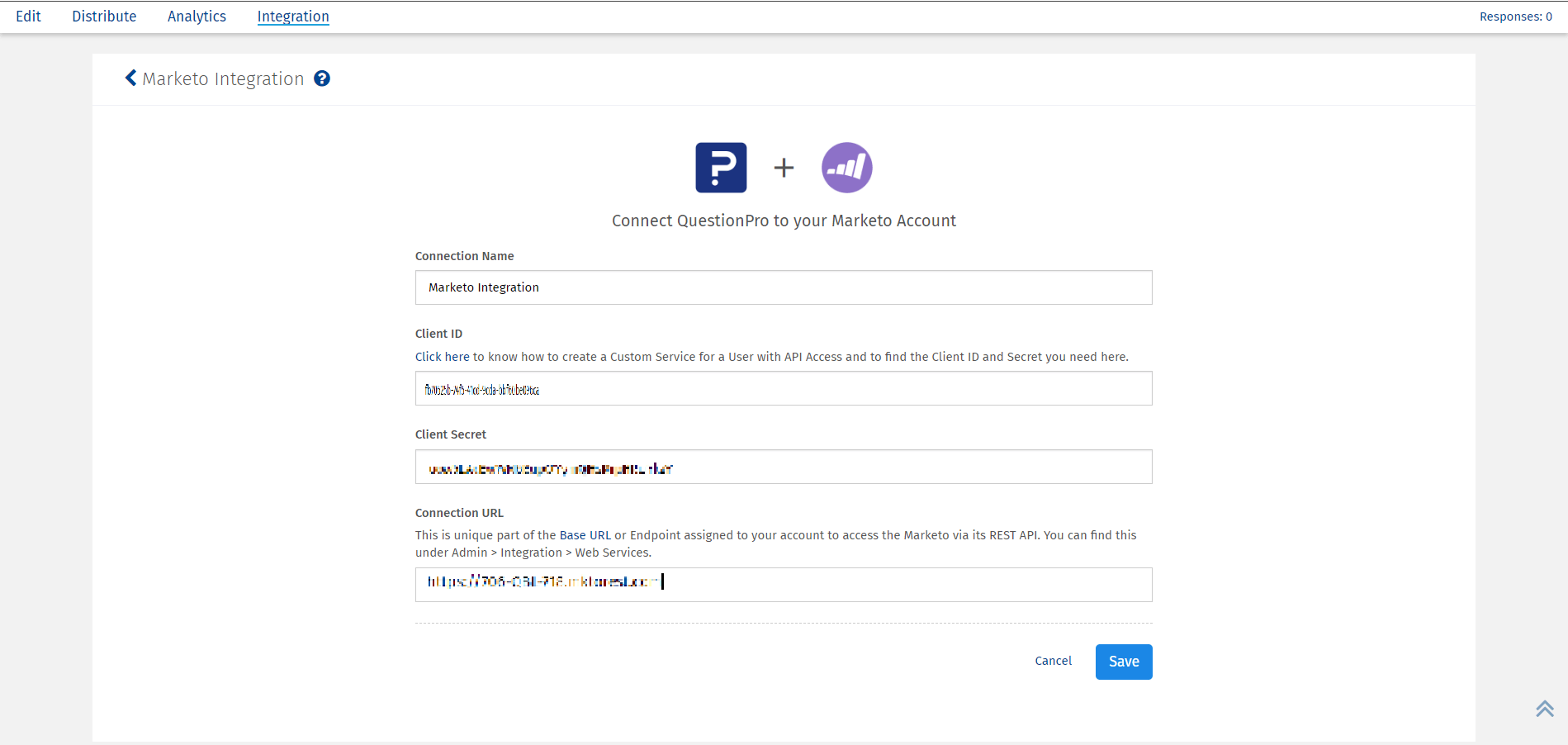 This will complete the Marketo -QuestionPro integration

Now you will be redirected to the Mapping page

You can map questions and their responses to leads in Marketo using QuestionPro's customer mapper 

Press

'+Add New Mapping'

to map survey responses 

You will get three options after you try to add a new mapping 

Create a new (to create a new lead), 

Update Existing (to update details of an existing lead), 

Update if exists, else create new (to update existing lead or to create a new one)

Select create a new and hit 'Continue' button

You will be redirected to the new page where you can map responses as per your interest/requirement

You can view the survey link for which you have integrated the Marketo in the first box

This is a unique survey link which is mapped against the Marketo (you need to distribute or share this survey ID to push the collected data to Marketo)

There is another drop down box below survey link which allows you to select the data that you want to map with Marketo fields. 

The drop-down box has four options to select the mapping type 

Map a question, Map a custom variable, Map a system variable & Map answer value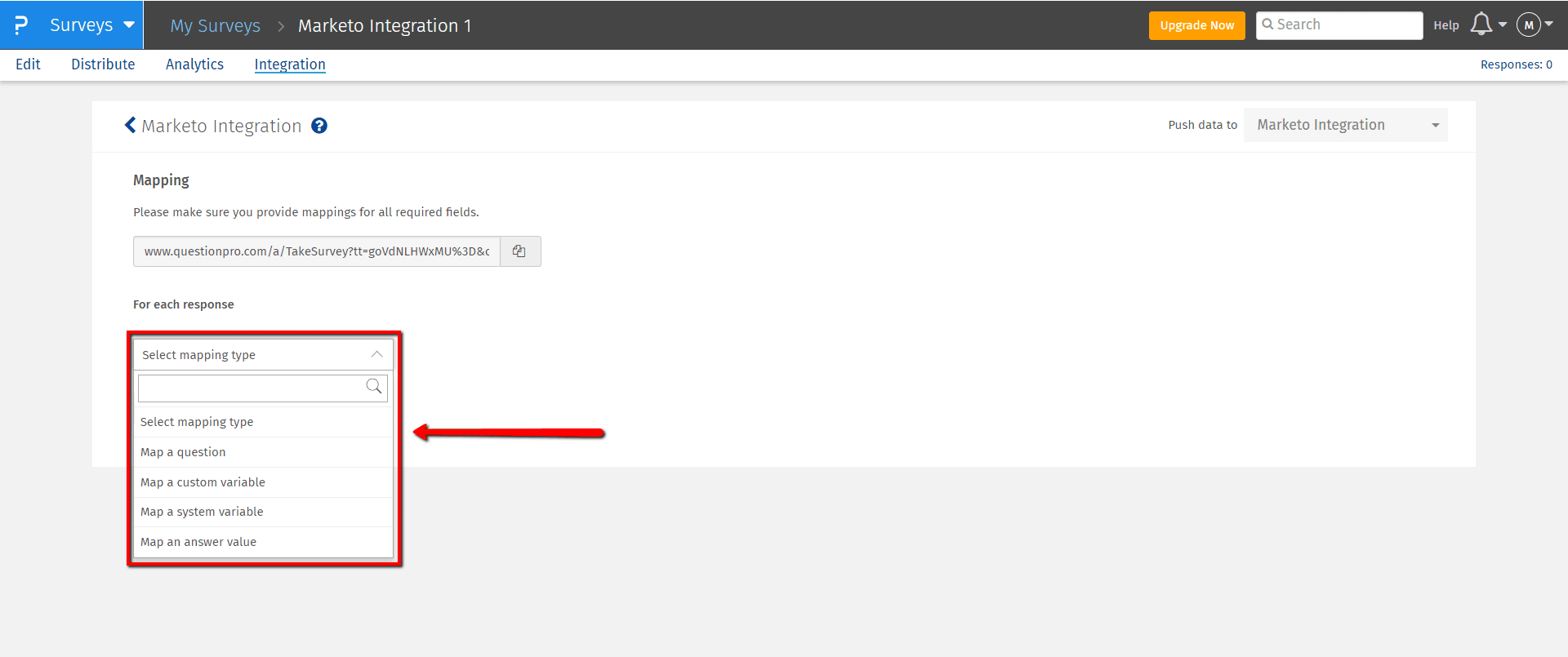 Map a question – select question type in QuestionPro survey and select field type in Marketo out of four options

To add new mapping click on the "

⊕"

button present besides mapping box 

After you are done mapping, click on the

'Continue'

button 

You will be redirected to the next page 

Just hover your mouse on the grey box saying 'create new lead' – you will see the mappings you have added in the current survey.

Click the

'Edit'

button to edit the mapping or to add a new mapping 

Click on the "

Bin

" icon to delete the existing mapping 
Congrats! You have successfully connected your QuestionPro Survey with Marketo! 
Now your survey will start pushing all the mapped data to Marketo account 
Here is a glimpse of how the Marketo dashboard will look like when you want to view a specific lead: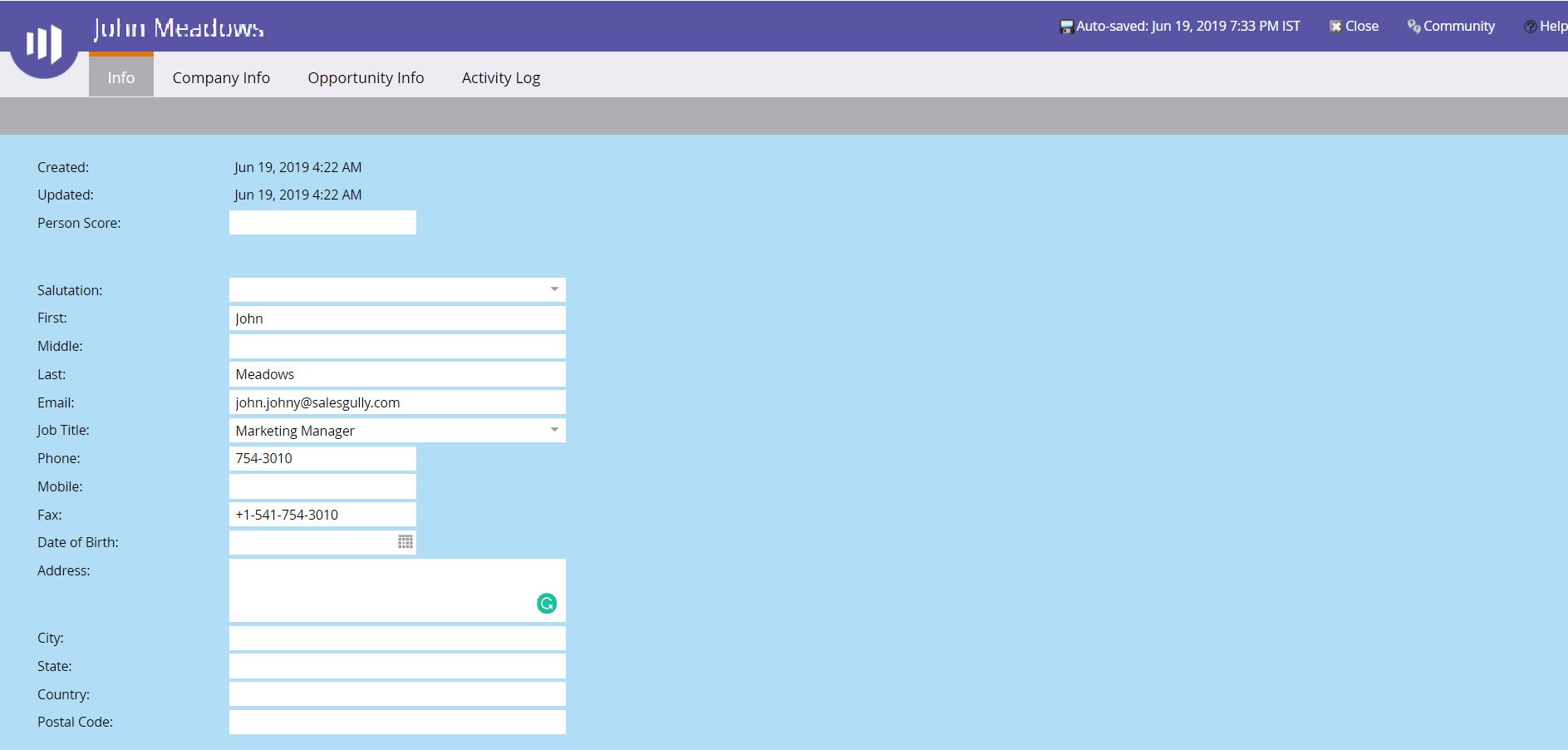 From here, you can use the mapped survey results to make data-driven business decisions that drive actionable results.
If you have any questions regarding the Marketo integration or would like to get started with the integration in your QuestionPro account, contact us today.