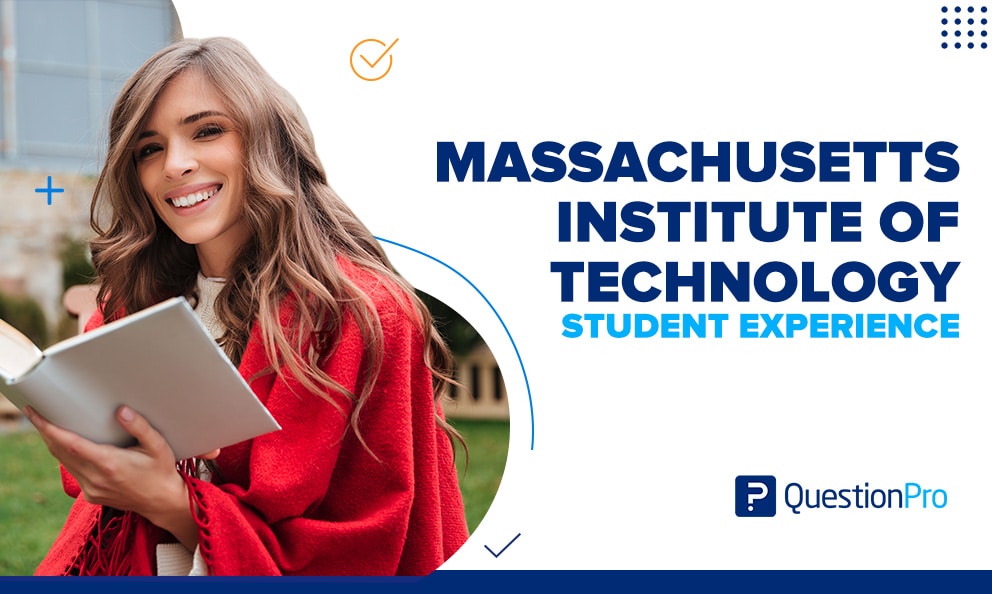 Being part of a renowned institution like the Massachusetts Institute of Technology (MIT) promises an exceptional and transformative educational journey for its students at every stage of the process. This is no coincidence, as, like any reputable educational institution, the MIT student experience places great emphasis on every point of the student journey, which is reflected in innovative initiatives and actions that provide students with the tools and options needed to complete their studies and thrive in all aspects.
Therefore, in this article, we will explore some of these actions through a student journey map to deeply understand the impact of such initiatives and gather some ideas that you may consider replicating in your academic institution. The classroom response system allowed students to answer multiple-choice questions and engage in real-time discussions instantly.
What is a Student Journey Map?
A Student Journey Map is a visual representation that illustrates the path a student takes from their initial interaction with an educational institution to the achievement of their academic and personal goals. Its primary strength lies in its ability to capture, in one place, the emotions, challenges, touchpoints, and milestones that students encounter throughout their educational journey.
A Student Journey Map goes beyond being a simple illustration; it encapsulates the essence of the student experience and allows us to anticipate potential situations that may arise.
This approach enables educational organizations to visualize the critical points where students engage with the institution. As a result, it opens avenues for evaluating and implementing tangible measures, fostering a continuous improvement of their offerings, and enhancing student satisfaction levels.
MIT Student Journey Map
To provide you with a clearer perspective of the concept of a Student Journey Map, we have crafted an example based on the details provided by MIT's official resources while also considering shared touchpoints common among institutions of similar caliber.
In this example tailored to the Massachusetts Institute of Technology, we have highlighted the various stages that every student goes through as they embark on their academic journey. You will also notice additional information typically included in such representations to provide even more context of what is happening. This type of information is usually gathered through various research methodologies to further broaden the panorama of the student journey.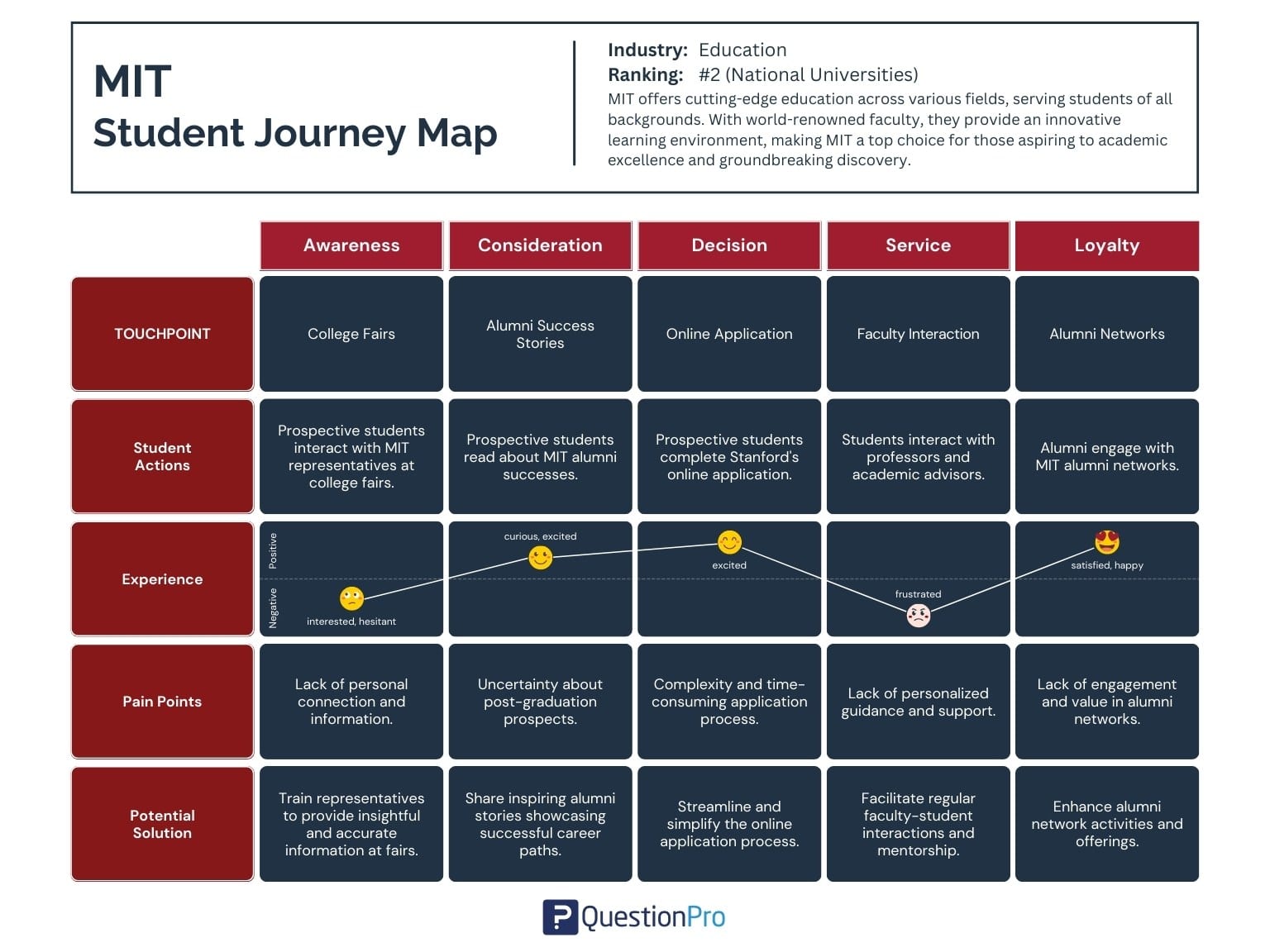 Stage 01: AWARENESS
| | | | |
| --- | --- | --- | --- |
| Touchpoint | Activity | Pain Point | Solution |
| Search Online (SEO) | Prospective students discover MIT through online searches. | Limited visibility in search results. | Optimize SEO strategies to improve search engine rankings. |
| University Rankings | Prospective students consider MIT based on its rankings. | Uncertainty about the reliability of rankings. | Highlight MIT's consistent top rankings and achievements. |
| Social Media Advertising | Prospective students come across MIT ads on social media platforms. | Limited knowledge about MIT's programs. | Showcase impactful visuals and key information in social media ads. |
| College Fairs | Prospective students interact with MIT representatives at college fairs. | Lack of personal connection and information. | Train representatives to provide insightful and accurate information at fairs. |
| Student Ambassadors | Prospective students connect with MIT student ambassadors. | Limited access to student perspectives. | Facilitate student ambassador interactions for authentic insights. |
Stage 02: CONSIDERATION
| | | | |
| --- | --- | --- | --- |
| Touchpoint | Activity | Pain Point | Solution |
| University Website | Prospective students explore MIT's official website. | Difficulty finding specific program information. | Design a user-friendly website with intuitive navigation and comprehensive program details. |
| Program Brochures | Prospective students review MIT's program brochures. | Lack of detailed insights into programs. | Create comprehensive and visually appealing program brochures. |
| Campus Tours | Prospective students visit MIT's campus for tours. | Inability to visit campus due to distance. | Offer virtual campus tours for remote prospective students. |
| Alumni Success Stories | Prospective students read about MIT alumni successes. | Uncertainty about post-graduation prospects. | Share inspiring alumni stories showcasing successful career paths. |
Stage 03: APPLICATION
| | | | |
| --- | --- | --- | --- |
| Touchpoint | Activity | Pain Point | Solution |
| Online Application | Prospective students complete MIT's online application. | Complexity and time-consuming application process. | Streamline and simplify the online application process. |
| Application Support | Prospective students seek assistance with their applications. | Confusion or difficulties with application requirements. | Provide accessible and responsive support for application inquiries. |
| Letters of Recommendation | Prospective students gather letters of recommendation. | Challenges in obtaining strong recommendation letters. | Offer guidance and resources for obtaining effective recommendation letters. |
Stage 04: ACCEPTANCE
| | | | |
| --- | --- | --- | --- |
| Touchpoint | Activity | Pain Point | Solution |
| Acceptance Letter | Accepted students receive official acceptance letters. | Anxiety and anticipation about admission results. | Deliver clear and personalized acceptance letters to ease anxieties. |
| Financial Aid | Accepted students review financial aid and scholarship options. | Financial concerns about tuition and fees. | Provide comprehensive financial aid informaHello my self Palash Badgujar I am testing the user lite form from blog integration I have enter this data from workfoce posttion and options. |
| Orientation Programs | Accepted students participate in MIT's orientation programs. | Nervousness about transitioning to college life. | Offer comprehensive orientation programs to ease the transition. |
Stage 05: ENROLLMENT
| | | | |
| --- | --- | --- | --- |
| Touchpoint | Activity | Pain Point | Solution |
| Course Registration | Enrolled students register for courses. | Challenges in navigating course options and requirements. | Provide user-friendly course registration tools and guidance. |
| Housing Selection | Enrolled students select housing options. | Uncertainty about housing availability and preferences. | Offer transparent and organized housing selection processes. |
| Student Services | Enrolled students access various student services. | Difficulty in finding and accessing support services. | Streamline access to student services through a centralized platform. |
Stage 06: ACADEMICS
| | | | |
| --- | --- | --- | --- |
| Touchpoint | Activity | Pain Point | Solution |
| Class Experience | Students engage in MIT's academic programs. | Challenging coursework and academic pressure. | Offer comprehensive academic support and resources. |
| Faculty Interaction | Students interact with professors and academic advisors. | Lack of personalized guidance and support. | Facilitate regular faculty-student interactions and mentorship. |
| Research Opportunities | Students explore research opportunities at MIT. | Uncertainty about accessing research opportunities. | Promote available research programs and facilitate student involvement. |
Stage 07: GRADUATION
| | | | |
| --- | --- | --- | --- |
| Touchpoint | Activity | Pain Point | Solution |
| Graduation Ceremony | Graduating students participate in MIT's commencement ceremony. | Emotional and logistical challenges during graduation. | Provide clear information and resources for a smooth graduation experience. |
| Career Services | Graduating students utilize career services. | Uncertainty about post-graduation career prospects. | Offer comprehensive career development resources and support. |
| Alumni Engagement | Graduating students connect with MIT's alumni network. | Challenges in staying connected after graduation. | Facilitate alumni engagement through events and networking opportunities. |
Stage 08: ADVOCACY
| | | | |
| --- | --- | --- | --- |
| Touchpoint | Activity | Pain Point | Solution |
| Alumni Networks | Alumni engage with MIT's alumni networks. | Lack of engagement and value in alumni networks. | Enhance alumni network activities and offerings. |
| Incentivize Online Reviews | Students and alumni leave positive reviews about MIT. | Low participation in leaving reviews. | Encourage students and alumni to share positive experiences through incentives. |
Notable Actions to Enhance the MIT Student Experience
As we've mentioned, every aspect is crucial for ensuring students' smooth progress, enabling them to reach their highest potential, and ensuring their journey is free from major obstacles.
MIT is known for its high standards, which are reflected in every facet of its organization. Consequently, they are constantly implementing measures to ensure the well-being of their students. Some of the most notable actions include:
Extracurricular Activities
Apart from their classes and research, MIT students can choose from a wide range of enjoyable activities. They can join music, dance, or sports groups or even become part of clubs that celebrate different cultures from around the world. And if students encounter difficulties, MIT has a robust support system in place. Sometimes, they even bring in adorable animals like puppies, pigs, and small goats to lighten the mood!
Residential Life and Dining
The residence halls at MIT serve as a fusion of entertainment hubs, intellectual centers, and support systems, playing a crucial role in enhancing MIT's student journey. Each campus residence possesses unique characteristics and traditions, significantly contributing to students' personal growth alongside their academic pursuits.
These experiences contribute substantially to individuals' overall development, parallel to their academic endeavors. In terms of dining, MIT offers a myriad of choices. With five dining halls, nearly 20 retail dining options, and versatile meal plans, students have the freedom to savor a diverse array of culinary experiences. This array of options empowers individuals to customize their dining preferences, providing both variety and flexibility.
Athletics and Recreational Activities
As part of the MIT student experience, the Department of Athletics, Physical Education, and Recreation offers a comprehensive platform for sports engagement, featuring 33 varsity sports, 318 Academic All-America citations, and over 1,500 athletic All-America honors. The department not only emphasizes athletic excellence but also cultivates community, leadership, and well-being through physical education, diverse recreational programs, club sports, intramurals, and even unique pursuits like pirate arts.
Health and Well-being
Thriving at MIT encompasses holistic well-being – from mental and emotional health to physical vitality. Regular checkups and self-care are paramount, and MIT's robust network of support services is dedicated to ensuring the contentment, vitality, and engagement of the community. Initiatives like MindHandHeart exemplify MIT's commitment to strengthening the Institute by fostering a collaborative environment involving students, faculty, and staff, thus creating a more inclusive and resilient MIT student experience.
Many of these initiatives can be easily replicated by any institution to ensure their students enjoy a fulfilling student life within the campus.
Deliver an Incredible Experience to Your Students!
At QuestionPro, we've developed various tools to assist with a wide range of school needs. Here are some key offerings:
Survey Software: Our survey tool is incredibly user-friendly. Students can quickly create surveys to capture important moments in a student's journey. They can use it for free with their school email, selecting from numerous templates and exciting features to make their school projects stand out.
Mapping Student Experience: If you're looking to create a student journey map, QuestionPro SuiteCX can be a valuable asset. With its robust platform and a variety of ready-to-use templates, mapping out the student adventure becomes a breeze. With SuiteCX, you can visually represent the critical points in a student's journey and provide detailed insights into what's happening at each step of their learning journey.
If you'd like to learn more, don't hesitate to contact us. We're thrilled to assist you with your next significant school project.